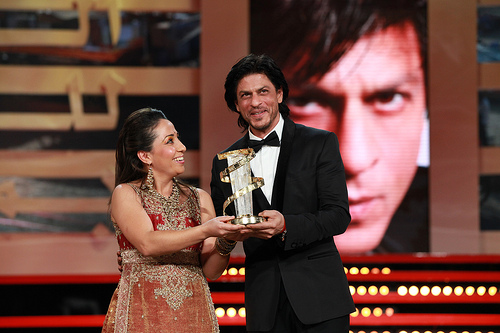 Photo courtesy of FIFM2011
A horde of thousands pushed against flimsy metal railings. Cameras held high over their heads, swarms of Moroccan fans waited hours in Marrakesh for a chance to get a glimpse of a man who could arguably be the world's most famous movie star. With a fanbase of literally billions, Shah Rukh Khan, King Khan or SRK to his fans, shook the city at a special event to honor the Indian film star opening night at the 11th annual Marrakesh International Film Festival.
Members of Marrakech high cultural society walked the red carpet in jaw-dropping kaftans and Parisian-cut tuxedos. The crowd cheered as every black car pulled up through the barricades, hoping that this car might be carrying the one they came to see. Moments before the carpet was to close, an orb of no less than ten bodyguards appeared, with Khan at its nucleus. No stranger to fame, he was an expert at reaching out to the crowd from his well-protected circle, signing autographs, shaking hands and smiling his famous grin for the flashing bulbs. Fans climbed on top of each other to get a view, as he made his way to each point in the crowd. Khan ate up the spotlight, doing his best to appease his fans before entering the Palais des Congrès for his tribute.
The opening ceremonies, filmed live for Moroccan TV, introduced the week ahead. President of the feature film jury, visionary Serbian auteur Emir Kusterica announced, "I believe the great festivals are where cinema is to be saved," he announced. "And I believe Marrakesh to be one of the great festivals." Other jury members were introduced, including American actress Jessica Chastain, French actress and director Nicole Garcia, Romanian director and screenwriter Radu Mihaileanu, Moroccan director Abdelkader Lagtâa and Iranian actress Leïla Hatami.
Moroccan actress Houda Rihana surprised the black tie crowd with an energetic Bollywood dance tribute, complete with hand circles and hip thrusts. Khan was honored for his diverse film catalog, over 70 Hindi films, from romantic musicals to action thrillers, as well as for sparking a wave of enthusiasm for Bollywood films throughout Morocco. Rihana told of her discovery of his films, how she sang and danced along to his films even before she knew what the words meant. He was the reason she became an actress. Past recipients of the tribute award include Leonardo DiCaprio, Martin Scorsese, Francis Ford Coppola, Ridley Scott, Oliver Stone and actress Sigourney Weaver, who this year serves as president of the short film jury.
"My father said the only place you need to visit in your life is Morocco," Khan told the screaming crowd upon accepting the award. He announced that when he segways into directing his first film, he'll be sure to film it in Morocco. Responding to cries of love from the balcony at the Palais, Khan turned up the charm, making every person in the audience feel as if he were there just for them. "Are you asking me for physical pleasure?" he asked one of the more rambunctious fans. "I'm at your service."
Later, Khan appeared at the Jemaa El Fna, the sprawling square of the Medina quarter where an even more high-spirited crowd awaited his arrival. Over 50,000 fans were gathered to welcome the actor and a public screening of My Name is Khan, his film about racial profiling in post 9/11 America. Although his words needed to be translated, it was clear that everyone gathered was united by a common language: the language of cinema.

Calling all HuffPost superfans!
Sign up for membership to become a founding member and help shape HuffPost's next chapter