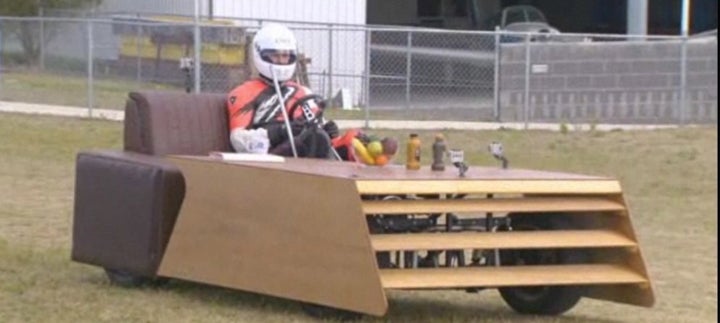 Couches are designed for sitting or, preferably, napping.
But a team of speed freaks in Sydney, Australia, who are driven to put a motor to anything have turned what would ordinarily be a leather two-seater couch perfectly suitable for sleeping away a Saturday afternoon into a racing vehicle capable of reaching speeds of 101 MPH.
In fact, the sped-up sofa reached that speed this past Monday and that means this ordinary brown couch may have broken the land speed record for upholstered household furniture of 91 MPH previously set by Marek Turowsk from Leicestershire, England, in 2008, according to CarsGuide.com.au.
The couch didn't make the trip alone. It was attached to a coffee table that included a cup of coffee and bowl of fruit that was specially built for the world record bid by Evolution Motorsport, a race car and bike designer company based in Sydney, Australia.
The couch is powered by a Suzuki GSX 1400 motorcycle engine, according to the Herald Sun, and project leader Paul McKinnon said the challenge was not just making sure it was fast, but could battle the aerodynamic challenge of pushing a squared-off piece of furniture at that speed. VIDEO:
"It's the oddest vehicle we've ever built," he said. "With race cars you can use the aerodynamic body kit that's dictated by the regulations for each series. But with the couch it was a matter of just doing what we could. We kept it as low profile as we could, and tried to break the airflow with the coffee table."
The unique challenge of making a couch race worthy and then breaking the world record made for an experience McKinnon won't forget.
"We broke the record in testing, but to get over 100 mph, to break that magic ton was pretty cool," he told the Manly Daily. "It was awesome to see it flying down the track and a helicopter behind it with an I-Max camera filming it all. I was pumped."
McKinnon usually makes custom cars and bikes, but says the challenge required his team to build everything from scratch, including the couch and coffeetable (although presumedly not the bowl of fruit).
In the meantime, he's not content to turn couches into cars. He and his team are starting a campaign this week called "Add A Motor To It" that will promote an Australian dairy brand with a series of stunts similar to the speeding sofa.
OTHER GUINNESS WORLD RECORDS:
WATCH THE WORLD'S FASTEST COUCH GO FOR THE RECORD: