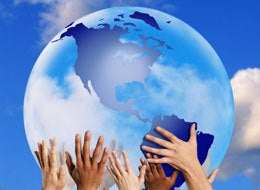 "Money makes the world go 'round..." The song from Cabaret drifted through my mind several times this week as I followed the distressing stories about the world's financial markets. It would be an understatement to say that we live in unsettling times. Yet, just under the radar, there are signs of hope.
The rise of social capital markets is a particularly relevant example -- that is, using the power of the market to help drive social change. You may recall that I recently wrote about compassionate venture capitalists and the rise of "good capital" funds. Many readers wrote asking where they could find out more. And now I have an answer.
The Social Capital Markets 2008 Conference (SoCap) is the world's first conference to bring institutional and individual investors together with social entrepreneurs. It will take place in San Francisco on October 13 - 15.
The conference goal is to validate the reality of - and accelerate the growth of - the social capital market. Conference sponsor, Kevin Jones (founder of Good Capital [goodcap.net]) says that there's been an explosion of social venture funds in recent years. "From Austin to San Francisco, and Johannesburg to Rio, these funds are popping up all over the globe." He estimates, based on his conversations with the managers of these funds, that more than half a billion is being raised worldwide.
SoCap is the first time that the people driving this important new sector will be in a room together. Who's going to be there? Finance and business professionals from around the world. "In addition to people from all of the funds like ours, " Kevin told me, "There will be an extraordinary mix of people, including three family members from a South American industrial conglomerate with 60,000 employees, a Dutch development agency, business development folks from a reinsurance company, and fund managers from Australia, Hong Kong, Korea, and several African countries."
Kevin says there will also be a lot of people at the conference who are looking at their careers in new ways. "They're asking if they can have a bigger impact -- baby boomers, for instance, are wondering if there's something more meaningful they can do with their money than parking it in a 401K that might not be secure anyway." And what about younger people? "There are lots of registrants who are in their early thirties who are wondering whether working for Goldman Sachs or McKinsey is the only option, or if there's another way to go if you want a career in finance," he continues.
Which brings me to how Kevin became a New Radical (New Radicals are people who've discovered ways to leverage their skills and put them to work on the world's greatest challenges, for more, please see my archived articles). "I was a successful entrepreneur and was about to start my latest venture when my 21-year-old daughter asked me 'What's your life about, dad?'" That question sent him on a voyage of self discovery -- "I wanted to be able to answer the question in a way that was meaningful to both her and me" -- that included sitting on not-for-profit boards. Then, he did some direct service, working with Columbia University's Jeffrey Sachs in Mozambique. "Both experiences were important work, and gratifying in real ways," Kevin told me. "But I came to realize that neither was a good fit for a fast-moving serial entrepreneur."
Kevin began to ask himself what his skills were. "I realized that I'm the kind of person who can get attention and attract capital and I understand business. And that I wanted to use these talents in whatever I was going to do next."
Then, out of the blue, the phrase "social enterprise" appeared on his radar. It was his Eureka moment, and he quickly co-founded -- with Tim Freundlich -- a venture capital fund, Good Capital. "We're looking for businesses that will give a good financial return to our investors, but will also have scalable social impact." And now, Good Capital is founding sponsor of the SoCap08 conference. I'll share news of the conference in October.
If this has gotten you all worked up about doing good, today's your lucky day. It's a national Day of Action across the United States. More than 200,000 Americans will take part in 3000-plus events across the country designed to showcase the impact of service -- as a way to strengthen democracy and solve society's problems. (This was posted on Sept 27th.)
"The ServiceNation Day of Action is all about inspiring ordinary people to do extraordinary things, and demonstrate the kind of America we could live in if we all did what we could to volunteer and work together to build stronger communities," said Emily Cherniack, Director of Organizing at Be The Change, Inc., one of the four organizations -- along with City Year, Civic Enterprises, and Points of Light Institute --that are helping to coordinate the ServiceNation effort.
Please share your thought about good capital -- and the national day of service -- by commenting below, or emailing me directly at julia@wearethenewradicals.com.

Related