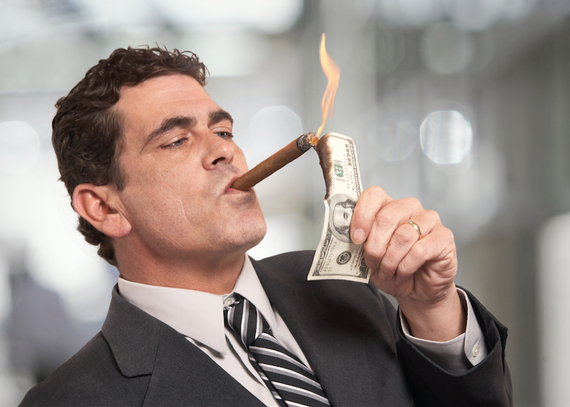 So, how does one chronicle the misdeeds and misfortunes of Wall Street scumbags, day-trading crooks and hedgefund fraudsters who have royally screwed the economy, destroyed people's pensions and pioneered pyramid schemes? You dedicate a massive library that details their sickening tales of financial mismanagement for all the ages!
Financial disasters have wreaked so much havoc on our economy and touched so many lives, from the Great Depression in the 1930s all the way through the 2008 credit crunch. The Scotsman notes that now, 2,000 volumes of books dedicated solely to chronicling tales of financial mismanagement have been collected in what is being billed as the "World's First Library of Mistakes."
...Edinburgh might be seen as the right place for such an institution, being the base of Fred Goodwin while he presided over the fall from grace of the Royal Bank of Scotland."You might find a little mention of myself in there," he said, perhaps looking back to Black Wednesday. That, however, would be to miss the point. The purpose of giving the public access to an unrivalled collection of economic mishaps is to guide people towards the sort of economic performance associated with the more successful side of Edinburgh's thriving financial sector.
Russell Napier is the "keeper of the library and a consultant to CLSA, Asia's largest stockbroker. He hopes the library will encourage study to help understand why smart people do stupid things. "At the Library of Mistakes we can see the beauty in mistakes," explained Napier.
"Mistakes can sometimes be serendipitous, but even when they are not, their study still has value as human progress is based upon learning from mistakes. The more we know about why smart people do stupid things, the fewer stupid things we might do. The Library of Mistakes provides a resource for the study of such mistakes as we fulfil our motto Mundum mutatu errore singillatim – changing the world one mistake at a time."
The library is a "charitable venture" and is a free resource to the public, and Napier hopes will be utilized by those in the financial profession as well.
Another aim is to move the study of economics away from the dry mathematical models, characterising the "dismal science" in school and university. Mr Napier added: "I want to stress that the audiences are the professions – that would be bankers and fund managers, students and the public.