This piece was co-authored with C.R. Packer
We got into TV so we could make the world's first transgender sitcom.
To say we were inspired to make The Switch is incorrect: we were quite uninspired by the television about transgender lives, and queer lives generally. Transamerica, Dallas Buyers Club, Transparent, 3 Generations – media "about the trans experience" curiously lacks actual transgender people. So we decided to make a show that actually reflected our lives... plus a bunch of stuff we made up. And, it needed to be funny. Suicide, homelessness, ostracism, increased perils in dating – what could be more important to make humor about than this, to find a way to laugh and stay strong in the face of life's endless (and sometimes lethal) curveballs?
Okay, so maybe we were inspired to make this show.
Not only does The Switch have a trans showrunner (yours truly), and transgender and/or non-binary lead roles played by transgender and/or non-binary actors – but also several trans producers and many crew, all working alongside cis allies. These are our stories, told by people who know the lived truth of those stories, and who give a damn about great performances. Not-so-coincidentally, this also makes The Switch the first scripted TV show with a trans lead.
The story centres on Sü, who flees Trump's America to come out and restart her tech career in Canada – only to wind up unemployed and crashing on the couch of her ex, Chris, an adorable ecoterrorist. What follows is a journey of self-discovery and empowerment, as well as dodgy employment, dumpster diving, nosy cops, murdered oil lobbyists, sci-fi hallucinations, and a problematic boyfriend. It's unashamedly geeky, defiantly hopeful, proudly political, and above all, it's funny.
The Switch is available on Vimeo, Revry, and is launching on iTunes, Google Play and Amazon this summer. Our goal with this campaign is to finance a second season, then a third, and so on. Our goal with the series is to change TV storytelling, dragging it kicking and screaming into a future full of awesome.
Seven years ago, we asked – how do we make and deliver transgender media that doesn't suck? Two presidents, numerous community consultations, and a Kickstarter campaign later, The Switch is coming to iTunes, Vimeo, Revry, Google Play, and Amazon this summer.
What we hope people will take away from The Switch is that trans media by trans people is just plain good entertainment. What you didn't think was possible – it's possible. We made it when we were broke. And we know you'll love it.
The whole shebang was made by Trembling Void Studios, a production company led by Ingo Lou that specializes in innovative and aggressively diverse media such as Ko Eto's Floating Away and Time Warner's revenge series La Quinceañera. We are now working on Synthesis, an optimistic spacefaring sci-fi series slated for camera in 2019.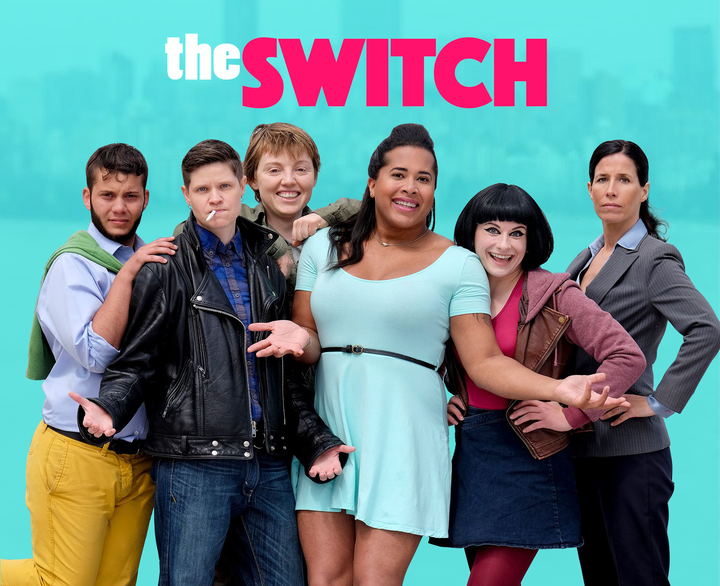 Calling all HuffPost superfans!
Sign up for membership to become a founding member and help shape HuffPost's next chapter