A 32-year-old woman is attempting to become the heaviest woman ever, but her nearest competitor, a woman who holds the record of "World's Fattest Mom," is having a hard time letting go of her heavyweight claim to fame, even as she says she's going on a diet.
Susanne Eman, a 728-pound woman in Casa Grande, Ariz., is attempting to get into Guinness World Records as the "World's Heaviest Woman," and hopes to reach her goal by the time she's 41. The 2012 edition of the book will be released later this month.
The last woman to hold the title, 1,200-pound Rosalie Bradford, died in 2006.
"The category is currently open," a Guinness representative told HuffPost Weird News. "We've got several claims that we're researching, and we may have a new title holder very soon."
Eman has told reporters that she wants to shatter the record by packing on 1,600 pounds. Her ultimate goal: weighing in at one ton.
One of Eman's high profile rivals, Donna Simpson, of Akron, Ohio, holds the Guinness record for heaviest woman ever to bear children. She won the title by weighing a whopping 532 pounds when she gave birth to her daughter, Jacqueline, in February 2007 -- an event that required 30 doctors.
Simpson just announced to the world via HuffPost Weird News that she's decided to go on a diet, but she's having a hard time letting go of the "prestige" that goes along with the honor of being America's heaviest woman -- and said she views Eman as an upstart trying to usurp her hard-earned fame.
"She's Lady Goo Goo to my Lady Gaga," Simpson laughed, adding that no one in the "feeder" community -- a subculture of men who love large women -- knows who Eman is.
"If she was a serious gainer, the community would know about her," Simpson said.
Simpson said she suspects that Eman is in cahoots with her ex-manager and is trying to get publicity in order to compete for her fan base. Even worse: She accuses Eman of trying to take away her "World's Fattest Mom" title.
"She says she's surpassed me as the world's fattest mom, but she doesn't understand that Guinness gave me the record because I was 532 pounds when I gave birth," Simpson said. "She wasn't that large when she gave birth to her kids."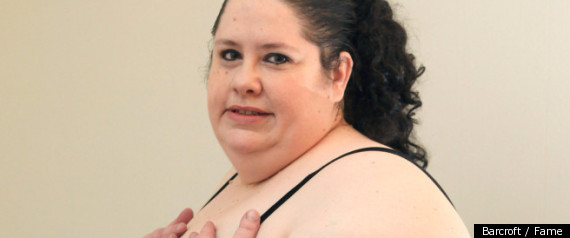 Simpson also feels Eman is irresponsible for having her teenage kids feed her, as opposed to the adult "feeder/gainer" relationship she had with her former fiance, Philippe Gouamba, with whom she broke up a few weeks ago.
Eman is chowing down on nearly 22,000 calories daily, including six eggs scrambled in butter, a half-pound of bacon, four potatoes, six pieces of buttered toast and a 32-ounce shake -- and that's just for breakfast.
Eman is under an exclusive contract to Barcroft Media, a British-based news agency, and was unavailable to be interviewed. However, a source close to her camp considers Simpson's comments to be "a load of crap" designed to make Simpson money and get her a reality show.
The source added that while there is a push among the media to get the two into a cat fight, Eman prefers to stay focused on her own career, including a potential appearance on "Dr. Oz," where she will prove she's healthy by submitting to a physical.
"There's no competition," the insider added.
ANATOMICAL WONDERS (Story Continues Below)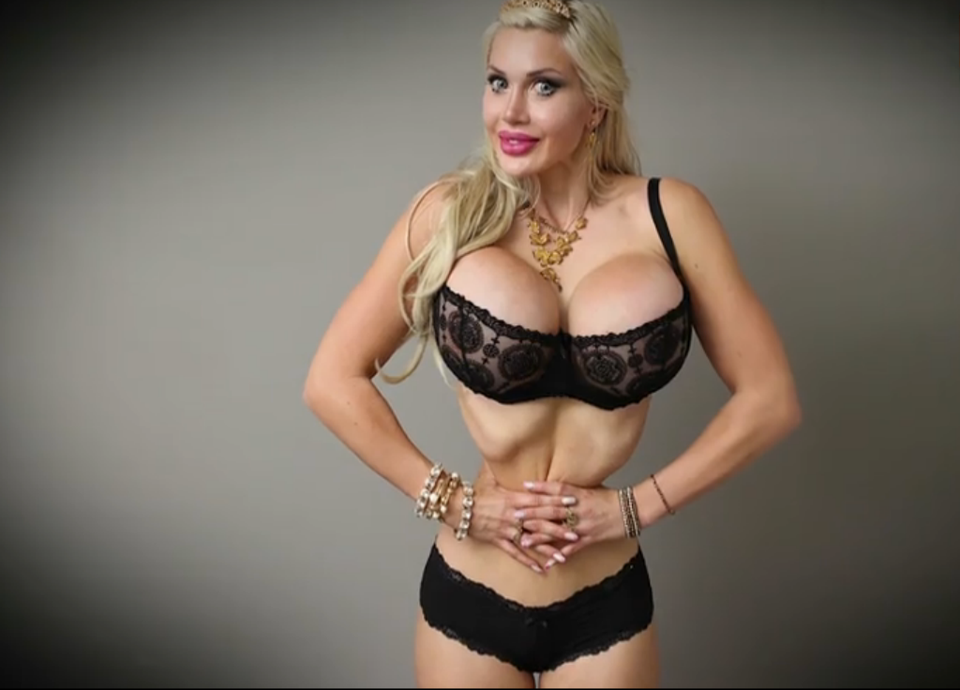 Amazing Anatomies
Simpson doesn't deny having dreams of being on TV, but said she has other priorities first.
"I've always wanted a reality show, but I need to be able to get out of the bathtub by myself first," Simpson said. "You know, there are people who are making death threat videos on YouTube."
Although Simpson said she has been fat for most of her 43 years, Eman's mission began two years when she discovered she couldn't stop packing on the pounds. In fact, she was at 490 pounds when she made an important discovery.
"I noticed I actually started attracting more men, and it made me feel good," she told Barcroft media, adding that while she cannot work because of her weight, she claims she is able to stay active by doing simple exercise and by having regular health checks.
"I go for a waddle and do stretches and exercises every day," she said. "My muscles need to hold up to my weight, so I have to stay strong. I take my blood pressure once a week, and every day, after I exercise, I take readings of my other vitals. I use a pulse oximeter to measure the concentration of oxygen in my blood stream. And I take my blood sugar levels just like a diabetic."
Eman's doctor, Dr. Patrick Flyte, has repeatedly told her she is playing Russian roulette with her life, and doesn't recommend anyone follow in her footsteps.
"There are well documented complications that come with morbid obesity," he said. "I would never encourage anyone to be doing what Susanne is doing."
However, Dr. Flyte also admitted that her medical checks show no current problems and that she's of sound mind.
"She's capable of making her own decisions," he said. "I don't see any psychiatric problems or anything else wrong."
Meanwhile, Simpson said she is looking more at her losses than her gains.
At her peak, she reportedly tipped the scales at 730 pounds (although she said that was exaggerated by 100 pounds), and had set a goal of reaching 1,000 pounds. However, she is now trying to get down to 370 pounds -- a weight she said will allow her to remain as fat as she wants to be, but will still allow her to do things herself. She currently weights 540 pounds.
"Unless I meet someone who wants me to be heavier," she said, "I need to lose enough weight so I can do things for myself, like get out of showers."
Related
Popular in the Community