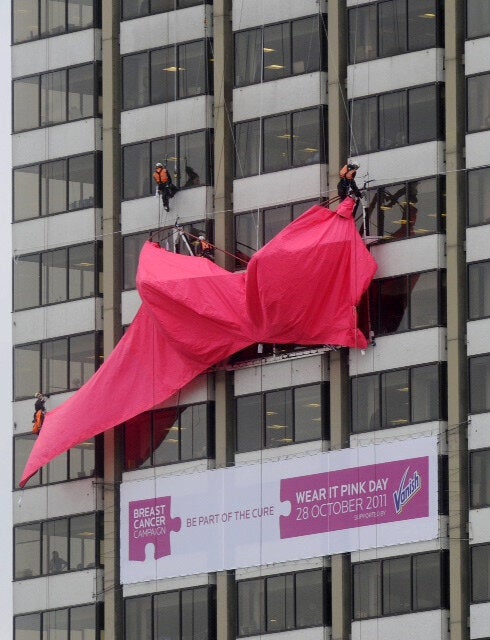 The makers of a stain removal product in England are showing their support for breast cancer research in the most titillating way possible: By making the world's largest bra.
As part of a "Wear It Pink" campaign by the British-based Breast Cancer Campaign, the makers of Vanish stain remover, supported the creation of a brassiere big enough for a brontosaurus, according to WorldRecordsAcademy.com
When it was finally unveiled on Oct. 28 at the ITV Southbank Tower, the pink bra -- which has a size 1222B cup -- measured nearly 102 feet around the chest.
If shrunk down to human proportions, the bra would fit a woman with a 34B bust.
Getting the bra ready for the big unveiling took at least four weeks by M Putt Sailmakers, which is actually in the business of making sails for ships, not bras for buildings, FieldMarketing.com reported.
Get A Full-sized View Of The World's Largest Bra And Other Record Setters In Our World Records Gallery (Story continues below)
The company used more than 4000 square feet of lightweight spinnaker nylon and the final product measures It measures 88 feet under the bust and 101 feet around it. The fabric alone weighed 165 pounds and the metal fasteners bumped up the bra's weight to nearly 200 pounds.
As might be expected, a spokesman for Vanish stain remover is happy that the bra made a mark on history.
"Raising awareness of our sponsorship of Wear It Pink via a Guinness World Record-breaking stunt has proved to be a great success," said Stefan Gaa, a marketing director for RB, the parent company of Vanish. "It really captured the interest of the nation.
Popular in the Community