In Texas, you can have your cake and feel great about every single bite you eat, too.
The Bryan community recently smashed the previous Guinness World Record for the largest gingerbread house when it unveiled its edible 39,201-cubic-foot structure, TODAY reported. It will serve as a holiday tourist attraction and proceeds from every visitor will benefit a new trauma facility at St. Joseph Health System.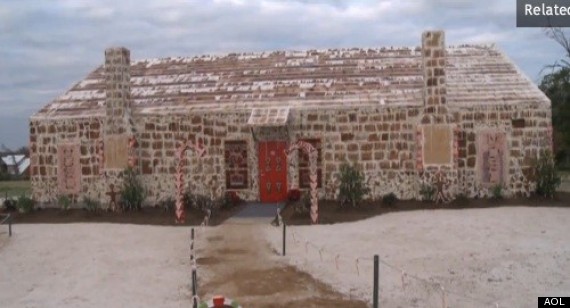 The project was the brainchild of Bill Horton, general manager of the Traditions Club –- the group that rolled up its sleeves and got elbow deep in flour and eggs to build the gargantuan home.
Horton, who calls himself both a "Food Network and Google guy," told TODAY that he got the idea when he saw a program on gingerbread houses and realized while he was at a luncheon for the hospital that he could whip something up that would bring in major donations.
The previous record holder stood at 36,000 cubic feet and was built inside the Mall of America, in Bloomington, Minn.
Philip Robertson, adjudicator with the Guinness Records, addressed the crowd on Saturday morning and said he was particularly moved by the collaborative nature that went into the project.
"I think what impresses me most about most records is the community spirit around the record attempt," Robertson told KBTX. "People come together for this remarkable cause and really work hard at it."

REAL LIFE. REAL NEWS. REAL VOICES.
Help us tell more of the stories that matter from voices that too often remain unheard.