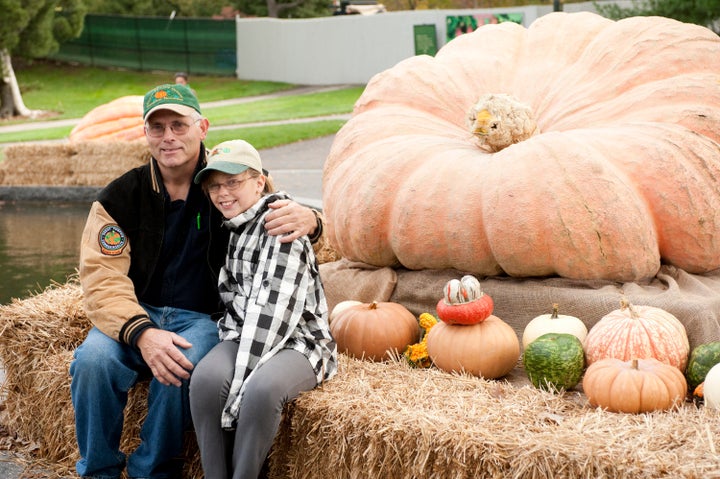 The world's four most portly pumpkins rolled into the Bronx Thursday, including one that broke the record for the heaviest pumpkin set last year. The gigantic gourds will be on display at the New York Botanical Garden until October 30th.
The largest pumpkin, weighing an astonishing 1,818.5 pounds, was grown by Jim and Kelsey Bryson from Ormstown in Quebec, Canada.
Jim Bryson proved he was no pumpkin bumpkin Thursday, happily explaining the sophisticated process of growing the massive squash. From The New York Daily News:
In April he soaked pumpkin seeds from his maple farm in a wet towel and within 30 hours they sprouted. He grew the seedlings in one-gallon pots under grow lights for 10 days.

Next he moved the plants to a heated greenhouse. After the weather warmed, he took down the greenhouse walls and let the vines spread through his surrounding garden.

On June 21 Bryson and his 12-year-old daughter Kelsey pollinated pumpkin flowers by hand.

"You're putting the pollen from the male flower into the female flower," Kelsey proudly explained to school groups visiting the Botanical Garden Thursday.
Later, the father-daughter duo chopped off all but one flower so the vine would put all its energy into the single squash.
At the peak of its weight gain, the pumpkin grew 40 pounds a day.
The three other pumpkins on display aren't too shabby either. They include: one pumpkin grown by Dave and Carol Stelts from Edinburg, Pennsylvania, weighing 1,807.5 pounds; another grown by Leonardo Urena from Napa, California, weighing 1,704 pounds; and a final regional winner grown by Brant and Eleanor Bordsen from Marysville, California, weighing 1,693 pounds.
Naturally, the giant pumpkins will be turned into works of art by renowned pumpkin carvers Ray Villafane and Michael Anthony Natiello on the weekends of October 22 and 23 and October 29 and 30, respectively.
Calling all HuffPost superfans!
Sign up for membership to become a founding member and help shape HuffPost's next chapter