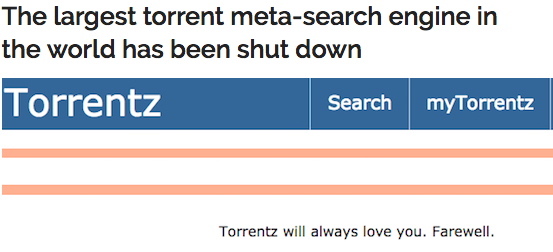 Artists finally got some good news from federal authorities in Chicago in July when Artum Vaulin, the alleged owner of Kickass Torrents, KAT, one of the most heavily trafficked pirate sites on the internet, was arrested in Poland.
Kickass Torrents has never paid copyright holders since they launched in 2008 and is one of only a handful of pirate websites shut down in the past few years. A research report by Digital Citizens Alliance and MediaLink published in 2015 identifies 589 infringing websites making over two-hundred million dollars in ad sales, a mere fraction of the billions in earnings they syphoned from musicians and filmmakers.
According to the Department of Justice, Kickass Torrents was estimated to be the 69th most frequently visited website on the internet in operation since 2008. Nearly a decade of criminal activity had taken place before they were shut down.
"Artem Vaulin was allegedly running a worldwide digital piracy website that stole more than $1 billion in profits from the U.S. entertainment industry," said Executive Associate Director Peter T. Edge of U.S. Immigration and Customs Enforcement's Homeland Security Investigations.
This globally recognized site attracted a staggering 50 million visitors a month providing them with free access to copyright protected films, music and software.

Then, last Friday, it was reported that another major gateway to piracy, Torrentz.eu, had suddenly decided to shut down their website, sending a second tremor through the pirate community.
Launched in 2003, Torrentz.eu has actually been around longer than The Pirate Bay. Yes, an entire generation has grown up with free access to every song, movie and book ever created. No wonder they feel entitled to take what they want and not have any second thoughts about it.
This isn't behavior we should allow to continue. We're not sending the right message to these kids. They don't see piracy as a crime when so few are ever prosecuted for operating these sites. They're just sticking it to the man, but in most cases the man is someone with kids trying to pay their bills.
Why does it take so long to prosecute sites like Kickass Torrents? How did things get so out of hand that U.S. Copyright Laws have failed to protect artists and their work?
To answer that, we'll need to go back to 1998 when a new set of provisions for copyright laws were introduced. The Digital Millennium Copyright Act, DMCA, was created to protect technology start-ups from frivolous lawsuits from copyright claims. It has turned out to be a total failure for providing copyright protection to creators.
Section 512 of the DMCA was a no harm, no foul approach to rights management that placed the burden on the copyright holder to police their own work on the internet. It eliminated the cost of having professionals working for internet companies vetting content and making it easy for companies like Youtube to allow billions of users to upload videos onto their website.
If that wasn't bad enough. Turns out that the language of the 'takedown' notification contained in Section 512 renders it non-binding, stripping copyright holders of any protection from online predators. Section 512 was the concession to tech that ended copyright protection. It is still on the books today, nearly two decades later.
So, now that congress is reviewing copyright legislation for the first time since 1976 will the DMCA finally get fixed? One would think that the answer would be a resounding yes, but it's not.
If the recent smack down by the Department of Justice, denying songwriters and their representatives control over determining the value of their work is any indication of techs grip on legislators, it is going to be a hard fought battle.
There have been signs from Google and other technology companies that they will marshall their considerable lobbying power to oppose any legislation that would attempt to restore copyright protection for creators.
Last spring, when the U.S. Copyright Office called for public comments on copyright reform, a well-financed rogue organization, Fight for the Future, flooded the Copyright Office's servers with nearly one-hundred thousand last minute automated responses. It was an attempt to invalidate the study with negative responses and crash the Copyright Office's servers.
After all, internet businesses depend on cheap content to drive profitability. Creators have found themselves on the losing end, first from piracy and then the devaluation of their work from piracy. That devaluation opened the door for companies like Spotify to leverage the situation to their advantage at the negotiation table.
While it may take a year to get a bill to the floor of congress, the music labels can contractually require interactive music streaming services to stop offering open-ended free streaming and stop some of the bleeding. Yes, some will opt for piracy, but they're not paying anyway and payouts from ad-supported streams are an insult.
No automatic day and date release of new music on streaming services. Windowing needs to apply to all new releases, unless the artist decides otherwise.
Send out a clear message. Music has value and people need to pay for it if they want it.
What the public doesn't understand is that the arts are dying in America and creators are going broke paying far more than their fair share for all this success on the internet.
Related
Popular in the Community