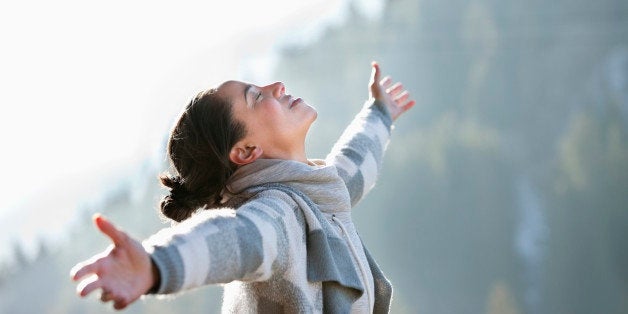 We tend to quantify a nation's success with measures like GDP, life expectancy and employment rates. Well-being, though it may be the most accurate measure of the quality of life experienced by a country's citizens, rarely enters into the picture.
That's beginning to change. The idea of measuring happiness and well-being is starting to catch on, and not just in Bhutan, land of "Gross National Happiness." Leaders in business and politics are waking up to the importance of well-being in families, workplaces and communities, and in 2015, the United Nations will even discuss whether well-being improvement should become a global development goal.
A new report, the Gallup-Healthways Global Well-Being Index, looks at the world's current state of well-being, with the aim of improving people's lives in countries across the globe. The comprehensive data set is based on 133,00 interviews conducted in 135 countries.
"The global well-being index comes at the perfect time," Peter Choueiri, president of Healthways International, a health and well-being improvement company, told The Huffington Post. "Well-being has become more and more a topic of discussion, and it's an increasing priority for the public and private sector worldwide."
The survey measures five different varieties of well-being -- purpose, social, physical, financial and community -- and classifies individual well-being in three ways: thriving, struggling, or suffering. Countries then are ranked for overall well-being by the number of people who are thriving in three or more categories.
The Gallup data found that Latin America and Europe led the way for thriving, while countries in sub-Saharan Africa and various conflict zones were suffering most.
"You have a very significant range in well-being from top to bottom," Dan Witters, the project's research director, told The Huffington Post. "Up at the very top, you have Panama, where 61.3 percent of Panamanian adults are thriving in at least three of the five elements. Down at the bottom, you've got a couple of conflict zones in Syria and Afghanistan where only 1 percent of the population are thriving in three or more elements... It's a very broad range that exists globally."
Here are some of the report's key findings:
Panama is the global leader in terms of thriving, with 61 percent of adults thriving in three or more categories of well-being, followed by Costa Rica (44 percent), Denmark (40 percent), Austria (39 percent) and Brazil (39 percent).
Residents of the Americas are the most likely to be thriving in at least three well-being categories (33 percent), while residents of sub-Saharan Africa are the least likely (9 percent).
The world is struggling to achieve well-being: Only 17 percent of residents in the 135 countries surveyed are thriving in three or more categories of well-being.
More adults globally are thriving in the community category (26 percent) than in any other domain of well-being.
Only 9 percent of adults globally are thriving when it comes to their sense of purpose, making it the most neglected category of well-being.
The U.S. ranks 12th worldwide for well-being, with 33 percent of adults reporting thriving in three or more categories.
Across the globe, our greatest struggle with well-being falls within the domain of purpose, which the poll defines as "liking what you do each day and being motivated to achieve your goals."
If we want to increase well-being globally -- and increase employee engagement and workplace satisfaction -- we'd do well to focus on questions of purpose. According to Witters, increasing purpose could have a ripple effect that leads to gains in well-being on a number of different levels.
"People who are thriving in purpose -- meaning that they like what they do every day and they learn new and interesting things every day -- are going to be far more engaged in their jobs if they're employed in the formal economy," says Witters. "They're a lot more likely to donate their money to charitable causes, to volunteer, and to help a stranger. Purpose manifests itself in ways that are very real and very significant, in ways that extend to other human beings."