RENO, Nev. (AP) — A Reno cat has broken the Guinness record for world's longest domestic cat. The Reno Gazette-Journal reported that a 5-year-old Maine Coon named Stewie measured 48 1/2 inches from the tip of his nose to the tip of his tail bone. Robin Hendrickson and Erik Brandsness purchased the cat from a breeder in Hermiston, Ore., in 2005.
The previous record holder was another Maine Coon that measured 48 inches. It was owned by Frieda Ireland of Chicago.
Hendrickson said Maine Coons are one of the oldest natural breeds of cats and are known for their mellow, relaxed temperaments. She says they're known as "the gentle giants" of the cat world.
Hendrickson said she and Brandsness decided to try for the record after hearing countless people said they were amazed by Stewie's length.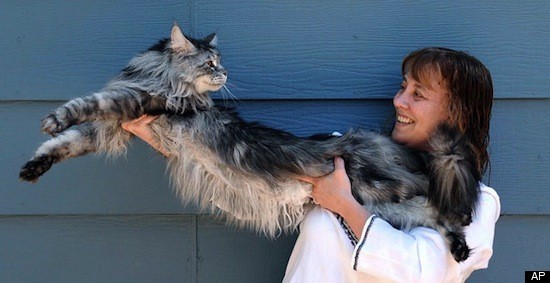 Related
Popular in the Community