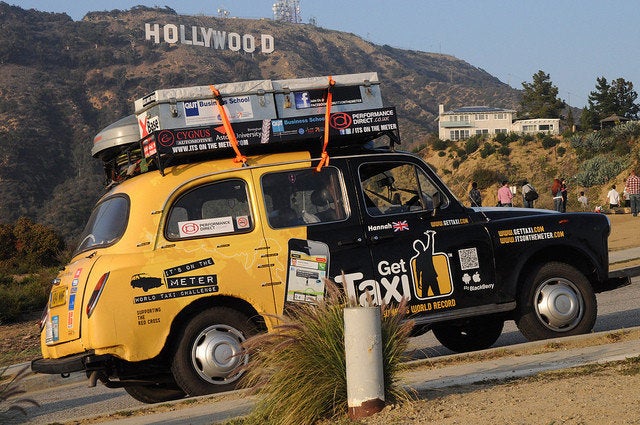 When three Englishmen wondered how high a taxi fare could go while stumbling home after a few pints, they later decided to buy a cab and find out for themselves.
Fast forward four years to Monday, when the trio found themselves driving a London black cab through New York City's Times Square just as the meter hit $100,000.
Covering four continents and countless time zones, the adventure has taken them from the snowy countryside of Kosovo to the parched Australian outback.
Six months into the trip in the outskirts of the Himalayas, they'd surpassed the previous world record for the longest taxi cab ride.
But they didn't stop there, deciding to go for a second world record for the highest taxi ride ever by driving to base camp below Mount Everest.
But the journey has not been without its difficulties, and for at least one leg of trip, Archer said the group couldn't have chosen a worse time to go.
"The price of oil went through the roof and the entire middle east fell apart." Paul Archer told the Huffington Post.
With the Arab Spring well under way, the group had no choice but to forego travelling through Libya and Egypt, instead opting for a "safer" route through Iran, Iraq and Pakistan.
But the course correction had its own set of problems, such as when authorities in Iran mistook Archer for a Jewish spy.
"When we were in Iran, we accidentally camped in a field of anti-aircraft guns one night," Archer said.
The incident inevitably led to a run in with the Iranian secret police in which they questioned the group for half a day before ultimately deciding Archer was not a spy, especially since he'd been traveling with an Irish passport.
But Archer came out of it unscathed and called the Iran experience "character building".
"We've raised over £15,000 ($23,727) for the British Red Cross so far -- but our target is £20,000 ($31,632)," Archer said.
As for the next stop? The cab is currently being shipped to Israel for the last leg of the journey, while the three recuperate in London for the week.