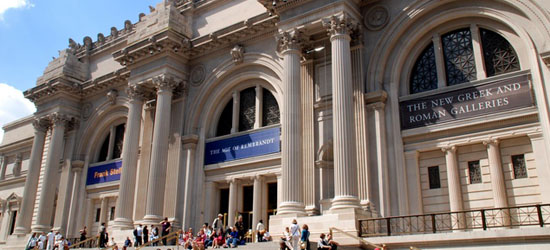 Photo Courtesy of Dreamstime.com. Article by Robert Firpo-Cappiello of Budget Travel.
There's nothing like a relaxing afternoon spent basking in the glory of world-famous paintings and sculptures -- not to mention picking up a brag-worthy keepsake in the museum shop. Here, our favorite collections of art, along with suggestions for must-see masterpieces and gift-shop grabs.
Metropolitan Museum of Art in New York City
Van Gogh, Vermeer, and Pollock in Central Park
The Met's collection of paintings, sculptures, and other visual art has been wowing visitors since 1870, but the museum's beautifully designed galleries and generous views of the changing seasons in Central Park help to foster an environment that's even more than the sum of its already considerable parts. Spend a day, a week, or a month here exploring art from prehistory to the present and you'll never see it all; stroll the exquisite Greek and Roman galleries during (relatively) quiet evening hours; or just plant yourself in front of a massive spattered 20th-century canvas and watch the crowds ebb and flow, some inevitably whispering, "My five-year-old could do that."
Must-see masterpieces: Vincent Van Gogh's Wheatfield with Cypresses, Johannes Vermeer's Young Woman with a Water Pitcher, and Jackson Pollock's Autumn Rhythm. If you're with kids, you'll have trouble pulling them away from the stately knights in the Arms and Armor Collection.
Gift-shop grab: Neoclassical Circle-Link Earrings ($60).
Louvre in Paris
The most famous smile in the world is just the beginning
A medieval fortress, a sumptuous palace, and finally, since 1793, a museum, the Louvre may be the most historically storied building ever to house an art collection. And what a collection it is, with more oh-I-recognize-that paintings and sculptures than perhaps any other museum. Ideally, you should take a day or two to fully immerse yourself in this collection, but if you're pressed for time (ah, Paris!), take the self-guided, 90-minute Masterpieces tour that touches on the most revered items in the joint.
Must-see masterpieces: Aphrodite (commonly known as Venus de Milo), Leonardo da Vinci's Portrait of Lisa Gherardini (yes, you know it as the Mona Lisa), and Winged Victory of Samothrace.
Gift-shop grab: The book The Louvre: All the Paintings ($75).
Museo Nacional del Prado in Madrid
Spanish masters, of course -- plus treasures from the Netherlands and Italy
Originally intended to house a natural history collection in the late 18th century, the Museo Nacional del Prado became the home of Spain's royal museum of painting and sculpture in 1819. With an exceptional collection of Dutch and Spanish artists (among many other nationalities and styles), the Prado is the place to see the seminal works of the painters Francisco de Goya and Diego Velazquez, who helped bring major works of Italian masters, such as Titian, to Madrid.
Must-see masterpieces: Diego Velazquez's Les Meninas, Hieronymous Bosch's The Garden of Earthly Delights, and Francisco de Goya's The Third of May: The Executions on Principe Pio.
Gift-shop grab: Menina Necklace, inspired by Velazquez's painting ($49).
Rijksmuseum in Amsterdam
The Netherlands' made-over art mecca
For some art lovers, including the author, nothing matches the power and beauty of the Dutch masters. The Rijksmuseum puts them front and center in its newly renovated space -- 10 years and $500 million in the making -- with contemporary lighting and design that has restored the 1885 structure to its 19th-century glory while at the same time gently nudging it into the 21st century.
Must-see masterpieces: Rembrandt van Rijn's The Night Watch, Johannes Vermeer's The Milkmaid, and Jan Steen's The Feast of Saint Nicholas.
Gift-shop grab: "Vermeer" Silk Scarf, inspired by the colors of The Milkmaid ($73).
Hermitage in Saint Petersburg, Russia
Masterpieces of southern Europe, way up north
What if Catherine the Great founded a museum that eventually took over the emperor's palace and grew to be the largest collection of paintings in the world? The result would look a lot like the Hermitage, Russia's preeminent museum. Including major works of antiquity, the Italian Renaissance, and the Impressionist and Modern periods, this is a must-stop for visitors to Saint Petersburg, whether you're there as a port of call or for a longer stay.
Must-see masterpieces: Michelangelo's Crouching Boy, two Madonnas attributed to Leonardo da Vinci, and Antonio Canova's The Three Graces.
Gift-shop grab: Faberge-style pendants (from $50).