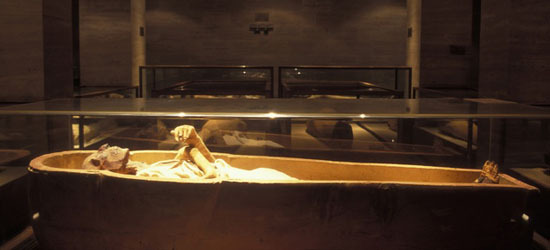 Photo Courtesy of Patrick Landmann, Getty Images. Article by Sean O'Neill, contributor to Budget Travel.
Mention the word mummy, and you probably think of the shiny case of King Tut or the linen-bandaged walking dead in a George A. Romero film. But if you haven't seen a real mummy (a.k.a. a body whose skeleton and skin have been preserved) since you were on a school trip, this is a good time to get reacquainted. In recent decades, excavators have dug up remarkably well-preserved mortal remains at locations across the globe -- in Italy, Peru, and the Philippines -- that have changed a good deal of what we know about the history of preserving the dead. So come with us on a crash course of the world's most "magnificent" corpses.
Catacombs of the Capuchins in Palermo, Italy
Around 1599, Capuchin monks discovered that the catacombs under the church of Santa Maria della Pace (Our Lady of Peace) on the outskirts of Palermo were ideal for preserving the dead. For the following three centuries or so, monks drained and dried more than 6,000 corpses in the subterranean corridors beneath the monastery, dressing them up in their Sunday best and propping them up along clammy corridors. Later generations of monks apparently doctored the mummies because while some of them are now vile, decomposed, and contorted, their clothes are usually stuffed with hay and their skeletons are often held together by wire. Other mummies are lifelike, though, including one girl who's been nicknamed Sleeping Beauty. But make no mistake: This is as far from a Disney fairy tale as you could get. Admission about $4.20, Piazza Cappuccini 1, Palermo, 011-39/091-212-117, catacombepalermo.it.
El Brujo Archaeological Complex near Trujillo, Peru
In the mid-2000s, excavators at El Brujo, an archaeological site about 435 miles north of Lima, were startled to dig up a mummy that was covered with well-preserved tattoos. They named her the Lady of Cao, after the Huaca Cao Viejo, the nearby temple-like structure built by the Moche, a pre-Inca culture. Then in 2009, they opened the Museum of Cao, displaying the 1,700-year-old corpse along with the grave goods (such as war clubs and gold jewelry) found near her tomb. The museum presents theories suggesting that Senora Cao was a dignitary or a member of royalty and illustrates how her people, the Moche, excelled at making ceramics and other crafts in the pre-Colombian era. Best to visit with a guide from Trujillo (the nearest town, about 37 miles south) with a vehicle to take you on the unmarked dirt roads. Admission $4.20, private tours start at about $70 for two people, 011-51/44-291-894.
South Tyrol Museum of Archaeology in Bolzano, Italy
Watch where you hike. In 1991, a pair of Germans walking through the Tyrol Mountains near the Italian border chanced upon a human figure poking out of a thawing glacier. Authorities later used CSI-style forensic analysis on the body, nicknamed Ötzi, to determine that it had been shot in the shoulder by an arrow and then mummified by natural processes. The 5,300-year-old body is on permanent display at the South Tyrol Museum of Archaeology, along with the clothing remnants, shoes, bearskin hat, quiver, flint dagger, and copper ax discovered around him. Come face-to-face with Ötzi, and you'll experience the closest you may ever come to time travel, given how he is unusually well preserved. Admission about $13, Via Museo at Via Cassa di Risparmio, Bolzano, 011-39/04-7132-0100, iceman.it.
Museum of Egyptian Antiquities in Cairo, Egypt
For an audience with 11 ancient emperors, step into the dimly lit Royal Mummy Room and the adjacent exhibition The Journey to Immortality on the upper floor of the Museum of Egyptian Antiquities. "Silence, please!" barks the museum guards, insisting on respect for the earthly remains of famous conquerors Seti 1, his son Ramses II, and Queen Hatshepsut, who was identified in 2007. The desiccated bodies generally look peaceful -- sleepy almost -- and many still have hair. If you look up Ramses V's nostrils, you can see a hole in his skull, a vivid example of how the mummification technique involved scraping out brain matter. Afterward, be sure to pop into easily missed Room 54 to see cat, monkey, and crocodile mummies. In ancient Egypt, animals could be venerated as if they were people. Admission $10, separate ticket price to see mummies $16.80, Al-Mathaf al-Masri, Maydan Tahrir, Downtown, Cairo, 011-20/2-579-6974.
Museo Arqueológico in Azapa Valley, Chile
Despite widespread belief to the contrary, Egyptians may not have been the first ancient civilization to preserve their dead. Mummies from 5,000 to 2,000 B.C. -- at least 2,000 years older than the Egyptian mummies -- have been found in what is now northern-most Chile. The Chinchorro people embalmed their dead, swapping out internal organs and muscles with clay, reeds, and other materials. Skin was, um, reupholstered and given a black or red finish. Four of these mummies, roughly 4,000 to 7,000 years old and mostly discovered in 1983, are on display in the Azapa Valley's superb Museo Arqueológico San Miguel de Azapa (Museum of Archaeology in San Miguel de Azapa), which covers Peruvian history from 8,000 B.C. up to colonial times. Lean into the glass cases to see how some skin and hair remain on the bodies. Admission about $2, Camino Azapa, eight miles from Arica, 011-56/58-205-551, uta.cl.