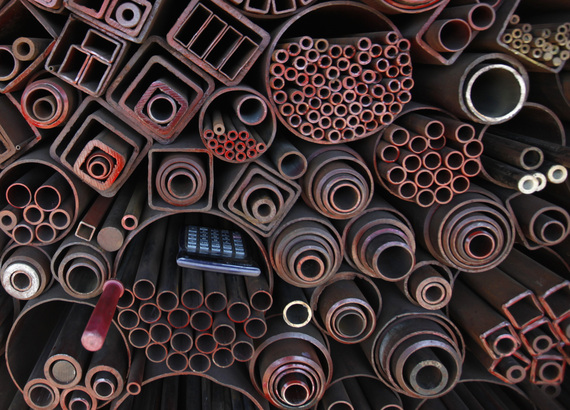 For politicians, CEOs, tech gurus, and many others, the term "innovation" is a perennial watchword. Innovation is a determinant of competitive advantage and commercial success, and a driver of economic growth and prosperity. And yet, while observers can offer any number of definitions and connotations, actually identifying and quantifying innovation is a more complicated business.
For the past three years, the IP & Science business of Thomson Reuters, drawing on its unique store of patent data, has presented the "Top 100 Global Innovators" -- companies which, to a measurable extent, have distinguished themselves by turning creativity and originality into tangible assets. The fourth annual Top 100 listing, new for 2014, has been announced.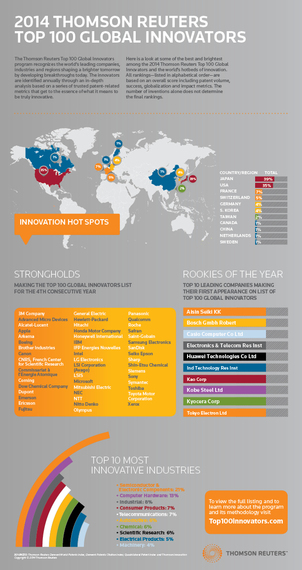 To select the Top 100 Global Innovators, Thomson Reuters consults its suite of tools for monitoring patenting and intellectual-property activity: Derwent World Patents Index, Derwent Patents Citation Index, Quadrilateral Patent Index, and Thomson Innovation. With these resources, companies are evaluated according to a range of criteria, including the volume of patent applications for new and unique inventions, as opposed to variations on existing patents; success rate at winning patent protection; the extent of securing protection in major world markets; and the influence of their patents as documented by subsequent citation by other companies.
The new 2014 roster offers a few striking changes from years past, reflecting the shifting global balance of innovation and commerce. Asia declares a new primacy on the list, particularly with Japanese firms and, perhaps most notable of all, the first China-based company to make the annual ranking. Concurrently, some traditional powers, including the United States and France, have ceded representation among the Top 100.
Along with listing the companies, the Thomson Reuters report presents breakdowns by nation and region, as well as the industries represented. In the latter section, semiconductor and electronic components is the most prolific sector, followed by the the related field of computer hardware. Among other shifts since last year's list, institutions devoted to scientific research increased their presence, while automotive firms were fewer.
Collectively, the Top 100 constitute an economically formidable group: Their revenue growth outperformed that of the S&P 500 by nearly 100 percent, suggesting the benefits of R&D spending that outstripped not only the S&P 500 but also the NASDAQ.
In all, the Top 100 Global Innovators demonstrate the benefits of encouraging and actively supporting innovation, and of investing in the protection of intellectual property. Their distinction in the Thomson Reuters report, and in the marketplace, has been well earned.
To see the entire list of the Top 100 Global Innovators and to read more commentary on the companies, on pertinent matters of national economic policy, and on the Thomson Reuters selection process, please click here.
REAL LIFE. REAL NEWS. REAL VOICES.
Help us tell more of the stories that matter from voices that too often remain unheard.