It's August again and in Europe that means "out of the office" messages, "closed" signs, and desolated streets. August 1st marks the unofficial start of summer vacation in Spain, France and Italy, and even in times of economic crisis, most employees are dead-set on taking their summer days.
And why not? According to a report by the Center for Economic and Policy Research, European countries lead the world in guaranteeing paid leave for its workers. Among OECD countries, 16 of the 18 most generous governments when it comes to paid vacation are European.
Spain and Germany are among the most holiday-happy, both offering 34 days of paid leave each year. Italy and France guarantee 31 days of paid vacation, and Belgium requires 30. These numbers include both mandatory vacation and public holidays.
To find out which two countries give the most paid days off, check out our slideshow below.
CEPR reports that the United States is the only nation among advanced economies that does not provide a legal guarantee of paid leave. New Zealand and Australia ensure respectively 30 and 28 days of paid leave, and Canada's federal government stipulates 19 paid days, with some provinces adding on additional time. Even in Japan, where thousands commit suicide every year because of work-related stress, all employees are guaranteed 10 paid vacation days.
To be clear, many American companies do provide paid leave. According to CEPR, 77 percent of private sector companies offer employees at least some paid vacation, and those workers get an average of 21 paid days.
Still, that leaves nearly 1 in 4 Americans without any guarantee of paid time off from work. Those workers are noticeably overrepresented in the lower classes, notes CEPR. Half of the workers whose wages scale in the bottom 25 percent enjoy no paid leave.
The U.S. federal government, the largest American employer, does provide paid leave for its own employees, but the amount depends on seniority, and even those with 15 or more years of service are only guaranteed 26 days a year. All federal employees get paid on the 10 annual federal holidays as well.
Europe's paid leave regime has not been entirely immune to the pressures of the Eurozone crisis. While the European Union's 1993 Working Time Directive mandates a paid vacation of at least 20 days, recession-weary Portugal has canceled 4 of its 13 public holidays for the next 5 years, according to the Telegraph. The decision required negotiations with the Vatican, as two of the holidays are tied to Catholic feast days.
Check out our slideshow to find out which country requires the most paid time off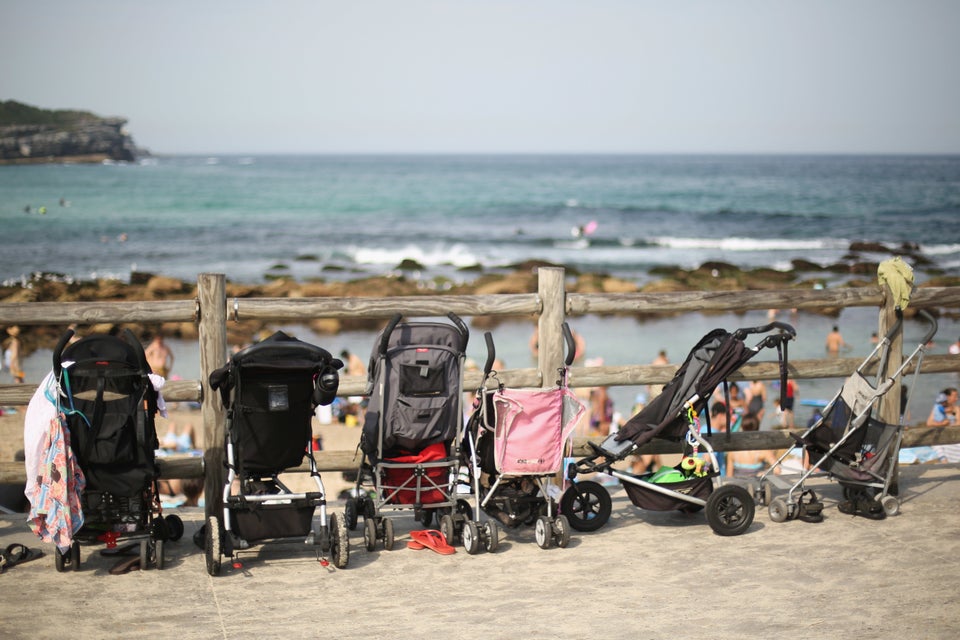 Want Paid Vacation? Move Here
Check out our map showing which European countries guarantee the most paid days off from work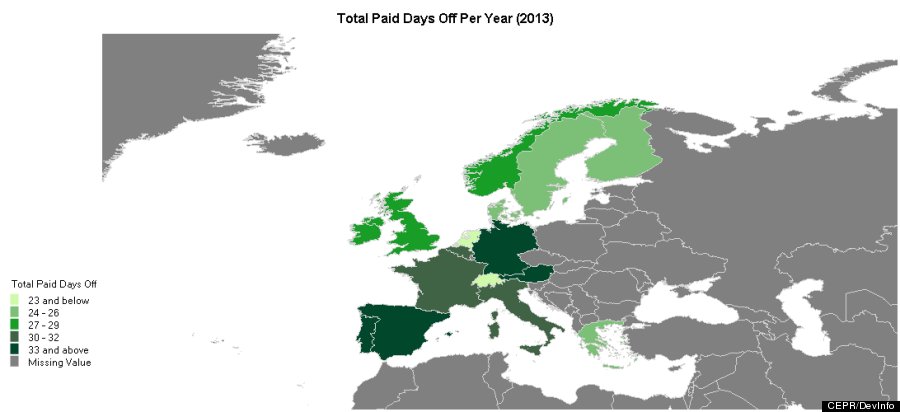 Popular in the Community