The world's oldest twin brothers, Pieter and Paulus Langerock of Belgium, say they never thought they'd be living into the triple-digits.
"When we were 85 we went to the doctor and he told us: 'Don't think you'll be living to 100,'" Paulus told Reuters. "Well, I never really wanted to be this old."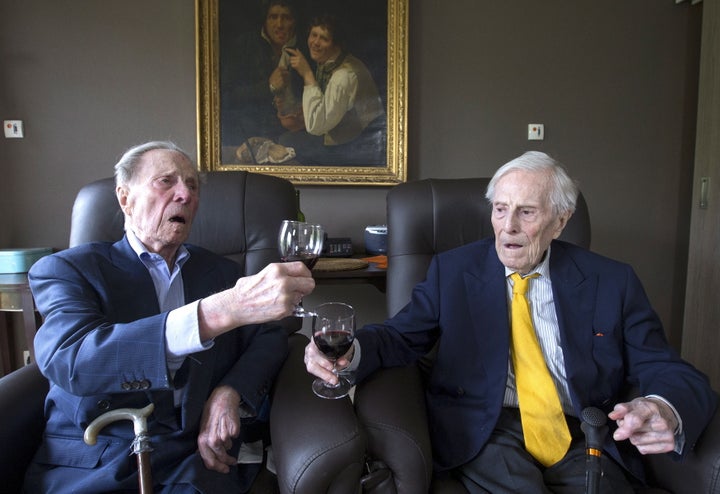 The duo just celebrated their 102nd birthday last month and Guinness World Records confirms they are in fact the oldest living twin brothers. We can only imagine they toasted their health with some red wine -- Bordeaux is their favorite. They say they have a glass every day, which is perhaps just one of their secrets to longevity. 
The Langerock brothers offered a few other tips for living a long life. "Don't waste your time fooling around, don't eat too much and don't run after women," Paulus said. The brothers also added that the best thing you can do is to marry someone you love, though neither of them ever married. 
But that doesn't mean they are short on companionship. The brothers have lived together for most of their lives and moved into a retirement home three years ago, where they share a room. "Paulus is my best friend. We're always together," Pieter said.
Other centenarians have also mentioned a similar philosophy for reaching 100. Earlier this year, Pauline Spagnola of Pennsylvania celebrated her 100th birthday and said the key to longevity was "a lot of booze." And 109-year-old Jessie Gallan of Scotland, who never married, said staying away from men has given her a long and hassle-free life.
Here's to many more birthdays for the Langerock brothers. 
PHOTO GALLERY
16 Foods Good For Longevity
Calling all HuffPost superfans!
Sign up for membership to become a founding member and help shape HuffPost's next chapter