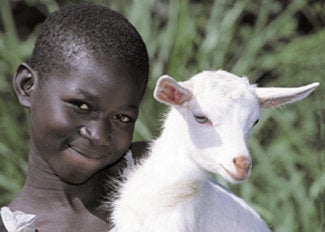 I've only been a mother for three years, so celebrating Mother's Day is still a bit novel for me. I've been reflecting on the past three years, and I find myself thinking of all the little ways I have already influenced my daughter. Some of these influences have been intentional -- she learned to say "please," largely because I say it to her. Others have been accidental and border on annoying -- I hear her sighing exactly as I do when frustrated, and it's not subtle! I'm sure, over the course of her childhood and for better or worse, I'll influence her in many ways, playing a role in what kind of person she becomes as an adult.
As important as my influence may be on my daughter, when I think about the mothers with whom we at Heifer International work, I am blown away by just how critical these mothers' influence is.
Take Clauda Alfred Mande of rural Tanzania, for example. Clauda is a single mother with a family of four, including her own widowed mother. Despite owning four acres of land, Clauda was failing to make ends meet as a small farmer and couldn't provide for her family. According to the United Nations Food and Agriculture Organization, women make up almost half of the world's farmers; but because they often lack access to important resources (fertile land, financing, technology, etc.), they are 20 to 30 percent less productive than men. So Clauda's situation is a familiar one all over the world.
Things changed for Clauda's family when her son, Simon, became the beneficiary of a Heifer International chicken project assisting orphans and vulnerable school-age children from extremely poor families. Like the other project beneficiaries, Simon's family was often unable to afford even basic school requirements, like workbooks, pens, pencils and uniforms. The income raised through the project paid for the children's school needs, improved families' nutrition through the consumption of eggs and meat, and developed a culture of self-reliance through raising local chickens.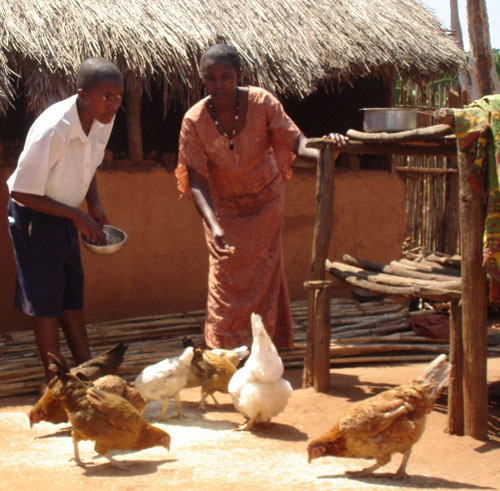 Simon was given five hens and a rooster. Because she didn't want Simon to miss school, Clauda attended the Heifer-provided trainings on his behalf and passed on what she learned to him after he returned from class. As a result of her commitment and readiness to help others, Clauda was elected by the other training participants to be a "Chicken Motivator." Her main duties are to provide advice to her fellow parents and children on chicken feeding and disease control measures, including routine vaccinations.
Now they have a total of 57 chickens. Each month the family sells about 120 eggs, for an income of around $10. Over a four-year period, they sold 22 chickens (worth about $75) and consumed 150 chickens. "On average, each family member consumes four eggs per week," said Clauda. Income from selling eggs and chickens has gone toward Simon and his siblings' education and to grow the family farm. In addition to growing cashew nuts, pigeon peas and rice, the family keeps two goats, which they bought using the earnings from chicken sales.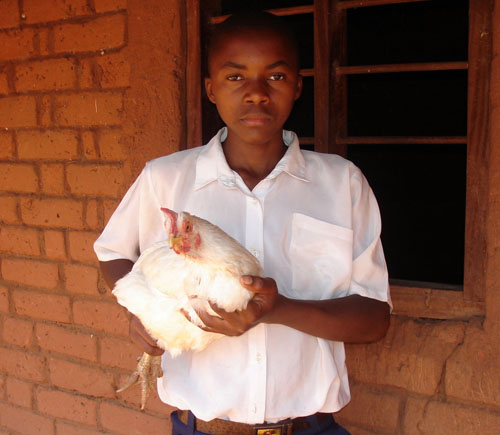 There are millions of passionate and capable mothers around the world like Clauda who, if given the opportunity and resources, will improve the lives of their children. They can become better, more productive farmers. They can keep their children well fed and in school. Honestly, we at Heifer International believe mothers like Clauda are the solution to feeding the world's growing population.
But they cannot do it alone. This Mother's Day, we must not only honor them, along with our own mothers and ourselves, we must help give them the chance they need to succeed. Gifts of livestock and training provide a significant opportunity for the world's mothers to feed their families, to change their children's lives with profound influence.
Clauda is but one of many mothers to have transformed gifts from Heifer into a better life for their families. I hope you'll watch this short video showcasing more of the strong and empowering Heifer mothers with whom we are honored to work. If you like it, please share it with the women in your life who provide, lead, nurture and love their families.
Clauda's determination to help her son create a more hopeful, prosperous life is truly an inspiration to me as a mother. While I realize my daughter will never face the same struggles as Simon once did, Clauda serves as a model to me of what motherhood really looks like. No matter how hard the work or how long the hours, we do the best we can by our children. We want their lives to be even better and more successful than our own. That's motherhood worth honoring this Mother's Day.
Read more stories of Heifer's work with mothers and families all over the world on the Heifer Blog.
Calling all HuffPost superfans!
Sign up for membership to become a founding member and help shape HuffPost's next chapter