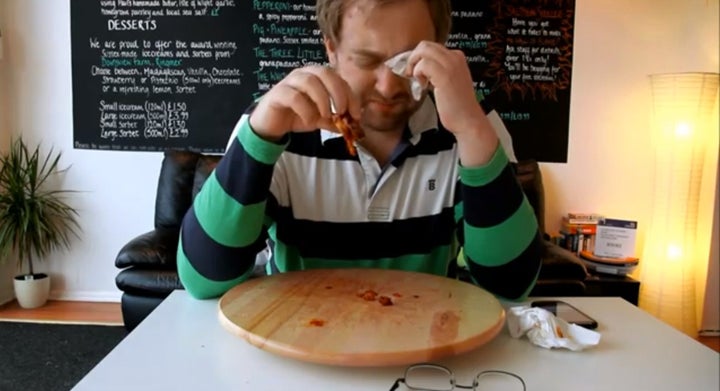 The line between pleasure and pain continues to blur as spicy food enthusiasts -- or masochists, depending on your vantage point -- continue to dream up ever-spicier dishes. The lastest in a string of spicy world-record contenders is the Saltdean Sizzler pie, which its creator claims is the spiciest pizza in the world.
Creator Paul Brayshaw dreamed up the pizza for his eatery, Paul's Pizza, in the English town of Brighton. According to the Daily Mail, of the 1,307 pizzas sold in the last year, only eight men and one woman have successfully finished it. The showcase ingredient is a paste made with one of the hottest chilis on the world, the ghost chili, which is revved up even further with chili extract.
The pizza, Brayshaw claims, is hotter than the world's strongest chili -- the Trinidad Moruga Scorpion -- and more potent than police-grade pepper spray at 3.2 million on the Scoville scale. He's already sent the pizza to Guinness World Records for testing, and an official title may be imminent: the previous record is 1 million Scoville points, which seems puny by comparison.
Brayshaw says his interest in the Travel Channel program "Man vs. Food" inspired him to think up the concept. "The pizza starts of [sic] a nice red tomato colour but adding the sauce turns it into an evil black/red," he told the Mail. It's worth noting that not even its creator can manage the pie: Brayshaw says he can only eat two slices of the pizza's six.
One unsuccessful challenger, Christopher Barnard, said that eating the pizza was "no pleasure. Just pain. It was unbearable." Barnard said he experienced a "relentless stomach ache" 20 minutes after digging in. "I would never do it again. I would not wish it on anyone," he continued. Barnard only succeeded in getting down a single bite of the pie.
But spicy foods enthusiast Rob House was more successful. In the below video, House downs the entire pie and lives to tell the tale, although he looks to be in considerable pain by the video's end.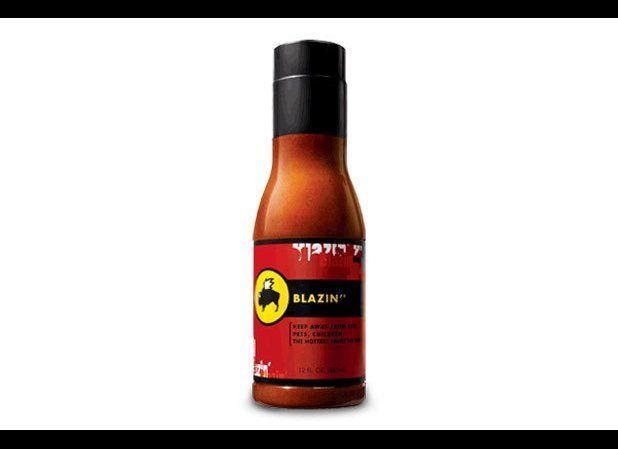 World's Spiciest Hot Sauces
Popular in the Community