At StarChefs' tenth annual International Chefs Congress in NYC, some of the most creative minds in the industry were asked what "Open Source Cooking" means to them. From the highly energetic molecular gastronomist José Andrés to the elusive Zen naturalist Michel Bras, the answers they gave were as diverse and as interesting as the great chefs themselves.

"We are who we are because of all the people we have worked with before," proclaimed chef José Andrés. "And, we are only as good as we are today because of the people around us." To Andrés, open source cooking was a broad concept which included significant collaboration with his team, a group of people he leads, but who he looks up to and learns from nonetheless. "Convincing others to join us on this road is 'hiring people'."

José Andrés, far right, leans in with anticipation, and Ruben Garcia, Director of Culinary Creativity, looks on, as Pastry Chef Margarito Lopez creates a Pumpkin Seed Oil and Mandarin Tarte (Regina Varolli)
As the pioneer in the US for molecular gastronomy, having been on the cutting edge at elBulli, José Andrés views cooking in a non-traditional sense. He pointed to science and art as sources. "Move away from pure culinary and you will see you will discover some amazing things," explained Andrés. "We move away from our comfort zone, we move to where we are uncomfortable, because that's where we learn."
To chef Gavin Kaysen of Spoon and Stable in Minneapolis, former Exec Chef of NYC's Café Boulud, and coach for Team USA in the Bocuse d'Or, "The whole point of collaboration is to open the barriers to communication up and down the ranks in the kitchen." Not one to downplay the importance of team work, the humble yet super talented Kaysen said "We give our cooks a lot of power and a lot of voice."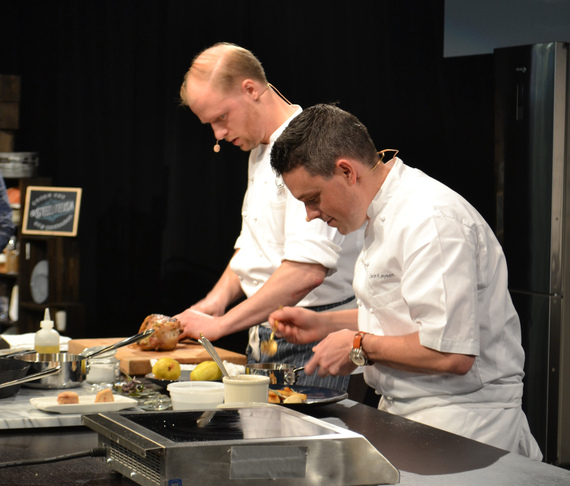 Spoon and Stable's chef/owner Gavin Kaysen, foreground, and Chris Nye, Chef de Cuisine, work together on the ICC Main Stage (Regina Varolli)
Kaysen goes beyond the kitchen though, describing how "Front of the house and back of the house does not exist in our restaurant. It's the Kitchen and the Dining Room, and this eliminates the classic FOH / BOH conflict." Gavin wants the input of those working the front lines of the customer experience. "In all of our collaborations we ask ourselves: Is this dish accessible? From reading it on the menu to its presentation, to actually eating it?" Answering those questions requires the input of not only those who make the food, but those who interact with and observe the customer who orders and eats it.
Having begun his career on the savory side, pastry chef / owner of Craftsman & Wolves in San Francisco, William Werner spoke of how his sources cross the divide between the pastry and savory kitchens. In a big way, to Werner, open source cooking is creating a new kind of kitchen where the lines between pastry and savory are nearly erased, and ideas come at you from all corners of the kitchen. "We have a very diverse kitchen staff," said Werner proudly. "It's a really great scenario for learning and for creating new products."
For its tenth anniversary, ICC landed a huge fish, the man who changed fine dining forever, arguably France's most revered chef, Michel Bras. It's hard to overestimate the impact this man has had on the way chefs think about cooking, plating, and even writing about and photographing food. All of this from a man who is somewhat of a hermit, never living outside his hometown or studying under any great chefs. He was born into his parents' inn and restaurant kitchen, and that's where he remained and evolved.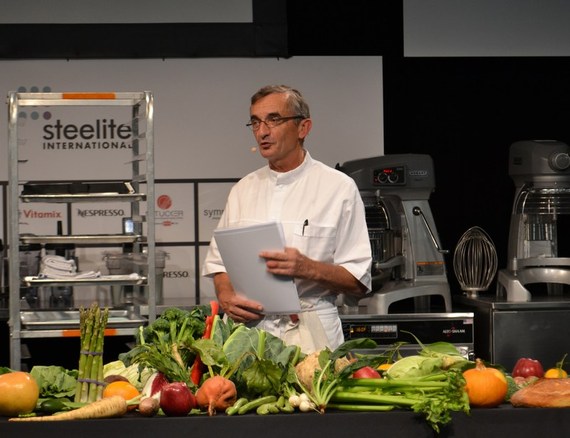 Michel Bras opening his demo with a talk about what it is for him to be a "harvest to plate" chef (Regina Varolli)
When his famed "Gargouillou" graced the cover of his eponymous cookbook, the world took notice, and his influence grew globally. As he demonstrated this dish on the Main Stage at ICC, he explained how to him open source cooking was not exactly about the people who inspired him, it was about a personal journey through nature and philosophy. "When I plate a dish, it's like I am writing a book, I want to send a message to whoever is going to eat it. When I create the Gargouillou it is like I am meditating."

The Master Michel Bras quietly meditating as he plates the dish that changed the culinary world forever (Regina Varolli)
Having built a "harvest to plate" hotel and restaurant that earned him 3 Michelin stars, Bras spoke of the inspiration of nature, of how the plants speak to him, how the harvest dictates the dish that will be created. "I see my harvest as the work of a goldsmith. After observing, followed by understanding, I take the time to chisel my own way in this vegetal, ever-changing world. History writes itself again every day. This is the charm of cooking from harvest to plate."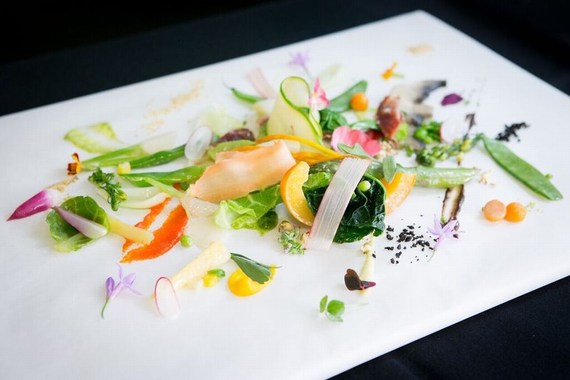 The dish that changed the culinary world, Michel Bras' Gargouillou (Megan Swann, Courtesy StarChefs)
With such an engrossing dialogue about sources of inspiration among the world's best chefs, I had to pull myself away from the demonstrations and make my way into the products fair, food carts and pop-ups, as well as the continuous competitions ranging from a Ramen Battle to the Valrhona C3 Pastry Competition. The winner, Pastry Chef Nicolas Blouin of Rosewood Mansion in Dallas, TX, will represent USA at the International C3 Competition finals. Blouin, who "likes to constantly challenge" himself, said he competes because it "requires a very different mindset than our daily work, it's not simply about creating the best dessert."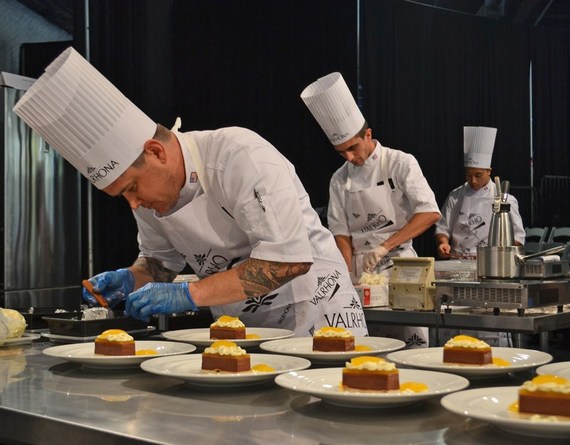 At the Valrhona C3 USA Competition, front to back, Pastry Chefs Curtis Cameron, winner Nicolas Blouin, and Steven Tran (Regina Varolli)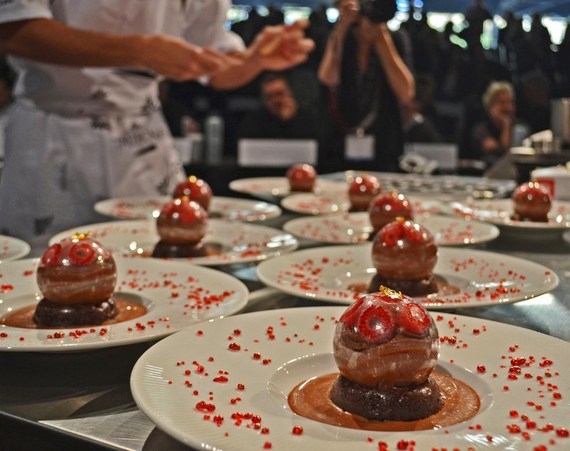 Nicolas Blouin's winning dessert: Stratosphere, composed of an Illanka Chocolate brownie, raspberry compote, chocolate cream, jasmine-raspberry sorbet and jasmine-chocolate foam. (Regina Varolli)
Though all the food on the floor represented each chef's unique style and each country's best products, my faves were New Orleans chef Michael Gulotta's Boucherie Backbone Stew, Jennifer Yee's Caramel Spiral Cake, and Spain's Jamón Ibérico from Fermin. Award-winning pastry chef Jen Yee of NYC's Lafayette spoke to me about her take on open source cooking, saying, "To me it just means fewer boundaries. We are so lucky to be living in an age where we can connect with chefs and food culture at opposite ends of the globe through the visual exchange of social media. Our sources of inspiration are limitless now."



Jennifer Yee's ridiculously yummy Caramel Spiral Cake, composed of vanilla cake soaked in coffee, layers of caramel crème légère, caramel buttercream and gold dragées (Regina Varolli)
Circling back to the Main Stage, I want to introduce you to, and leave you with, Quique Dacosta, whose mad scientist style took over where elBulli left off. Number 39 on San Pellegrino's World's 50 Best list, the Michelin 3-star chef from Valencia interpreted open source cooking as the utilization of both local and global ingredients. Though this outspoken Spanish locavore rightfully bragged, "My environment is so rich and so vast that it is almost a paradise," the great chef doesn't want to impose limitations on the origins of his ingredients.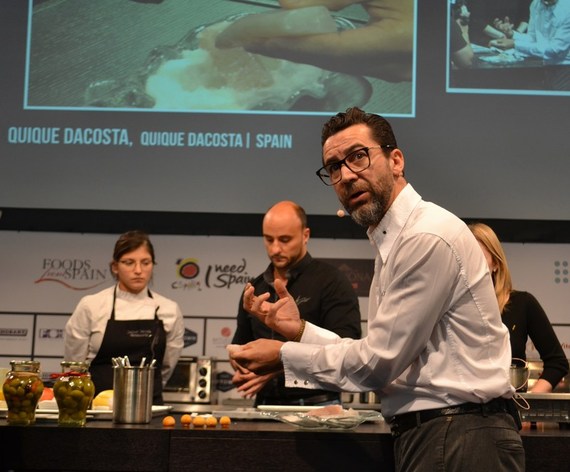 Quique Dacosta's genius, intensity and passion comes across on the Main Stage at ICC (Regina Varolli)
Dacosta proclaimed, "If I was truly a radical, in my restaurants I would have no coffee or chocolate or Champagne, or any of these other products we use that come from all over the world." To Quique, despite a dynamic and plentiful local landscape that spans the sea and mountains, open source cooking means going global, because cooking globally "is itself a means to creating paths and opening frontiers."