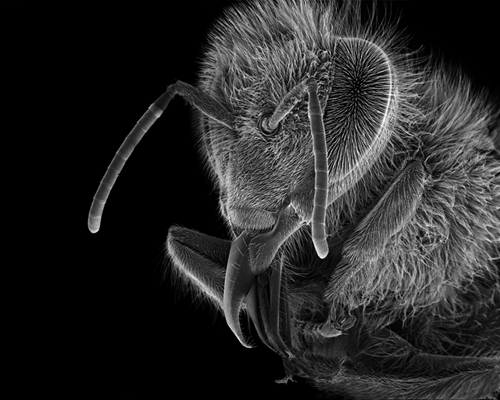 Sabine 14x
The first time artist Rose-Lynn Fisher looked at a bee's eye magnified 10x to 500x in an electron microscope, she was amazed to see a field of hexagons, just like honeycomb. "I wondered, is this a coincidence or a clue?," notes Fisher. " Is it simply that hexagons are ubiquitous in nature, or is there a deeper correspondence between the structure of the bee's vision and the structure she builds - in other words, similar frequencies being expressed in similar form?" This got Fisher wondering if there exists a parallel kind of encoding relevant to humanity. "At a refined level of our own nature, does our deeper capacity to see and to do correspond with an intrinsic structuring?"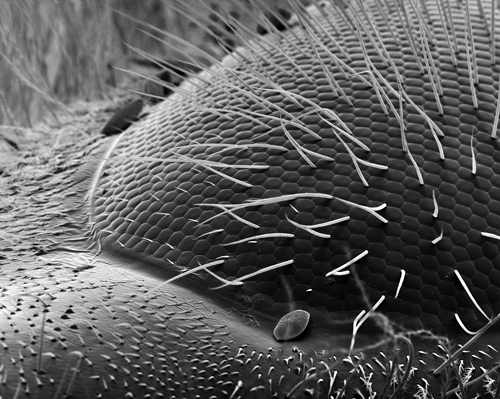 Eye 190x
The answers may not be self-evident, but the fabulously surreal frontiers that emerge in Fisher's black-and white photographs of the bee are as intriguing as our own DNA. Minute segments of anatomy are revealed in startling detail, from the bee's curved hairs, pollen baskets and wing shafts to its mandibles and elliptical eye domes. This internal architecture speaks to the haunting complexity not only of the bee (what Fisher refers to as "the ultimate pollinator"), but of all sentient creatures.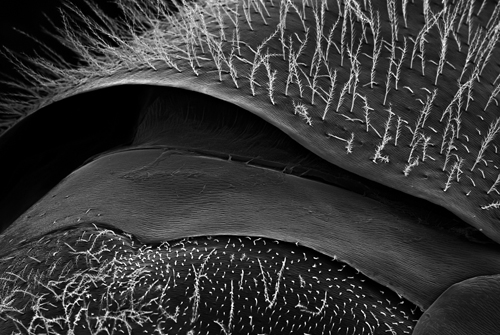 Abdomen 75x
Fisher's work has drawn accolades from scientific and artistic communities around the world, and is also the subject of a book published by Princeton Architectural Press titled "Bee," which has particular relevance given the looming threat of colony collapse. Speaking of this tiny but mighty creature, Fisher opines: "Theirs is a peaceful society whose industries benefit life. " Words to live by.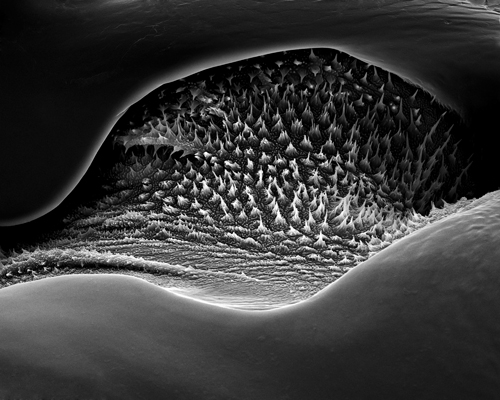 Wingbase 550x
December 4, 2010 - January 8, 2011
Reception December 4, 2010, 4:00 to 6:00
Craig Krull Gallery
Bergamot Station
2525 Michigan Avenue, Building B3
Santa Monica, CA
Rose-Lynn Fisher will be signing copies of her new book Bee, published by Princeton Architectural Press.

Support HuffPost
The Stakes Have Never Been Higher
Related
Popular in the Community