Despite a growing awareness of the environmental and economic benefits of using reclaimed wood for furniture, obstacles to its wider acceptance persist. One subtle prejudice in particular is a powerful dissuader when it's time for potential customers to choose building materials: names.
If you have no special knowledge about wood, take this little test. What associations come to mind when you consider this term: chestnut?
Probably fairly positive. Chestnuts roasting. A warm color.
Now consider... wormy chestnut.
Unless you're familiar with wormy chestnut as a building material (or are vermivorous), you most likely didn't have positive associations, but this reclaimed resource is rich in character, has a distinctive look and literally embodies American history.
Recently on the CustomMade blog, guest blogger and woodworker Patrick Kennedy of Superior Woodcraft, Inc., discussed the history of the American chestnut, a tree once widespread in the eastern U.S. and prized for its multiple uses but decimated by chestnut blight, a fungal infection, over a century ago. Although a few isolated stands still survive and restoration efforts continue, American chestnut is available for custom woodworking when rescued from old barns, smokehouses and other structures made from "wormy" chestnut, the pitted wood sawn from the blight-killed trees. The fungus didn't cause these pits, however. Ironically, the trees' great durability inadvertently contributed to this damage. The trees remained standing as "ghost-like forests" for decades after dying and many were harvested long after insects had bored pin-sized holes into the vulnerable wood.
Wormy chestnut may be associated with barns, antiques and rustic style, but this resilient, storied material isn't limited to a single look. Here are just a few examples of custom furniture made by CustomMade artisans from this salvaged wood.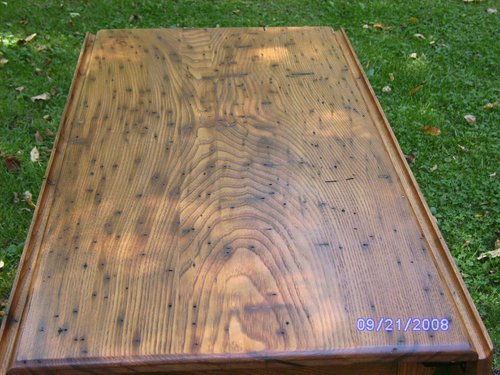 This close-up photo of a drop leaf table by Short Mtn Wood Works reveals the distinctive pin-holed appearance of wormy chestnut. Furniture maker Tim Tolliver rescued this wood from an old coal camp house near his Pounding Mill, VA studio. The historic structure was destined for demolition.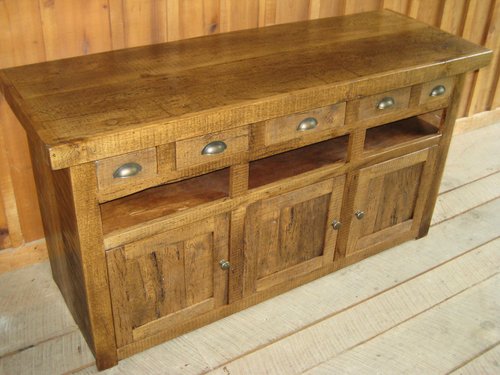 The artisans at Unique Custom Furniture specialize in making furniture from 100-year-old wormy chestnut lumber reclaimed from barns in Ohio. Their unique creations also feature the telltale signs of the hand-hewn origins of the lumber as well as inlays found in the original wood, like the top of this 60" TV stand, made from wormy chestnut barn beams.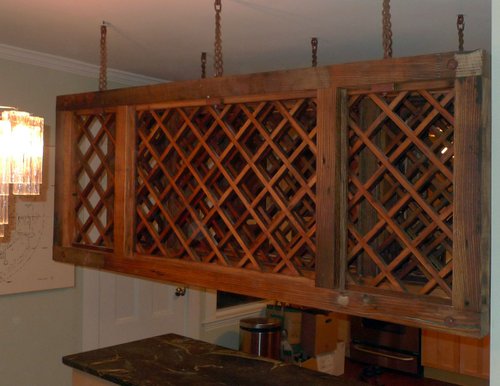 Need something funky to add contrast to a modern kitchen? This was the challenge proposed by a client of Philip Morse Design/Woodworking. The frame for this wine rack was created from reclaimed wormy chestnut from Longleaf Lumber in Cambridge, MA. Since the unique chestnut was not uniformly straight, Philip squared the frame from an inside corner, letting the exterior sides of the cabinet "float."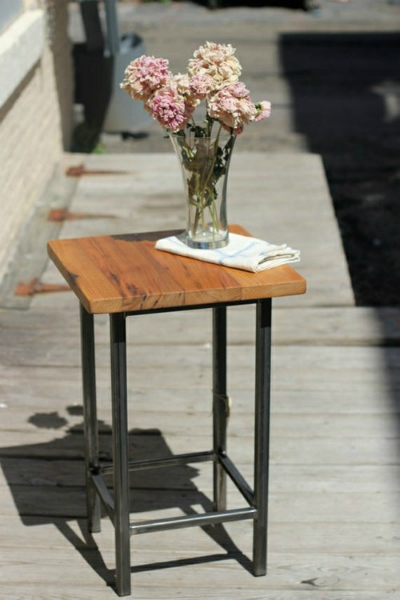 The wormy chestnut top of this square end table by Vermont Farm Table, on the other hand, seamlessly complements its clean, modern steel stand. The characteristic markings of the chestnut here take on an almost abstract quality.