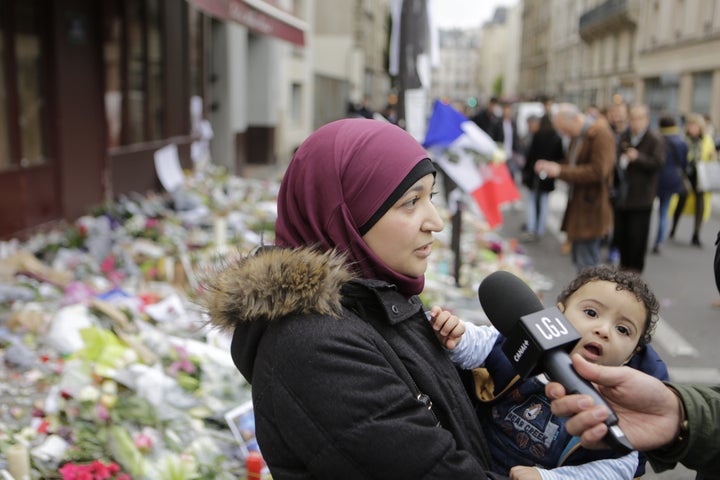 PARIS -- Some Muslim parents in Paris who are worried about discrimination have started asking their daughters to remove their religious headscarves in the wake of the deadly attacks on the French capital on Friday.
The Islamic State group claimed responsibility for the attacks that took place at a stadium, concert hall and eateries throughout Paris and left 129 people dead. French President Francois Hollande described the attacks as "an act of war."  
In the aftermath, some Muslims are feeling uneasy in France, fearing retaliation. According to the Collective Against Islamophobia in France, in the six months following the terrorist attack against satirical magazine Charlie Hebdo in January, cases of physical assault against Muslims in France rose by 500 percent.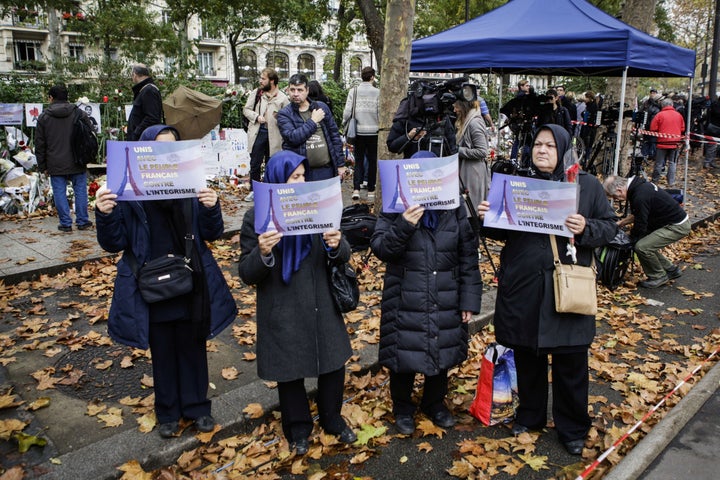 This emerging anxiety has moved some Muslim families to revisit their Islamic traditions and rituals, and to avoid the risks they might face as a result of looking like Muslims.  
Seham, a student at the Sorbonne University in Paris, is currently under pressure from her parents and relatives to remove her headscarf, she tells HuffPost Arabi. Her mom told her she'll be angry with her if she refuses to take it off.
Refusing to remove her headscarf, and burdened with her family's concerns, Seham has been spending most of her time at home since Friday. "All the calls I receive are from people asking if I have given up my veil yet."
Other Muslim parents in France have instructed their sons and daughters to dress in black or dark colors and to light candles to mourn the victims.
An Algerian graduate student, Hussein, says his mom has ordered him to refrain from "speaking about religion" with any of his friends or colleagues. She worries about him every time he steps out of the house, he says.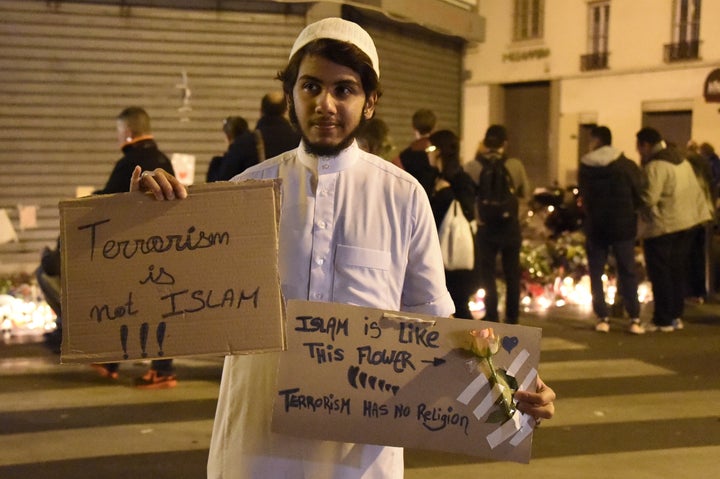 Hussein says advice of this kind annoys him -- he thinks it's over the top. Still, he understands his mom's concerns in light of the recent attacks. He said he stands in "solidarity with victims across the world," but that he doesn't feel obligated to constantly prove his innocence "just for being a Muslim."
In a blog published on HuffPost France, Marwen Belkaid, a business school student who grew up on the outskirts of Marseille, admitted that he was afraid that ISIS's "unspeakable acts" would "manage to divide my country." He continued: "I'm afraid that you will achieve the ultimate goal behind your attacks, behind the murders of innocents: to cast a shadow on Muslims in the West, so that they might all be regarded as potential terrorists."
Muslim youth in other parts of Europe share similar concerns. In a blog for HuffPost Spain, Imane Rachidi, a journalist specializing in the Middle East and North Africa, wrote, "I'm frightened by the idea of being rejected or mistreated because of my appearance, my origins, my name or my family, for speaking Arabic, or because some terrorists decided to kill in the name of Islam."

Those interviewed requested their last names be withheld. This post first appeared on HuffPost Arabi. It has been translated into English and edited for clarity. 
Calling all HuffPost superfans!
Sign up for membership to become a founding member and help shape HuffPost's next chapter