When I stop to actually watch my thoughts, I see so much of my time is spent worrying or imagining the future.
Do you notice that trend in your thoughts too?

Instead of imagining the worst possible outcome in fast-forward, how about instead I replace it with a love letter to the future?
So, I am a spiritual practitioner- but I also like to laugh. And this whole theme makes me think of that old, cult classic film, Bill and Ted's Excellent Adventure. This future thing is kind of like that- we channel the bravado and confidence only an 80's young, white male could have- and project it towards our future self.
So yes, It feels a little silly but In all seriousness, though-it works! Try it!

Here is my love letter to my future self. Go ahead and read it with your future self in mind. And then write your own to your future self--because it's the equinox and a full moon lunar eclipse, and because, why not!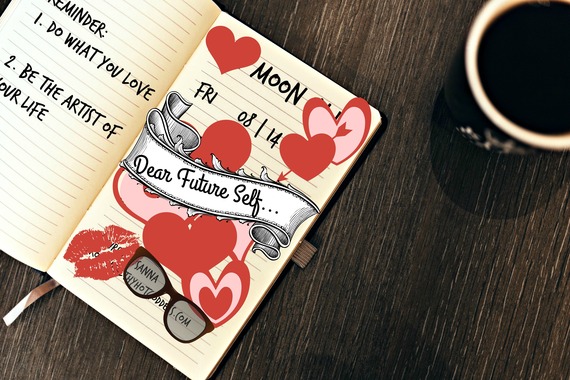 Dear future me,
You are amazing.
You, like so many of us, want to be happy, be safe, be full of joy and creatively express yourself to the fullest, to be free of your suffering.
I appreciate you for wanting to get these things. For your sincerity. For all you do to make it real every day.
And I'm so connected to you- as your earlier self. We are all connected, right? So I absolutely wish you all the best. I'm sending you love no matter what the future brings.
Know I will stand by you, love you, support you, whatever you do. Know it will all work out.
I see you- allow you to show up- without expectation, without judgement. I see you as who are you are. And you rock!
I know you are proud of me and you look back and you see me right there in the trenches. Yep. Learning the lessons that you now know and have integrated the golden nuggets of wisdom from. I can feel you sending some support back my way. Telling me it's all going to be all right. We get through this. And yes, we forgive some of that not so cute stuff. . . yeah. Thank you.
I know you've got faith and trust in yourself, in the universe, in life. You've got so many internal resources that everything I'm going through is helping you develop. Just writing to you helps me breathe a sigh of relief. I don't need to worry anymore, because- damn- you are awesome!
Next time you notice thoughts of worry or fear of an imagined future, try replacing them with a love letter to your future self.
Here's some themes to apply when communicating with our future selves:
-Allowance
-Acceptance
-Appreciation
-Forgiveness
-Celebration
It doesn't have to be long. Could just be a few phrases:
"You got this, future me."
" I stand by you no matter what happens. I'm proud of you."
"I see you! And you are amazing!"
After some time of practicing this Love letter to your future self so often see if you own it so much that you can feel the good energy in the now coming to you from your past self! (I know, it get's confusing - but super cool!)
And why not be silly with it too!
I hope this brings you some joy and uplift, now, in the present, past and future!
Sending love,
Susanna

Inspired to deepen your practice? I'd love to talk.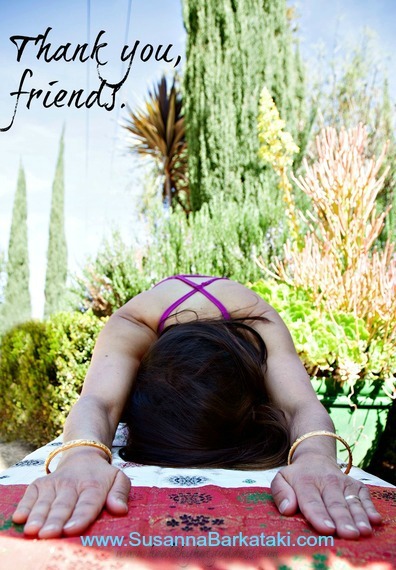 I run Yoga Teacher Trainings and work with individuals 1 on 1 in online-learning custom coaching programs to support you in experiencing more harmony, peace and balance in your life with yoga, Ayurveda, mindfulness and other healing tools. I look forward to talking with you.