1. When I visit Beijing, I worry less than usual. The smorgasbord of inexpensive massage offerings helps.
I begin my stay with a foot massage. In an oversized club chair, I soak my feet in a barrel of milk, herbs and Chinese medicine, after which a young man kneads my shins and toes with Healthy Spa Life Cure Professor Lotion.
2. What worries me most in Beijing is the air quality. When I view this smoggy city-as though through gauze or an organdy curtain soiled with age-I'm pleased with my choice to get around on a two-wheeler rather than sit in traffic jams, contributing to the pollution.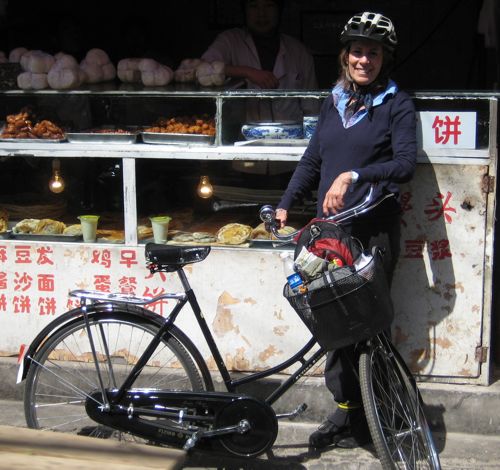 You can rent a bike at any of several subway stations and drop it off at any other subway rental area. Be aware that, traffic-wise, the bigger you are, the more you have right of way. At intersections, cars turn from all four directions, seemingly at once, without slowing down. As for a helmet, don't leave home without one!
3. I worry about finding suitable gifts. So I make my way through crowds of Chinese yuppies and foreign tourists on trendy Nanluoguoxiang, which is chockablock with boutiques as well as coffee bars.
4. It's disturbing to think about the rapid disappearance of Beijing life as it had been for centuries. To experience some of what remains, head south from Nanluoguoxiang. Then turn into any hutong and lose yourself in a maze of these narrow lanes, lined with courtyard houses that feature sloping tile roofs. You may encounter only a cat, creeping along the edge of a high wall.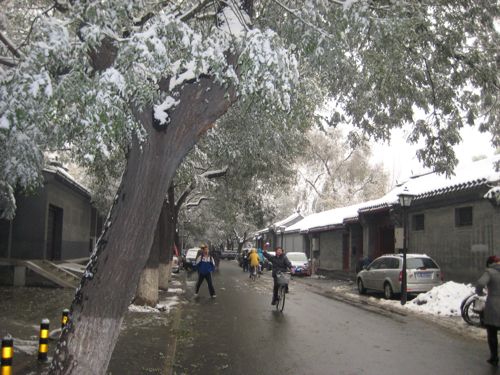 Then you round a corner and there unfolds a row of tiny, faded shop fronts, where you can buy dough in its endless forms: fried, flat, squishy, steamed, noodly. A bun-that resembles a large cream-colored ball you squeeze to exercise your hands-might be empty inside or filled with bean paste or minced pork.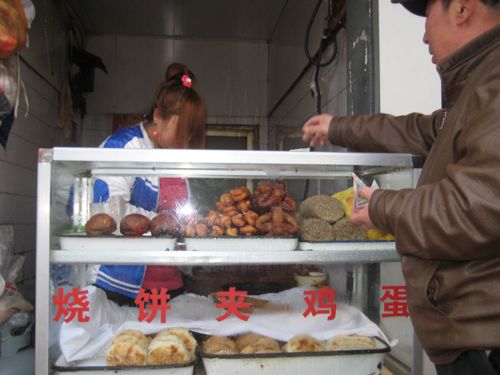 Hutongs are where I most like to watch the bustle, an activity the Chinese call kankan renao, literally look at bustle. I could steer you to a bustling hutong where I buy socks and oranges and talk to babies and their grandmas. But that might take away your fun of discovery.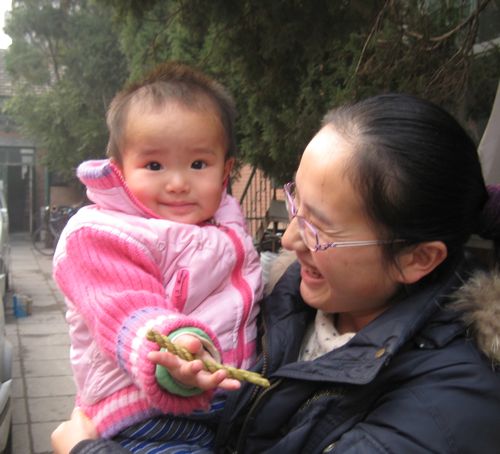 5. I have a fantasy I'll retire to Beijing someday, in order to experience the sense of community elderly folks here enjoy. When I asked a retired Chinese friend what she does all day, she replied, "Wanr," which is Beijingspeak for play. What she means is she hangs out in the park with her friends. Just north of Jingshan Park, you can experience a "playground" for senior citizens, one of many throughout the city. Don't be surprised if the rows of ping pong tables are all in use. At a small cement table by the fence, some lao touzi, or old men, will probably be playing Chinese checkers while surrounded by a ring of onlookers three-deep. Meanwhile, lao tai tai, or old women, sit chattering on benches.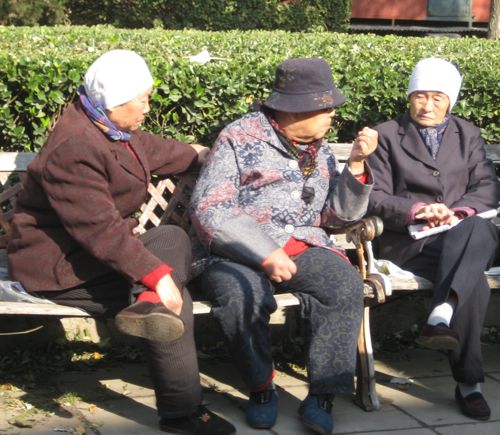 Try out some of the colorful exercise contraptions: stand on one and swing front to back, side to side on another. Some have bars that stick out for leaning against to massage your back. Ahh, lovely.
6. Another way the Chinese promote good health is by drinking tea. I wash my worries away with ginger tea at my favorite teahouse in Beijing called Stone Boat, located in zen-like Ritan Park. Situated in an embassy area, the setting is quiet, though you are might hear strains Peking Opera coming from a corner of this jewel-like park. The teahouse is shaped like a shortened train car and is painted with intricate designs in which Chinese reds and greens dominate. The wood-frame windows open to a pond where men fish under the weeping willows.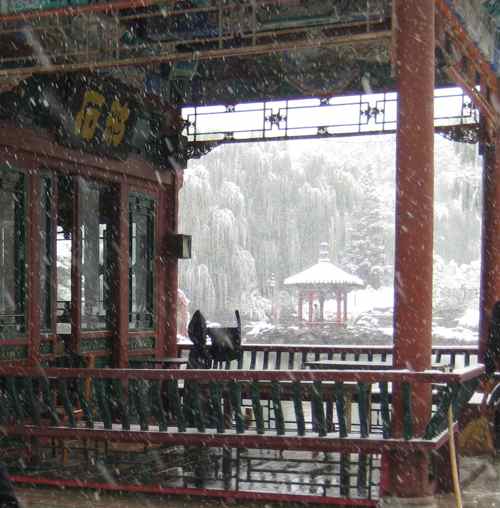 7. Though I worry about sensory overload, I like to go for a drink at pricey Lan in the business area, just to have a look at how lavish New China can be. Don't be shy about wandering through all the exotically decorated spaces, including the bathrooms. The blend of contemporary design with baroque and whimsy results in an overall Alice-in-Wonderland effect. My favorite displays are on glass shelves that line the walls near where you enter: a rainbow of fabrics stacked alongside cones of brightly colored threads, elaborately decorated pastries made of porcelain, Jesus candles burned down to different heights, photographs of Marilyn Monroe and Audrey Hepburn sprinkled throughout.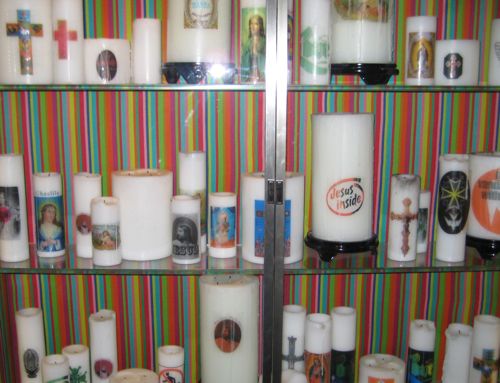 8. When I've had enough of la-di-da Lan, I head to a family-run restaurant named Liu Zhai Shi Fu, located in a hutong behind The National Museum of Art. I suggest sitting in the enclosed courtyard where silk vines hang overhead. I lose myself in an order of ma doufu, a taste of old Beijing. Though it looks like chopped liver mixed with wet cement, it's the most delicious dish made from a soy bean I've ever tasted: sour, spicy hot, smooth on the palate.
Comment below to let me know your favorite Beijing haunts and visit my blog Confessions of a Worrywart, for more on Beijing, biking and for tips on rising above all the worry.

Popular in the Community