If I had to make a list of things Americans take for granted, the toilet would be near the top. That's because most of us don't really think about toilets until we urgently need of one. Most U.S. homes have one, two or maybe three. The White House has 35. Yet anyone who travels even infrequently is familiar with that uncomfortable feeling of not knowing if you'll make it to a public restroom or back to your hotel room before Mother Nature comes calling.
But imagine what it would be like if you didn't have access to a toilet. What if there simply wasn't a toilet around when you needed one? Ever?
That's how billions of people live every day. And it is not just an inconvenience, it is a defining aspect of how they live - and die.
Today, 2.5 billion people on the planet lack adequate sanitation. According to UNICEF, some 665 million people in India practice open defecation. This lack of sanitation has horrific consequences. Diarrheal diseases kill more children in the developing world than HIV/AIDS. That's almost 5,000 children dying every day. According to UNICEF, 1,000 children die each day in India from diarrheal diseases.
Lack of sanitation harms kids in many more ways too.
Imagine the idea of sending your kids to a school that didn't have a bathroom. At best, this would be uncomfortable and inconvenient for them. Boys might be lucky enough to duck behind a tree or shrub. For girls reaching puberty, it is far worse. They can be - and often are - beaten or worse when trying to answer nature's call.
Lack of sanitation also leads to a vicious cycle: the lack of toilets leads to polluted water, which leads to sickness, which leads to polluted water, which leads to sickness. Around and 'round it goes.
My friend David Crosweller, founder of the international non-profit Wherever The Need, says, "You can give someone a job, but if they don't have a toilet they're more likely to get sick, miss work and lose their job. Give them medicine and they'll just get sick again. But if you give them a toilet, you can truly change their lives."
I agree. That's why I was honored to sit on a jury of renowned architects like Steve Kanner, Ray Kappe, Leo Marmol and Michela Abrams, President of DWELL magazine, to consider efficient and effective new ways to provide toilets to developing countries - both permanently and as part of disaster relief efforts. The competition was the brainchild of Beverly Visty-Doman, Executive Director of Wherever The Need USA, and architect Ron Goldman of Goldman, Firth & Rossi, and it included students from the University of Southern California, OTIS Art Institute and the Southern California Institute of Architecture.
Here is but a glimpse of what the students envisioned: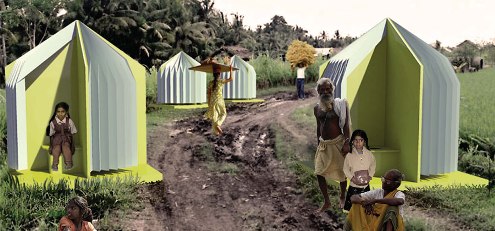 Design by Nanao Shimizu & Dohnbi Kim - Sci-ARC Citation Award
In many designs, like the one below from students at OTIS, the waste composting system provides numerous benefits: It does not require water, and it turns waste into a resource (i.e. compost). Liquid output from the system also can be mixed with water and used as a fertilizer to increase yields in crops such as banana, corn and tomato.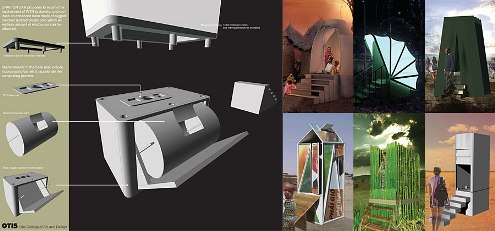 Design by Rachel Fausto, Krystal Scott, Cristina Luna, Maihoua Vang, Erin Gollocks Murray, Esther Lee - Otis Merit Award
Many designs highlighted local conditions . . .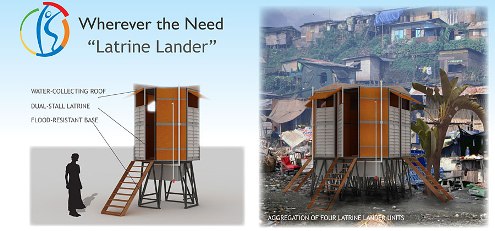 Design by Yuan Yu Chang - USC Citation Award
. . . while all of the entries showed a strong marriage of architecture and design: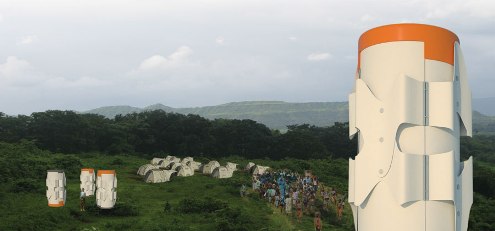 Design by Jeffrey Kuruvilla, Kainoa Westermark & Ruben Alejandre - Sci-ARC Honor Award
On April 6, 2010, A&D - the Architecture & Design Museum in Los Angeles - will launch an exhibit to highlight some of these incredible designs. The exhibit opening is April 6th from 7-9 pm at 6032 Wilshire Blvd. The purpose of the exhibit is to raise awareness and remind everyone of the importance of sanitation and emergency relief systems.
I also encourage supporters to sign up to Run for Water in cities around the globe on April 18th, 2010. Wherever The Need will be featured in the Water Village during Live Earth Run for Water Los Angeles. Starting and finishing at Exposition Park in front of the Los Angeles Coliseum, runners will be able to walk and run to help reduce water scarcity around the globe. Plus, Melissa Etheridge will perform in the Water Village. For more information visit runforwaterlosangeles.com or find an event near you.
As reported in an excellent article by Jason Gale, experts at the World Health Organization state, "If we collectively could fix the world's basic water and sanitation problems, we could reduce childhood mortality by nearly a third." That's right, a third.
That's certainly something to think about the next time you're sitting on the toilet.
Popular in the Community