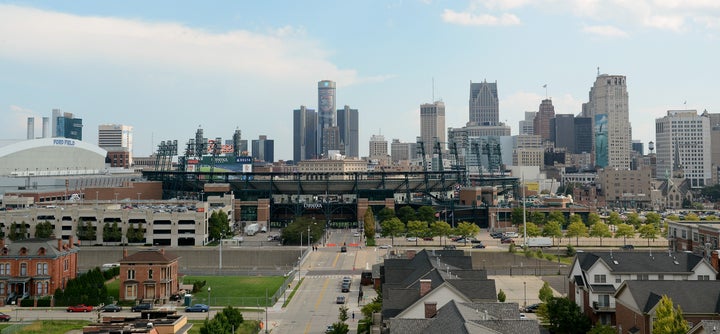 If you're looking for the right place to settle down, the possibilities can be dizzying.
The good news is that the personal finance site WalletHub released a study on Monday ranking the United States' largest cities in order of attractiveness. To help you cut down your list further, The Huffington Post is highlighting the 10 least attractive cities.
Whether you take the rankings as a red light ("Avoid this town") or a green light ("Go while it's cheap") is up to you.
WalletHub defined "large" cities as the 62 American municipalities with populations of 300,000 or more. It evaluated those cities on four, equally weighted metrics: livability, education, health, and local economy and taxes. The measures themselves are based on new and past WalletHub analyses of mostly government data on such matters as housing affordability, opportunities for recreation, residents' health, school quality, job availability and cost of living.
Using this formula, the 10 worst large cities are (starting with the least attractive):
Detroit, Michigan
Memphis, Tennessee
Philadelphia, Pennsylvania
Cleveland, Ohio
Indianapolis, Indiana
Wichita, Kansas
St. Louis, Missouri
Milwaukee, Wisconsin
Tulsa, Oklahoma
Fresno, California
Detroit had the lowest livability ranking, the 12th worst education system, the fourth worst health ranking and the third worst local economy and taxes.
Some cities are the worst on a given measure, but still not among the 10 least attractive cities overall. Tucson, Arizona, for example, has the worst job market, and El Paso, Texas, has the lowest percentage of adults in excellent or very good health.
WalletHub focused on just the cities, rather than their larger metropolitan areas, because of the resurgent popularity of urban living. People continue to move to the suburbs and rural areas, "but more and more clusters of people are falling in love with the energetic pulse of the large metropolis," WalletHub's Richie Bernardo wrote in an introduction to the study.
Indeed, cities have grown at a faster rate than suburbs since 2010 -- a major change from the previous decade when suburbs' growth eclipsed that of cities, according to a Brookings Institution analysis of recent census data (which WalletHub cites).
WalletHub's ranking is, by no means, definitive. No city's appeal can be reduced to any one evaluation of its merits.
Dr. William Frey, a demographer at Brookings, told The Huffington Post that WalletHub's study "seems reasonable in its scope and methodology," but that it has "subjective elements." A fan of New York's world-famous "cultural amenities," like theater and art museums, might consider it a top destination for recreation, Frey notes. But WalletHub focuses its evaluation more on outdoor park space and designates New York one of the five worst cities for recreation.
The educational data that WalletHub uses are also controversial. They are based almost entirely on rankings by the California-based nonprofit GreatSchools, which rates school systems almost exclusively based on standardized test scores. Critics of standardized tests, who span the ideological spectrum, argue that the exams are a poor measure of students' performance and growth.
As for the city study, even a low ranking that accurately captures a city's current troubles does not necessarily make it unattractive to new residents. In fact, for many Americans it may have the opposite effect. A significant number of young people are deliberately moving to cities with depressed economies and storied pasts to take advantage of cheap housing, innovative art scenes and the opportunity to participate in the revival of a community.
Detroit is a case in point. From 2001 to 2011, the population of college graduates under age 35 in downtown Detroit grew by 59 percent.
PHOTO GALLERY
Mayors Of America's Largest Cities
REAL LIFE. REAL NEWS. REAL VOICES.
Help us tell more of the stories that matter from voices that too often remain unheard.