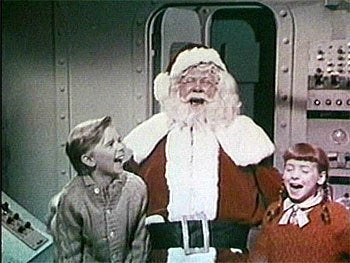 Christmas is a time for families to gather around the fire, eat some delicious desserts and tune into some classic holiday films. From oldies such as "It's A Wonderful Life" and "Miracle on 34th Street" to new favorites such as "Elf" and half of Tim Allen's filmography, there are plenty of beloved movies to choose from.
"Santa Claus Conquers the Martians" is not amongst them.
The 1964 B-movie was named the Worst Christmas Movie of All Time by movie news and ticket portal Fandango.com, topping a new list that is set for release on Monday. "Santa Claus Conquers the Martians," which featured cardboard sets that highlighted a budget of just $20,000, told the story of a Martian colony that became concerned when their children began watching too much television from earth, especially a certain show featuring Santa Claus.
Fearing that their highly-restricted children would begin to think independently, they kidnap Santa and force him to bring his Christmas magic to Mars. Low-rent hijinks ensue.
Calling all HuffPost superfans!
Sign up for membership to become a founding member and help shape HuffPost's next chapter