"For rent: One-bedroom apartment available in one of Manhattan's most desirable neighborhoods, the Upper West Side." Countless New York real-estate listings begin this way. However, the one bedroom is really a studio with a single window featuring a beautiful view of a brick wall. The kitchen, you ask? It's a mini-fridge with a hot plate balancing atop it. The lucky tenant of this luxury rental shares a bathroom with all her floor mates, which must make getting ready in the morning a walk in the park... And by that we mean walking through Central Park to use the public restrooms is probably a more practical option.
Sadly, listings mislead us all the time. But now and then, a brutally accurate photo will actually spare you a trip, or a bumbling landlord or broker will reveal a deal-breaking flaw. In partnership with Apartments.com, we've scoured Craigslist posts and MLS's online to bring you some of the most epic real-estate listing fails.
Full Kitchen
Sure you can cook food on this fully functional stove. Too bad getting the food out of the fridge to do so is, let's say, a challenge. This gem was originally posted on Craigslist, and, according to Reddit, the listing was for a $1,495-a-month studio apartment in San Francisco's Tenderloin neighborhood.
Old World charm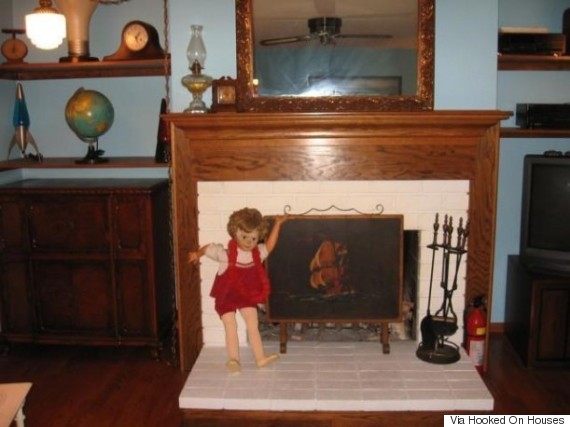 This Hermosa Beach, California, home was on the market for $1.175 million -- and marketed with an image of this
creepy doll
. Inexplicably, this wasn't the only listing photo that the doll appeared in, either. Even more shocking is that, according to the referenced listing, the house -- surely haunted --
actually sold
.
2 bedroom / 2.5 bath for 22 people
New York City's
Gothamist
discovered the post for this strange hostel situation in a Midtown East condo. We think our favorite part of the video tour is when the guide says, "There's two bathrooms, we're going to expand it to two and a half bathrooms just to make sure there are never any bathroom issues." Because waiting in line behind six other people for the bathroom (and 10 other people who need to shower) isn't really an obstacle.
Climate controlled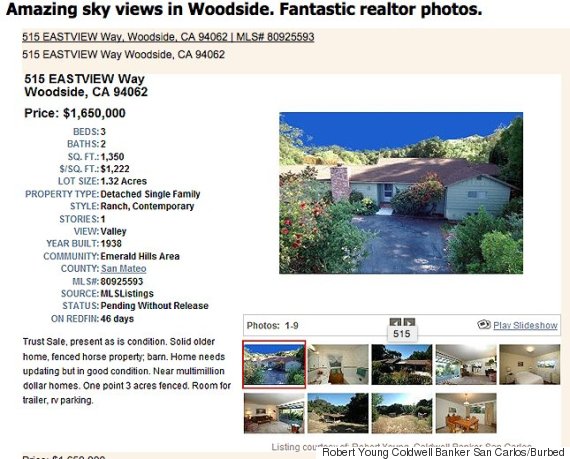 Always wanted to move to a place with better weather? Well apparently in
Woodside, California
, it's always sunny, but you're stuck with an unnaturally blue sky. (H/T to Burbed via
SFGate
.)
Perfectly treated and manicured lawn
Just look at the lush green color of the lawn of this
Lake Stevens, Washington, property
. Now look away before you do any permanent eye damage. Forget fertilizer this year, Photoshop clearly works better. (H/T to
SFGate
.)
Full disclosure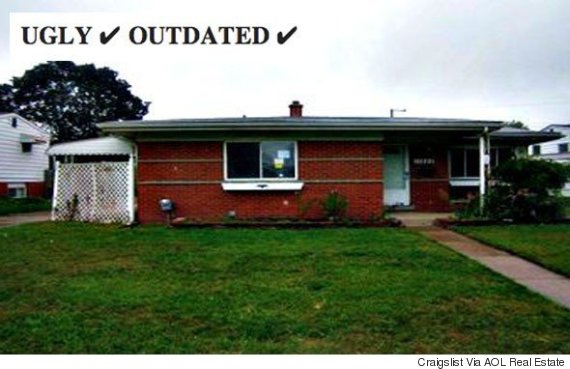 Well, at least the sellers of this property in Warren, Illinois, are honest. Fingers crossed that it has good bones. (
H/T to AOL Real Estate
.)
Affordable!
According to
The Worst Room Tumblr
, this shared basement in the Greenpoint neighborhood of Brooklyn will only set you back $400 a month. You loved hanging out in the pillow fort you made in the living room as a kid, and you do enjoy camping. Now you can do it in the comfort of someone else's home. And look, there's even a closet, well, sort of.
Security system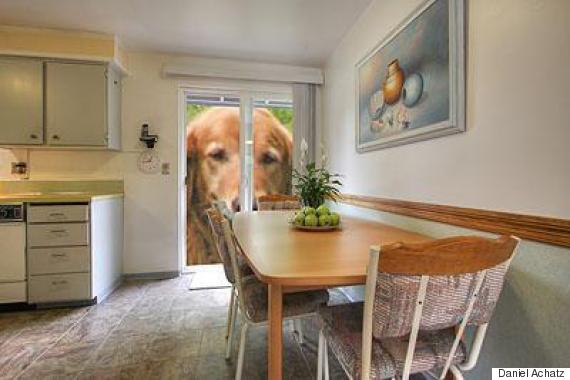 Either this is a house for ants, or this photo also features the community's very successful neighborhood watch system. According to photographer,
Daniel Achatz
, the agent for the listing asked him to take the dog out of the original photo, so naturally he did what any good humored photographer would do. Both Achatz and the agent shared a good laugh over the new image and the agent decided to actually post the image with the listing. Shortly after, traffic to the site spiked once again proving a giant dog is better than no dog. (
H/T to AOL Real Estate
.)
Conveniently located
Some might ask, "Why is this a thing?" Or, "Was it really so hard to just put up a wall between the fridge and the john?" But for that rare multitasker who enjoys reaching into the fridge and pulling out a beverage during longer bathroom breaks, this might actually be the greatest arrangement ever. That special person asks, "Why not?" (
H/T to Terrible Real Estate Agent Photos Tumblr
.)
Outdoor entertaining space
Oh, no, she found us.
On Apartments.com, you get exactly what you see. Along with millions of apartment listings throughout the nation, Apartments.com features verified photos so you can find the perfect apartment without any unwelcome surprises.
Related