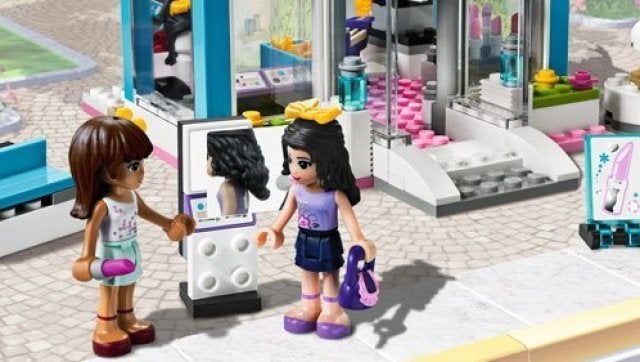 This is the TOADY -- or "Toys Oppressive And Destructive to Young Children" -- Award's fourth year, and the clear theme to the organization's 2012 picks is a focus on toys that promote screen time. Three out of five nominees incorporate screen or tablet devices.
In a press release, the organization's director, Dr. Susan Linn, explained: "Just because we can link a toy to a smartphone doesn't mean we should. The toy industry is promoting superficial gadgetry at the expense of children's creativity."
"[N]ominating Lego Friends for its gender stereotyping calls into question the premise of the TOADY," Dell'Antonia writes, arguing that whether or not the product promotes stereotypes, it's still a valuable "building toy" -- and LEGO gender bias can swing both ways:
Until we're lining up every arguably gendered set in the Lego product line for examination, it's condescending to assume that young girls are any less capable of realizing that their Lego Beauty Shop doesn't mean they're only good for curling eyelashes, any more than Captain America suggests that boys are in for a lifetime of muscle flexing.
In past years, the TOADYs have spotlighted similar products. Last year's winner was a tablet designed for toddlers, and another past winner -- though perhaps a more extreme example of gender-marketing problems -- was a Dallas Cowboy Cheerleader Barbie.
The TOADY competition is a take-off on the Toy Industry Association's Toy of the Year Awards -- an annual competition that has more than 80 finalists this year, ranging from a light-up Cinderella dress to an Anteater-shaped bug vacuum.