Among the charges: that elephants have been subjected to extreme confinement, hypothermia, abuse and psychological trauma.
None of the three organizations has responded to a request for comment.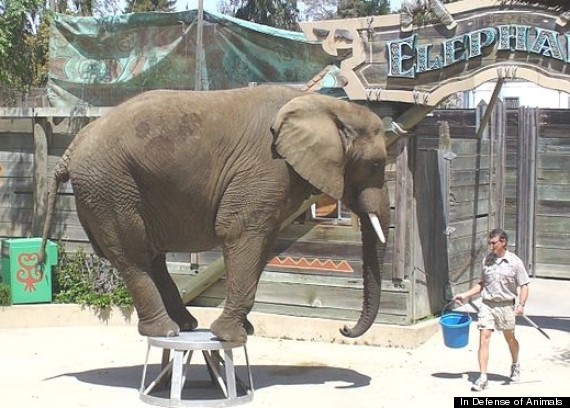 Elephant at Six Flags Discovery Kingdom
"IDA's 2014 list spotlights zoos representing the most appalling conditions for elephants, emphasizing an extended and egregious history of disregard for elephant care standards and science," said Toni Frohoff, a scientist with IDA, in a statement.
Happy's "sad life alone" was reported in 2012 by the New York Post. At the time, a PETA spokesperson told the newspaper that being kept alone could be "extremely stressful" for the elephant, as the communal species depend on close family relationships. A zoo spokesperson said Happy was "regularly" on display to the public, but did not address her lack of interaction with other elephants.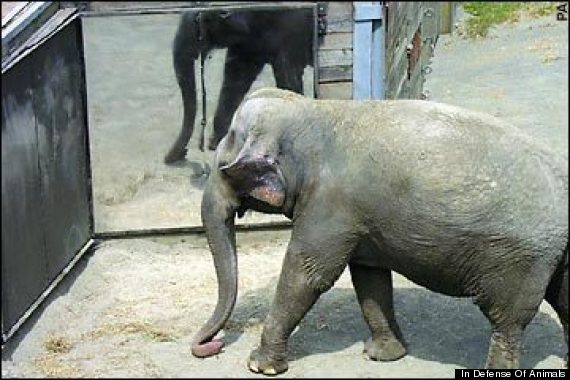 Happy the elephant
IDA also alleges that poor decisions made by Disney World's Animal Kingdom led to the untimely death of two elephants. "In July, pregnant Moyo and her unborn calf died as a result of birth complications after being shipped from Disney's Animal Kingdom to The National Elephant Center in Florida," the group wrote. "Zoos generally do not transfer pregnant females because of the great stress of travel and potential complications."
Another elephant named Tufani -- a 10-year-old male -- also died after being transferred from the Animal Kingdom to the same sanctuary. He died after contracting salmonella poisoning, described as a "difficult illness to treat."
"Elephant deaths happen despite the best efforts," the board member, Rick Barongi, told the Orlando Sentinel in Sept. 2014.
IDA, however, insists that these deaths could have been avoided. "Zoo transfers are often made with little to no regard for the physical, psychological and social effects on elephants," the group wrote in its report.
Ultimately, IDA says that the best -- and only -- solution is to keep elephants out of zoos entirely.
"The public has a right to know what is really happening to elephants in zoos and the fallacy behind zoos 'conservation' claims. It is time to stop keeping elephants in zoos," said Frohoff.
Other activists have made the same demands for years.
"Zoos rob elephants of their most basic needs, including social companionship and adequate space to exercise," PETA says on its website. "The idea that zoos are saving elephants by displaying them has been disproved. Elephants have been on display in zoos for 200 years, yet they're facing extinction in the wild. Placing these intelligent and complex individuals in conditions that are harmful for them, just so that we can look at them, teaches us nothing."
There is evidence to suggest that elephants live much longer in the wild than in zoos. For instance, a 2008 study that compared the life spans of elephants in European zoos with those living in a Kenyan national park and others working on a Myanmar timber enterprise concluded that elephants "in the wild or in natural working conditions had life spans that were two or more times longer" than their zoo relatives, per the Associated Press.
Related
Before You Go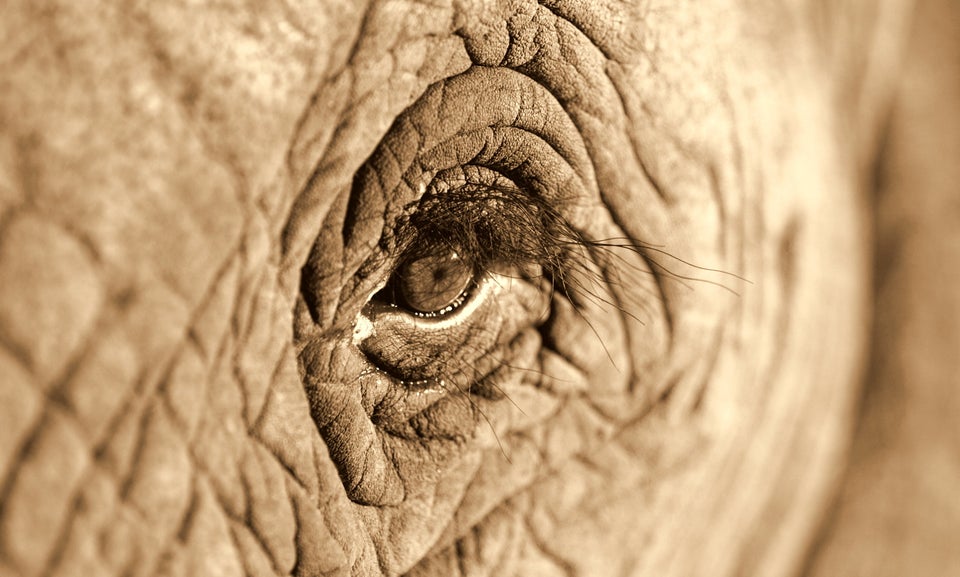 Elephants
Popular in the Community