400 Mile Drive to Top Rated Farmers' Market!
Circumstances took me to Portland, Maine this weekend, at the end of an unseasonably warm stretch of December weather and NYC holiday party madness. Imagine the elation awakening Saturday morning, in this quiet town, to temperatures in the teens and snow gently dusting the landscape. And what does one do Saturday morning in Portland? Go to the Farmers' Market, of course, the wind and snow not withstanding. April through November the market is outdoors, and in the winter months, it is indoors at the Irish Historic Center.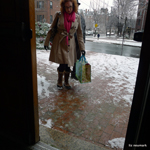 I have visited this farmers' market on several occasions, but this was my first time indoors. It is a vibrant community of vegetable, dairy, meat and honey producers, with a smattering of baked goods and crafts. Unlike the national average farmer, who is 56-years-old, this is a young community and is filled with couples and multi-generational farm families. The market is a multi-sensory experience, whether indoors or out. From the music -- courtesy of Dave Bullard to the artistic and inventive displays of the farmers; the room was animated and accented by the characteristics one might expect at an Irish historical building (former cathedral) -- stained glass, coats of arms on the walls, rich in history and with a deep sense of inclusiveness and love of celebration.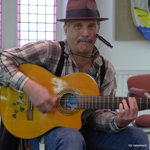 So, what do you expect to see at a winter market? There was a time when it meant root veggies without a trace of vibrant color for months. And though one can be very creative with storage vegetables, farmers -- bolstered by the passionate demand for locally grown produce year round -- have responded. Mild winters don't hurt the extended season, but it is the use of hoop houses and greenhouses that have changed the face of winter crops. Meet some of the farmers:
Middle Intervale Farm was nearest the entrance and farmer John Connor was quick to introduce himself. He is the 7th generation on his farm in Bethel, ME. "Tell people to come to the market!" he said. And so I am.
Commonwealth Farm was there with baked goods, holiday wreaths and tempting duck products. Want a taste of farm life in the winter? Watch this .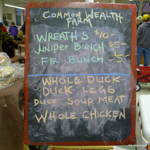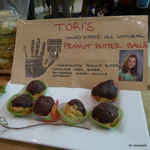 Next came 30 Acre Farm with the best looking, tempting line up of fermented 'cultured' food, from kimchi to pickles and the most interesting head of cabbage I have seen. It was steeped in the fermentation brew, cored yet whole, and sold in a bag. I couldn't resist bringing one home!
Fishbowl Farm brought an explosion of color to the market. "It's a lot of hard work" the farmer shared, referring to the hoop houses. I went on their website; Gallit Sammon (who farms with her husband Chris Cavendish) is a CIA grad, chef turned farmer. This love and understanding of food is evident. I discovered how often I had been enjoying the fruits of their labor in many of my favorite Portland/Brunswick restaurants.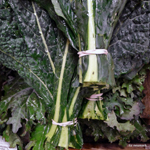 Then, the show stopper! Brilliant red orbs... tomatoes, fragrant and delicious and so perfect, from Olivia's Garden, hydroponic growers of tomatoes, lettuces and herbs in New Gloucester . But even better was actually meeting Olivia who, with her younger sister, glowed in acknowledgment of her fame.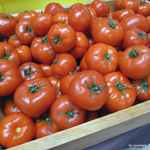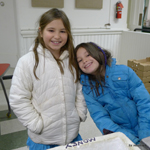 The farmer at Fail Better Farm shared his CSA collaboration with Cornerstone Farm, where you pre-pay but then shop weekly at one of two of their markets. Payment is deducted from your account and the balance is tracked for you. Gift certificates were available for the most practical holiday gift!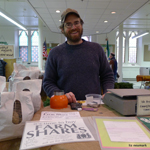 As I worked my way around the room, I bought concord grape jam, honey (Tom's Honey, but no website) candles, dried beans, tomatillo salsa (from Buckwheat Blossom Farm) and stewed tomatoes.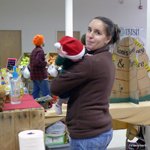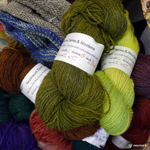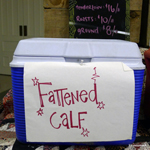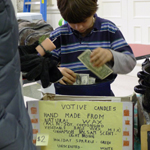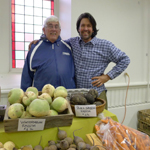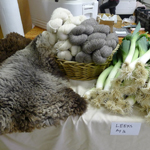 Had I been blocks from home, I would have hauled a small ton back with me. But I was in Maine, two days away from my fridge, with a car that would be stuffed with the contents of a college dorm and little room for much more. But I had an amazing morning, fun photos, new friends and a small stash of goodies.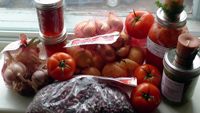 P.S. Travel & Leisure Magazine voted this one of the 10 best farmers' markets.

REAL LIFE. REAL NEWS. REAL VOICES.
Help us tell more of the stories that matter from voices that too often remain unheard.