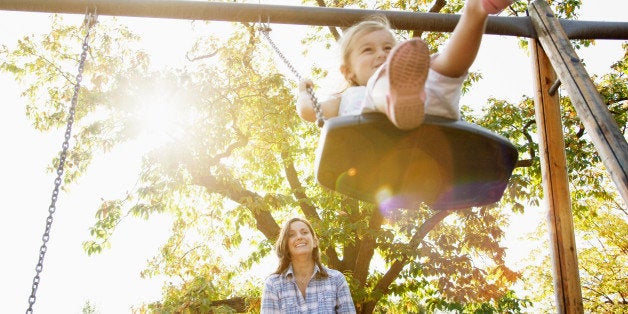 I am a Woman of Worth. Or so I've recently been told.
Those words certainly don't come naturally to me. Like many people, my quest for self-worth has always been an uphill battle. As a child in Brooklyn, I danced as fast as I could to prove my worth to an alcoholic father, overworked mother, and three older sisters. In my teens, I moved west to pursue acting. Not exactly the best occupation for self-worth, but Los Angeles provided endless paths to higher meaning: yoga, meditation, an ashram or two. The self-help book industry generates over $10 billion a year, and I surely contributed my share of that throughout my twenties and thirties.
Personal and career successes were always tempered by hidden anxieties and panic attacks. Was I a good person? Was I doing enough with my life? Volunteering was a perfect answer to those concerns. Surrounding myself with like-minded friends, I discovered the joy of helping others. Charitable service brought me an inner peace I'd never known, which eventually allowed me to begin a new journey entirely.
I loved children, but honestly hadn't considered being a mother until I met Scott. We planned our honeymoon around my ovulation cycle and Florence, Italy took care of the rest. I was pregnant at 37 and for the first time, felt like I was becoming who I'd always wanted to be: a great wife, an eager mom-to-be, and totally worthy of the little boy coming our way. With six nieces between us, our son would be the first prince among the princesses. And his possibilities seemed endless.
On March 28th 1997, Shane arrived at nearly 7 pounds and perfect in every way, but one. Paralyzed and unable to draw his first breath, he was rushed to the NICU, leaving us in a state of shock. How could this be? Why us? Why Shane? Prenatal tests gave no warning. We essentially lived at the hospital, while doctors worked to diagnose his condition. Shane was a few days old before I could finally hold him, watching him gaze around in silent wonder at all those trying to save his life. For ten days, we watched countless new parents come and go with their healthy babies, before finally learning what was wrong. Shane had a genetic disorder called Spinal Muscular Atrophy (SMA) type 2. At best, he would spend his life severely disabled and confined to a wheelchair. At worst... Well, the worst happened. Shane died in our arms three days later. Despite our desperate prayers, the best time of our lives had become our absolute worst.
To nutshell the aftermath is impossible. We were suddenly members of a club no one would ever join. It was incomprehensible and so unfair. I wrote love letters to Shane daily, along with some very angry ones to God. I cried endlessly, staying in bed most days, while my grieving husband returned to work. Attempts to fill the void in my heart resulted in two miscarriages. What had I done wrong? What could I do differently? Was I not worthy of motherhood? But I was a mother, I told myself. I was Shane's mother. And if I couldn't have him, I decided the next best thing was to do something that would have been good for Shane and children like him.

At that time, accessible playgrounds typically featured cement ramps to sand moats with play equipment inside, leaving kids with disabilities to watch instead of play. So my friend Tiffany Harris and I converted Shane's bedroom into an office and dedicated ourselves to creating LA's first fully-inclusive playground. After two years and a lot of elbow grease, we cut the ribbon on SHANE'S INSPIRATION in Griffith Park in 2000. It was beyond gratifying to see scores of disabled kids playing with siblings and friends as never before. Even disabled parents and grandparents were able to take their kids to the playground for the very first time. Requests for more parks came quickly, and as of today there are 58 Shane's Inspiration inclusive playgrounds worldwide and counting. We provide education programs spreading compassion and acceptance, and have partnered with the Clinton Global Initiative to reach farther than we'd ever dreamed. It indeed 'took a village,' as none of this would have been possible without the love and support of countless friends and volunteers -- our angels on Earth.
But it was my angel, our son Shane, who made it possible for me. And he lives on in the eyes of every child that plays at our parks. Parents often thank me, praising my courage in the face of tragedy. But the real courage lies within those raising kids with disabilities. Brightening their days is as much a gift to myself as anything.
Years later, one might assume the loss of a child and founding of an organization might make me no longer sweat the small stuff. But there's still life to be lived, and traffic to get stuck in, and a teenaged daughter to raise. Shane's beautiful sister Grace was born a year before that first park opened, and she's been every bit the blessing we prayed for. But as many mothers can attest, there's nothing quite like a spirited 16-year-old to keep you grounded and questioning your worth. It was on just such a self-doubting day that I got the call from L'Oreal, telling me that I'd been named one of their Women Of Worth for 2015. The irony was just too perfect. Grace was the first to embrace me and tell me how much I deserved it. And I thought to myself, we named her well.
This post is part of a series produced by The Huffington Post and L'Oréal Paris to celebrate the tenth anniversary of the Women of Worth program, honoring women making a beautiful difference in the world. The ten 2015 Women of Worth honorees are pursuing their passions to accomplish the extraordinary through philanthropic efforts in their communities. Each received $10,000 for her charitable cause from L'Oréal Paris. To learn more about Women of Worth or to submit a nomination beginning Spring 2016, please visit womenofworth.com.
Calling all HuffPost superfans!
Sign up for membership to become a founding member and help shape HuffPost's next chapter