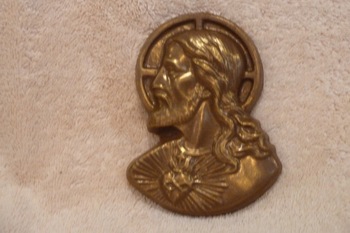 At least a couple of chocolate makers, neither of them Catholic, sell Jesus shaped chocolates. In the days leading up to the first visit of Pope Francis to the United States, the Vatican has announced new approaches to annulments and has encouraged priests to forgive abortion. As his theology seems to be opening to social and human realities would Pope Francis find a chocolate Jesus appealing or blasphemous? Does Francis even like chocolate?
The Pope has even been depicted in chocolate not long ago by Master Chocolatier, Mirco Della Vechia, aided by twenty of his students. Pope Francis met his chocolate match at the Vatican in February of 2014. That choco-statue was carved from 1.5 ton of Guatemalan chocolate over a period of a month. Then the chocolate Pope was gifted to to charitable branch of the Vatican for the poor.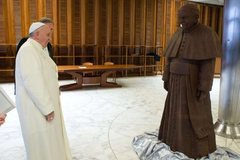 Shelves and internet stores are well stocked with memorabilia for Pope Francis' appearances in the U.S. Demand will be met with the usual medallions, buttons, posters, neck ties and wristbands. The website for "Catholic to the Max" boasts a section at PopeFrancisVisit.com. Philadelphia breweries have concocted commemorative beers such as "You Only Pope Once" and "Holy Wooder." Someone engineered a toaster to show the image of the Pontiff on bread so we can "Toast the Pope." That toast should be accompanied by the mozzarella balls shaped into the image of the Pope at $20 each. Rosaries and holy water bottles are for sale at the Basilica of the National Shrine of the Immaculate Conception, where Pope Francis will celebrate Mass on September 23. The retail director, Amy Maloney, expects to sell 100,000 of the $1 prayer cards just that day.
Should Pope Francis decide that he has an appetite for a chocolate Jesus he could make a stop in NY at Bond Street Chocolate. Inspired by the Tom Waits' "Chocolate Jesus," Lynda Stern added Jesus to her pantheon of chocolate gods which includes Buddha and Ganesh. The media-shy New Yorker, who has contended with pushback from religious leaders over her "Divine Collection," has said that her handmade, Guittard or Valhrona quality"... spiritual icons (are) treated equally in my shop with honor and respect to the religion." An original comic book penned by her friend Robbie Conrad, lies open on the counter. Its characters spoof Stern's supposedly blasphemous candy. At the end, a vision of chocolate consolation pops up in the words, "And, so we see how chocolate brings everyone together."
Or, the Pope could order on-line from Chocolate Fantasies. Lori Kessler hosts Chocolate Fantasies from her commercial kitchen in the Seattle area. Her "Religious Chocolate" line, includes Jesus, Mary, Crucifix Lollipops. Born and raised in Long Beach, California, she grew up helping her grandmother frost cakes in her cake business. Responding to requests, Kessler added the religious chocolates to her offerings. Like Stern the Tom Waits song connected to her first chocolate Jesus. Her own religious background is as eclectic as her chocolate. Her father's grandmother was Swedish and Jewish. Her maternal side is Christian and she was baptised in the Lutheran Church. Now she considers herself a secular humanist.
Most of us would agree that chocolate is a divine delicacy. I look forward to learning what Pope Francis thinks.
Rabbi Prinz lectures about religion and chocolate around the world.
More about religion and chocolate may be found in On the Chocolate Trail: A Delicious Adventure Connecting Jews, Religions, History, Travel, Rituals and Recipes to the Magic of Cacao, (third printing from Jewish Lights Publishing) including contemporary and historical recipes. Also, registration is now open for the excursion to Southwest France and Spain, May 1-12, 2016, to learn more about the chocolate culture of both countries. Register before December 1 to receive a free copy of the book.
Calling all HuffPost superfans!
Sign up for membership to become a founding member and help shape HuffPost's next chapter