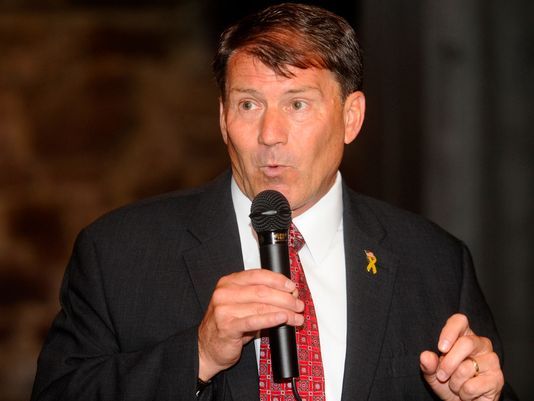 With each new revelation in the snowballing EB-5 embezzlement scandal surrounding Republican U.S. Senate candidate Mike Rounds, a possible post-election federal indictment on conspiracy or perjury charges leaves South Dakotans wondering whether they'd be left without a senator, should Rounds prevail in the Nov. 4 election.
The latest poll by Republican-leaning Harper Polling has Rounds narrowly leading Democrat Rick Weiland 37% - 33% in a four-person race, with a margin of error of +/- 4%. In statistical terms, the race is a dead heat.
Rounds' once-commanding early lead in this race has all but evaporated, and the reasons are manifold: his EB-5 scandal as governor, a campaign the Sioux Falls Argus Leader's Jonathan Ellis describes as "more suited for sheriff of Mayberry County than U.S. Senate," and the populist insurgency of Democrat Rick Weiland, whose grassroots movement to rid politics of the toxic effects of Big Money has gained national attention.
Still, Rounds has long been considered a strong favorite by national handicappers, and he may yet run out the clock, with just two weeks remaining before Election Day.
But another clock is ticking, too: the five-year statute of limitations for most federal crimes is likely looming (Rounds left office as governor in January 2011). South Dakota Attorney General Marty Jackley said in July that due to possible federal criminal violations regarding EB-5, his office has turned over its investigative findings and access to files to the U.S. Attorney's Office.
All indications are that U.S. Attorney Brendan Johnson is investigating possible criminal wrongdoing in the sordid EB-5 saga that has left a former state cabinet official dead, a $115 million beef packing plant bankrupt just nine months after it opened, and a mysterious $30 million loan from Hong Kong that also provided a $1 million payoff to a Los Angeles firm that does not seem to exist.
In the Bush Justice Department's U.S. Attorney scandal of 2007, Karl Rove and then-Attorney General Alberto Gonzales "turned the Justice Department into the laughingstock of the country" with a hyper-partisan approach to political prosecutions. Since the scandal, federal prosecutors have become highly sensitive to timing and elections when investigating officials in public corruption cases. An indictment close to an election, they fear, could affect the result and lead to accusations of improper political influence. While there are no hard and fast rules beyond a standing memo from current U.S. Attorney General Eric Holder, most federal prosecutors now err on the side of caution whenever possible.
Last year, federal prosecutors investigating then-Virginia Governor Bob McDonnell steered well clear of the election for his replacement, waiting until 10 days after McDonnell left office to hand down his indictment. In September, a jury convicted McDonnell of 11 counts of public corruption.
Already in the South Dakota Senate race, Jackley and U.S. Attorney Johnson have demonstrated a similar sensitivity to leveling criminal charges close to an election. When controversy surrounded Annette Bosworth--one of Mike Rounds' Republican primary opponents--they waited until the day after the June 3 primary to charge her with six counts of perjury and six counts of filing false documents related to election laws. Bosworth was indicted by a grand jury two weeks later.
Just a month earlier, Jackley had responded to questions about the Bosworth investigation, stating "Because the review involves a federal election, I have discussed these matters with United States Attorney Brendan Johnson, and we are in agreement that any investigation into potential violations should not affect this election as the voters not prosecutors should determine the election outcome."
In short, the desire of federal prosectors to wait until after the election to file criminal charges and the ticking clock on federal statues of limitations may serve to sandwich the moment of reckoning on EB-5 into a November-December timeframe. Moreover, the flurry of new documents and evidence emerging as a result of a recent court case only amplifies the energy of the EB-5 storm.
In 2013, a breach of contract action was filed in California state court, and decided on arbitration just weeks ago. Rounds was served as the named agent for the South Dakota International Business Institute, but was not sued individually. This case did not involve criminal charges; thus its resolution has no bearing on whether prosecutors can bring charges against Rounds or others involved in the embezzlement scheme. It did, however, unveil facts useful in future prosecutions, such as this deposition from former EB-5 director Joop Bollen, who seems to have run the state program--controlling tens of millions of dollars of public money--with virtually no oversight.
Though Rounds and other officials have refused to testify under oath, the former governor did provide written testimony to state lawmakers in September that "the governor's office was not served" with papers pertaining to litigation involving EB-5 and a California firm. When a document surfaced a week later revealing that the governor's office was in fact officially served with court papers in 2009--and that the governor's own brother, Dennis Rounds, was overseeing all state litigation for the governor--Rounds quickly amended his testimony.
In the history of the U.S. Senate, only four senators have actually been convicted of crimes while in office. Expulsion proceedings under Article 1, Section 5 of the U.S. Constitution allow the Senate to expel any member with a two-thirds vote. Such proceedings can begin immediately following an indictment, and do not require a conviction. The U.S. Senate has not expelled a member since the Civil War, but several senators have resigned under pressure when facing possible expulsion, like John Ensign (R-NV) in 2011, Bob Packwood (R-OR) in 1995, and Harrison Williams (D-NJ) in 1982. Williams was convicted of corruption and conspiracy in the Abscam scandal.
In a case analogous to Mike Rounds and EB-5, Senator William Langer (R-ND) was charged in 1942 for corruption and moral turpitude for acts committed while he was governor of North Dakota. Langer was convicted of political corruption, though his conviction was overturned on appeal. He survived a Senate vote on expulsion and served until his death in 1959.
Of course, South Dakota has its own recent history involving a former governor's resignation from Congress in the wake of criminal charges. William Janklow, elected to the U.S. House in 2002, resigned barely more than a year later following his conviction for manslaughter in a 2003 automobile accident. After being arraigned, Janklow remained in Congress throughout his trial, resigning several days after his conviction.
Article I, Section 3 of the U.S. Constitution and the 17th Amendment give states the ability to fill U.S. Senate vacancies due to death, expulsion or resignation. In South Dakota, the governor makes an appointment to fill a vacancy until the next general election.
If Rounds is elected, indicted, and resigns, the governor can appoint his replacement almost immediately, preserving South Dakota's crucial representation in the Senate.
If Rounds insists on remaining in office throughout his criminal proceedings, however, constituents will be left to question his effectiveness as a senator and his ability to serve their interests.
Luckily, there is still time on the clock. South Dakota voters can determine the outcome of this election.
Calling all HuffPost superfans!
Sign up for membership to become a founding member and help shape HuffPost's next chapter