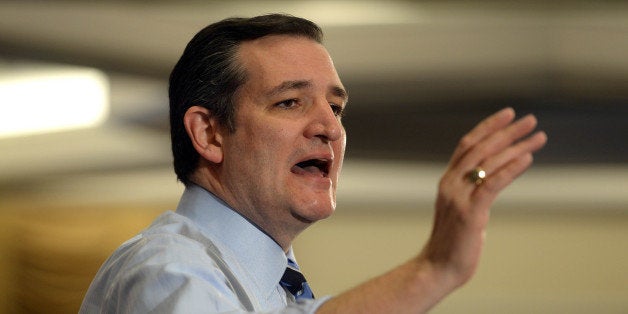 I'm sure you're looking at this title and wondering what's up. Reagan wasn't responsible for that 1980 fiasco. He didn't become U.S. President until 1981! And U.S. Sen. Ted Cruz (R-Texas) would never say something like that!! But some presidential candidates seem to think that presidents are responsible for the events that happened the year they were elected, even if they were inaugurated the following year.
Speaking at an event hosted by the U.S. Hispanic Chamber of Commerce on Wednesday, Sen. Ted Cruz (R-Tex.) linked the economic policies of President Obama with those of the much-maligned Jimmy Carter. "Historically, the economy has grown 3.3 percent a year since World War II," he said. "There are only two four-year periods where growth averaged less than 1 percent: 1978 to 1982, coming out of the Jimmy Carter administration, and 2008 to 2012. Same failed economic policies." If you didn't catch it, Cruz employed a nifty little bit of rhetorical spin there. What he's actually comparing isn't Jimmy Carter and Barack Obama. It's Jimmy Carter and George W. Bush.
Bump provides the actual evidence, thanks to data from the Bureau of Economic Analysis:
It was for the simple reason that the economy cratered in 2008 and 2009. In the fourth quarter of 2008, GDP fell 8.2 percent. The first quarter of 2009, another 5.4 percent. In the second quarter of 2009 -- the first that was fully controlled by Obama's "failed economic policies" -- it only fell 0.5 percent, and GDP grew in the second half of the year. So to chalk up the worst of that year to Obama is, at best, a stretch.
The senator is hardly the only presidential candidate to make this mistake. Former U.S. Rep. Michele Bachmann (R-Minnesota) criticized Obama for allowing swine flu into the country in 2009. Then she added that the last time America was afflicted by swine flu, in 1976, Democrat Jimmy Carter was U.S. President.
"I find it interesting that it was back in the 1970s that the swine flu broke out then under another Democrat president Jimmy Carter. And I'm not blaming this on President Obama, I just think it's an interesting coincidence," Bachmann said following comments by Rush Limbaugh, according to Rachel Weiner at The Huffington Post.
We could blame Ike for starting the Korean War, knock George W. Bush for not stopping the USS Cole bombing, accuse Bill Clinton of not stopping the L.A. Riots of 1992 or even blame Reagan for the 1980 recession. Or presidential candidates could learn to see when the job that they aspire to actually begins.
John A. Tures is a professor of political science at LaGrange College in LaGrange, Georgia. He can be reached at jtures@lagrange.edu.
Popular in the Community