Given that the silver anniversary of Disney's Beauty and the Beast is coming up (This Kirk Wise & Gary Trousdale film initially went into wide release back on November 22, 1991), a lot of bloggers have recently been writing about this hand-drawn animated feature. Using Walt Disney Studios Home Entertainment's release of the signature collection edition of Beast (which includes a Blu-ray, DVD, and Digital HD version of this Academy Award-winning movie) as an excuse to talk about things like Beauty's stellar score.
Mind you, when production initially began on Disney's Beauty and the Beast back in the summer of 1989, this movie wasn't supposed to be a musical at all. In fact, the way that Richard Purdum (i.e., this animated feature's first director) had originally envisioned this Walt Disney Animation Studios production was that Beast was going to be a dark, brooding romance. Full of mystery & magic but surprisingly free of song.
When they were initially developing this animated feature, Disney's story team made a point of sticking closely to their source material (i.e., "La Belle et la Bête," the fairy tale that French novelist Gabrielle-Suzanne Barbot de Villeneuve wrote which was then published in 1740). Which is why – in this early iteration of Beauty – Maurice was a wealthy merchant who had fallen on hard times after all of his trade ships had been lost in a storm at sea.
Given that their family was now destitute, Maurice's sister Marguerite began pressuring Belle to marry well. Marguerite had even found a possible suitor for Maurice's daughter: The rich & handsome Marquis Gaston Legume.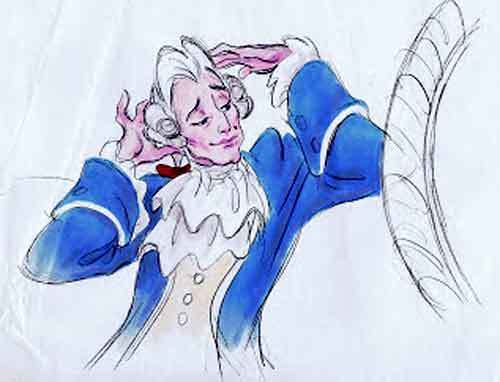 Yep, in the Purdum version of this project, Gaston wasn't the town hero / local hunter who used " … antlers in all of my decorating." But – rather – he was going to be this preening member of the aristocracy. A titled fop complete with white powdered wig and beauty spot.
But what Aunt Marguerite didn't know was that – while she was pushing Belle to marry for money – Gaston had already blown through most of his family's fortune. In fact, the real reason that the Marquis was considering marrying Maurice's daughter at all was that Gaston's accountant was hoping that Belle's dowry could then be used to settle the Legume family debts.
"And who was the Legume family accountant ?," you ask. A little nebbish-y looking guy called LeFou (Or – as you can see by the piece of concept art below – this Beauty and the Beast supporting character was originally known as La Fou).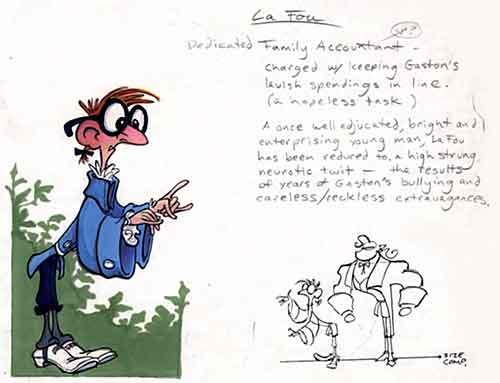 Now if this version of LeFou looks familiar to you … Well, there's a reason for that. Disney recognizes that this darky, brooding, romantic version of Beauty and the Beast was going to need all of the comic relief that it could get. Which is why the Studio was hoping that it could persuade comedy legend Woody Allen to come voice this character.
And given that Allen had recently worked for the Mouse House (i.e., directing the "Oedipus Wrecks" portion of New York Stories, an anthology film that Touchstone Pictures released in March of 1989), not to mention agreeing to star in an upcoming movie that Paul Mazursky was making for Mickey (i.e., Scenes from a Mall, which would be released to theaters under Disney's Touchstone label on February 22, 1991) … It wasn't all that far-fetched to assume – given that Woody now had a working relationship with the Company – that Walt Disney Animation Studios could somehow persuade him to come be the voice of LeFou in "Beauty and the Beast."
Unfortunately for Allen, once Purdum showed Jeffery Katzenberg his initial story reel for this proposed animated feature …
… the then-Chairman of Walt Disney Studios decided that Richard's take on the material was far too dark & brooding. More to the point, Katzenberg was now basking in all of the critical praise that Disney's The Little Mermaid had received (not to mention all of the tickets that this Ron Clements & John Musker movie had sold. Or – for that matter – all of the Little Mermaid merch that fans of this animated feature had purchased). Which is why Jeffery now wanted Beast to be more like Mermaid (i.e., a light-hearted, well-crafted musical fairy tale).
Which is why – in relatively short order – Richard Purdum was out as director of Disney's Beauty and the Beast and Alan Menken & Howard Ashman were then brought into write some songs for this fairy tale film. And as Howard did on all of the projects that he worked on, Ashman made some profound changes to Beauty's story. Cutting some characters entirely (i.e., Aunt Marguerite. Not to mention Belle's little sister Clarice and the family cat Charlie) and radically reimagining others (i.e., transforming Gaston from fop to the "… boorish, brainless" small town bully who attempts to blackmail Maurice's daughter into becoming " … his little wife").
And since Gaston was no longer supposed to be this spendthrift aristocrat, he then didn't need a nervous accountant to constantly fret over the Legume family's rapidly dwindling fortune. Which is why LeFou then had to be reimagined as well. Becoming more of a traditional sidekick / comic foil for Beast's central villain. Who was now recast as this little French village's hero because Gaston was – according to LeFou, anyway – " … the greatest hunter in the whole world."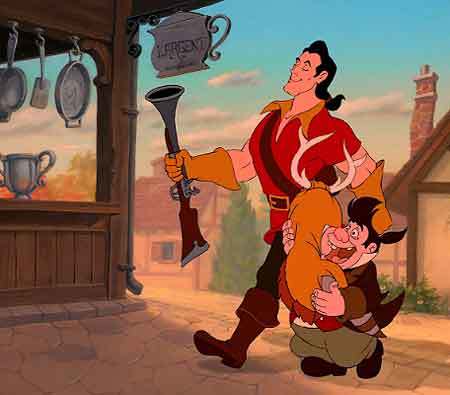 And since Disney designers were now seeing Gaston's sidekick as more of a round / low-to-the-ground character, Woody Allen's voice was no longer really a good fit for LeFou. Which is why Venezuelan-American actor Jesse Corti was eventually hired to voice this character.
Which isn't to say that Walt Disney Animation Studios had then completely given up on the idea of someday recruiting Allen to come voice a character for one of their films. To be honest, it all came down to finding just the right role for Woody. Some cartoon character that would genuinely benefit from having their lines delivered in this comedy legend's very distinct voice.
Which brings us to the Spring of 1995. When Kevin Lima – fresh off making his directorial debut with Disney's A Goofy Movie – was given the opportunity to develop Edgar Rice Burroughs' "Tarzan of the Apes" into a full length animated feature. (Ironically enough, in the early 1990s as a follow-up to the Studio's Prince and the Pauper featurette starring Mickey Mouse, Walt Disney Animation Studios had toyed with the idea of making a spoof of Burroughs' "Tarzan" stories entitled Goofy of the Apes. Sadly, this intriguing sounding featurette was never put into production).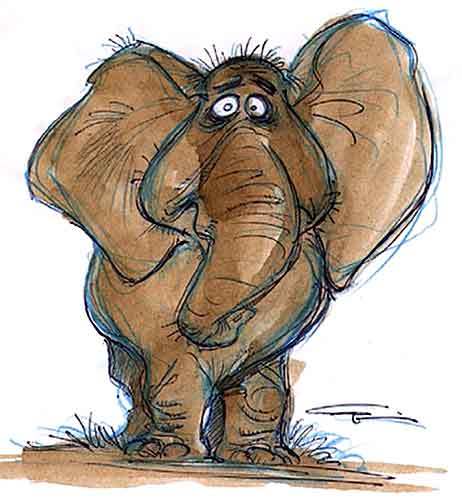 Anyway … Given that there had already been multiple movie versions of the tales of Tarzan, Lima was looking to put a different sort of spin on Edgar Rice's characters. Bring them to life on the screen in a way that had never been done before.
Which is why – as Kevin started breaking down Tarzan's story with his co-director Chris Buck and screenwriter Tab Murphy – he began pondering on this motion picture's pachyderms. After all, it has long been said that " … an elephant never forgets." Well, if that particular turn-of-phrase were true … Wouldn't that then mean that elephants – because they'd weighed down by the memories of every single experience that they'd ever had over the course of their lives – would then have to be the most neurotic animals in existence?
And if that were actually the case … Well, then who better to voice Tarzan's faithful elephant friend Tantor than Woody Allen?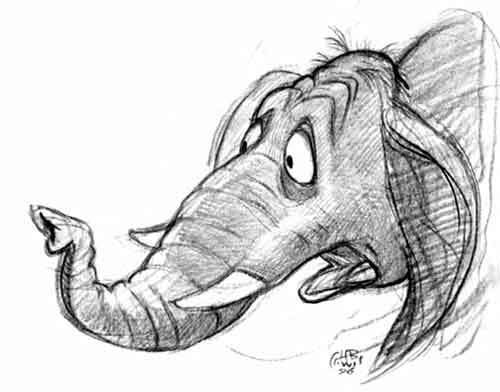 And Allen did in fact initially agree to come voice this character for Disney's new feature length animated version of Tarzan. At least until Jeffery Katzenberg (who had bolted from the Mouse House in August of 1994 so that he could then join David Geffen & Steven Spielberg in the creation of DreamWorks SKG) began wooing Woody to come voice the character of Z in DreamWorks Animation's first CG film, Antz.
Mind you, Katzenberg knew that – in order to get Allen to abandon Tarzan for Antz – he'd have to put something awfully tempting on the table. Which is why Jeffery offered to have DreamWorks' live-action side distribute Woody's next four films if he'd agreed to come voice Z.
This was an offer that Allen-the-filmmaker simply couldn't refuse. Which is why he ankled Disney's Tarzan in 1996. Which is why Wayne Knight would wind up voicing Tantor in the finished film. Meanwhile – following the October 1998 release of Antz -- DreamWorks Pictures honored Jeffery's agreement with Woody and distributed Allen's next four movies: 2000's Small Time Crooks, 2001's The Curse of the Jade Scorpion, 2002's Hollywood Ending and 2003's Anything Else.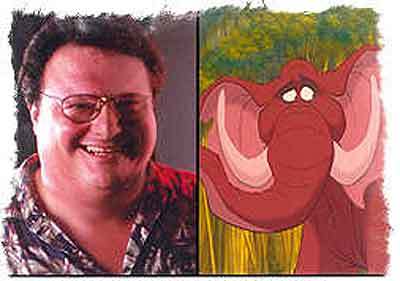 So now that you've heard this behind-the-scenes show business story, do you think that Woody Allen would have been a better fit for LeFou in Disney's Beauty and the Beast ? Or – for that matter – a suitable voice for Tantor in Disney's Tarzan ?
Support HuffPost
The Stakes Have Never Been Higher
Related
Popular in the Community