Position: Team Leader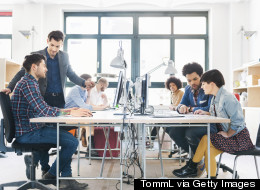 Highlights:
Work from home
Learn on-the-job, no diploma required
Equity position
Unlimited time off available*
Summary:
Join a small, but growing, group of individuals who appreciate the little things in life and aren't afraid to work hard and play hard too! You'll be responsible for setting the team's vision and guiding an enthusiastic and incredibly bright group of fast-learners to success.
Responsibilities:
You will be responsible for leading junior-level members of the organization in their day-to-day tasks, and will be responsible for providing support with their tasks, as needed
You are responsible for setting the team's short, medium and long-term goals
You will plan each week based on your set vision, and prioritize work for yourself and for your team, accordingly
Clearly communicate goals to your team, and reinforce them regularly
Challenge team members in a constructive and respectful way on a regular basis
Coach team to help them achieve optimal growth and upward mobility within the organization
Negotiate on the terms and conditions of team tasks, as needed (likely to be daily)
Present information and data in creative and thoughtful ways. Think on your toes!
Ensure your team's tasks are completed daily, and provide regular constructive feedback
Set a good example at all times
Foster a safe and stimulating environment for all team members
Requirements / About you:
No diploma or work experience of any kind required. Self-starters, welcome!
Must be able to work in a fast-paced environment, and be able to respond gracefully to ever-changing demands from your team
Able to stay calm under pressure, and keep your cool even in the most extreme circumstances
Since this is a start-up, support staff are extremely limited. You will need to be confident and self-assured enough as a person such that you do not require your achievements to be acknowledged on a regular basis (or at all)
Must be able to lift at least 25 pounds several times a day
Must be comfortable around bodily fluids, and willing to perform some light cleaning and food preparation duties
Great sense of humor!
Bonus Skills:
Trained in CPR & First Aid
Clean, valid drivers license
Hours:
This is a full time position, while the team is growing. Hours are Monday-Sunday from 6am - 8pm, with the expectation that you are on-call 24/7.
Unlimited time off is available!* (*As long as you find someone qualified, per above, to cover your shift.)
Benefits & Salary:
This is an equity-only position. Endless potential for the right candidate!
In order to support this growing start-up, you are expected to make regular monetary contributions directly to the organization to sustain its day-to-day activities and growth.
There is no HR support available for this position.
Disclosure:
This is not a real job posting (duh)! But since Mother's day just passed us by, and Father's day is a month away, I wrote this to honor all parents and care-givers around the world. We would be nowhere without your patience, dedication and love!