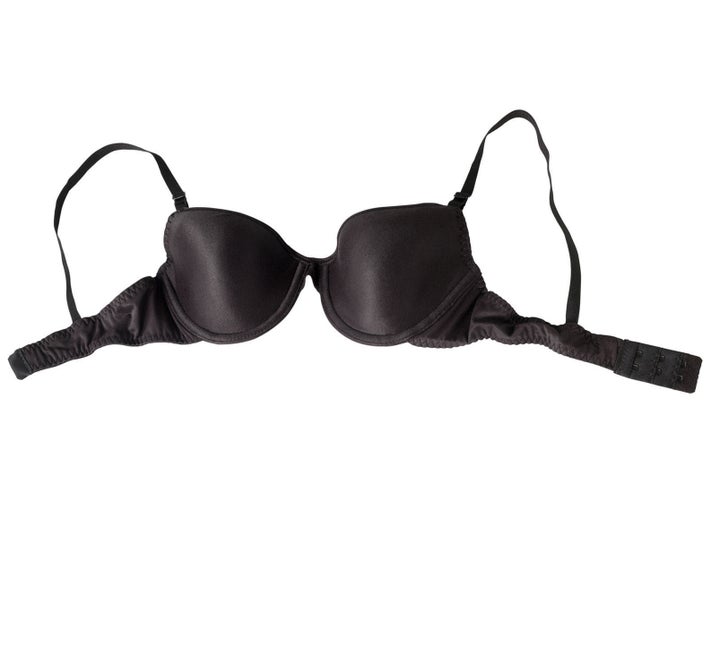 While waiting for my mom to get out of the fitting room at Target, I started looking at clothes. Seeing nothing that looked like it would fit me (unsurprisingly, since I was standing in the middle of the women's section) I started walking toward Juniors. (Juniors is generally inclusive of teens 13 through 19, although it may, depending on the store, cater more to the upper or lower wedge of that age group.) It was while walking past the Intimates aisle that I noticed every single bra on the Juniors rack was a pushup. Even a bunch marked "Sport" were, which seemed to defy the real purpose. Whether plain black or garishly multicolored, every single one was designed to create illusory cleavage. I have nothing against padded bras in general. But my immediate thought in the store was, Why the hell does a teenage girl need one?
The issue of the over-sexualizing of girls from an early age has come to the forefront with a recent news story about model Thylane Lena-Rose Blondeau posing suggestively for the cover of Vogue magazine. Over a series of photos, the ten-year-old is shown sprawled on leopard-print cushions, wearing a skimpy gold dress, stiletto heels, and posing heavily made-up, with rouge and lipstick. She's ten years old, yet she looks scarily adult in the photos.
The question is, should we be so surprised? We've had it coming for a while now. After all, we live in a culture where the walls of any Abercrombie and Fitch store are adorned with some dude's naked torso and skimpily dressed girls, where JCPenney, Macy's, and Aeropostale's websites all feature comprehensive selections of lacy G-strings and thongs on their juniors pages. "Aerie," American Eagle's undergarments line aimed at teenage girls (According to a press release: "aerie by American Eagle is a new line of intimates and dormwear designed for girls 15 to 25 years of age"), features on its homepage "Drew--Our New Pushup Bra That Adds 2 Cup Sizes," with the heading "Double Whoa." Do fifteen-year-olds really need an extra two cup sizes?
Aerie's underwear selection isn't a whole lot better, featuring lots and lots of tiny uncomfortable looking lace thongs (with the cheery slogan, "Even more cutie for your booty!")
In a nation where we're dealing with sky-high teenage pregnancy rates, where we claim to be trying to get girls to have more positive body image and value themselves based on intellect and achievement rather than looks, are these garments sending the right message?
You may pass this off as just teenagers wanting to rebel against their parents and dress skimpily, that it's an age thing, but it has a lot to do with marketing too. A deluge of undergarment advertising -- storefront posters or Times Square ads featuring young models -- has made what used to be adult lingerie acceptable, even common, wear for teenage girls.
And where there's money to be made, companies won't stop at age 13. Abercrombie and Fitch marketed a padded pushup "triangle bikini top" to girls as young as seven.
America, you're sending girls a mixed message. On one hand you're saying to have positive body image and love who we are, on the other we're being marketed makeup and clothing that obviously turns us into someone different. We're not supposed to go after boys with looks (or really show that much skin at all), yet we're being sold "boyfriend pushups," lacy thongs, and magazines like Seventeen (which is read by girls way younger than seventeen, I'll tell you) or CosmoGirl with feature articles like "476 Ways to be Irresistible."
By creating so many illusory images of physical perfection, whether on store aisles or storefront ads, magazine covers or TV shows, we speak more to the profit margins of companies than the self-esteem of today's girls. The unsaid message of that endless rack of juniors' pushup bras? No matter what size you are, it still isn't good enough.
This issue might seem trivial, but I think the battle for girls' empowerment will not only be fought in company boardrooms and campaign rallies, the sports stadium or the conference stage. It'll be fought on the magazine covers and the storefront ads, on the designer's table and a department store aisle ... where someone else is probably wondering if teenage girls really need pushup bras.