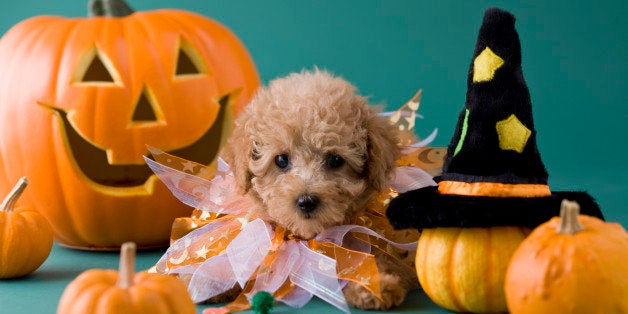 Halloween is just the beginning of this holiday season. Between now and January 1st, there will be a multitude of costume parades, holiday parties and other events pulling families together, or for some, tearing them apart. For children of divorce, these holidays can be a very stressful, unjoyful time, as they are forced by one parent or the other to choose sides. "Wouldn't you like to go trick or treating in my neighborhood?" Or, "No, I'm not going to the costume parade at school this year." During what should be carefree, happy moments, many children are full of disappointment and sadness that their families aren't together.
But, it doesn't have to be this way. Blended families all over the country are learning to co-parent, following the well-versed mantra, "Do what's in the best interests of the children." And doing what's in the best interests of the children often means grinning and bearing it when you are sitting in an auditorium, a few rows in front of your former spouse, watching your child dancing across the stage. Doing what's in the best interests of the children means encouraging them to have fun at the other parent's house and not making them feel guilty about it. And maybe... just maybe... doing what's in the best interests of the children means trick or treating as one giant, functionally dysfunctional, blended family full of kids, step-kids, half-brothers and sisters, stepmoms, stepdads, and you and your former spouse. Sounds impossible? Well, like it or not, blended families are the new traditional family dynamic. And it's about time we, as a society, embrace it with a full heart!
Want to make this Halloween special for your little ghosts and goblins?
Tips for a Spooky Fun Halloween!
•Plan ahead. Communicate with your child's other parent about the upcoming holiday. Does the Parenting Plan account for Halloween? Is your ex available to go trick or treating this year? Is there an opportunity to adjust the schedule? Whatever the final decision, don't put the kids in the middle or leave it to the last minute.
•Share the night and have twice the fun! If you and your ex live in different neighborhoods, make arrangements to have your children split the evening and trick or treat in both neighborhoods! The kids won't say, "NO!" to double the candy!
•Blended Family? Who says you can't do things together? OK, so maybe it's a little awkward to stroll around the neighborhood with your ex and his/her new spouse, but think about the message you will send your children: We love you. We are committed to you. We can put our issues aside for your benefit. And as an added bonus, think about what the neighbors will say! (Tee hee ...)
•Not quite ready to be an episode on The Trophy Wife? Split the holiday into separate events. If your situation simply doesn't allow for co-parenting, think about spending Mischief Night (October 30th) with one parent and Halloween Night (October 31st) with the other. Costume shop or carve pumpkins with one parent, and decorate the house or trick-or-treat with the other.
•Twicking and Tweeting? Extend the celebration by sharing photographs of your kids in their costumes to all members of their family! Tweet, Instagram or Facebook the fun!
•Spending the Night Alone? If none of the above will really work for your circumstance, and you find yourself planning on a quiet night with the lights off, let your children know that you're OK! Don't amp-up on your own loneliness, or that you will miss them so much while they're out trick or treating and you'll be all alone. Let your treat be giving them the knowledge and comfort that you're having a fun evening, too!
How many of you would consider suggesting to your ex that you trick or treat tomorrow night with all members of your child's family? What do you think will be the response? I look forward to reading your posts!
Related