In the previous two installments, I presented an overview of the Berklee College of Music's innovative Valencia campus and two of the four concentrations offered in its Master's program. In this final installment, I look at the other two concentrations, and ask how this curriculum compares with the more traditional model of the classical conservatory and what we might learn from it.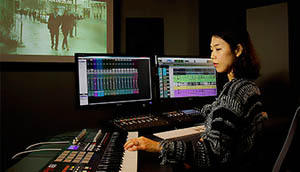 The title of this concentration doesn't do full credit to this department's work. I think "Composing" would be much more accurate because the young artists who opt for this curriculum are really put through their paces as creative composers. The Program is headed up by Lucio Godoy, the Argentine-Spanish film and TV composer, who has worked extensively in Europe with some of the most prestigious directors. This year there are 27 students in the concentration, hailing from 10 countries ranging from Malta to Ecuador. Lucio is full of the love of writing music for film and I was much taken by some of the historic comparisons he sets his students. For example, they were studying the original score by Max Steiner for the 1930's classic King Kong, then the two remakes, and comparing how the same scenes are depicted in music by different composers. Lucio (in photo below right) admires the work of Thomas Newman in American Beauty and Sean Callery in 24 and Homeland (Callery is an NEC alum so that was good to hear.) He feels that such composers create perfect soundscapes to tell the stories. "It is about when to be predictable and when not." Although he doesn't teach the Video Games class, he does take an active interest particularly now that his own young children are showing so much interest. But his attitude to Video Games writing is fascinating. Composers, he feels, need to understand how to use the music, not allowing it to become boring or repetitive. Because the format is unpredictable in length, composers have to write differently than for other idioms. The work involves a great deal of very sophisticated use of orchestration and blocking out of modules of sound.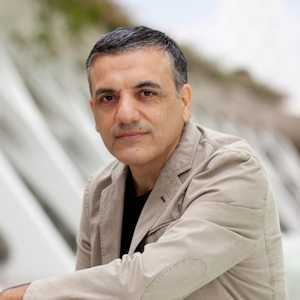 Digital Audio Workstation (DAW) allows composing students to put together mock-ups using sample libraries of sounds. So encyclopedic are the sound resources that the resulting worlds of music suggest large orchestras at the students' fingertips. This technology allows them to be fleet of foot and prepared to provide music at the drop of a hat.
Fascinatingly, though, the students also get to work with live musicians and full orchestras. The School brings in professional players from the Opera for advanced orchestration work. The students write for winds or percussion or strings with the professionals commenting on playability. These sessions are recorded as reference points for the students. The young composers also have access to remote recording with an orchestra in Hungary, which plays, records, and sends back Protools files to Berklee for mixing. Last year students also worked at Abbey Road in London, one of the most famous studios in the world, and this year the students will be taken to Air Studios in Hampstead run by Sir George Martin, the great Beatles collaborator. There they work with an orchestra of top London session musicians who play their scores with the students conducting. (The School provides conducting coaching, not with the expectation that the composers will become conductors but with the idea that they will learn much more by working directly in the recording sessions with professional musicians.)
Under Lucio's direction, the students are writing music to pictures or to a short action script or even a short story or sequence from a book. And they get to write a lot of music, some 18 minutes in total for each module. Lucio wants them all to be successful: "We want people to get a job as soon as possible in the professional world. We give them the tools and how to use them." Therefore, providing networking opportunities is seen as essential and the department has strong connections in the industry and with other film schools. The professional-level expectations are very clear. Students must commit to quality and consistency. "Reliability, delivery, trust, being flexible and not a diva, committed to the film's needs," Lucio enumerates. "Sometimes this is the hardest part to teach. We don't necessarily need a Mozart or Beethoven but someone who really loves film."
The violinist Casey Driessen joined the faculty this academic year. A Berklee alumnus and former student of Stephen Webber, he brings to Valencia huge strength as the Head of Contemporary Performance. I watched him with his class--whose attitude to him was one of the greatest respect--as he took them through some difficult sight-reading and the students' own original compositions. There was intense concentration throughout as Casey brought out the best in each performer. Casey enjoys a great career as a performer and he brings to the students this practical approach to standing on stage and off-stage and what it takes to build a career as a performer. "This programme has production as a significant focus, including the recording process. In the first semester, each student artist is in charge of one song, its rehearsal, demo and final sessions. They have to understand pre-production practice such as the need to assemble bands. They have to feature as a leader. They have to manage all rehearsals and communicate their vision. And then there are practical skills such as creating stage plots, input lists and tech riders--making a professional life possible. All of this is helpful whether you are a frontline artist or session musician."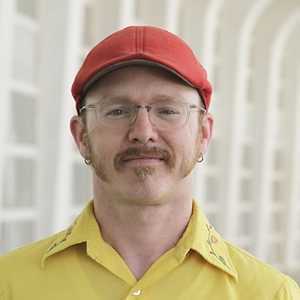 Casey (in photo right) sees the program not as a final piece of training but as a contribution to personal development, a bridge between college and the real world with this Master's program as part of the journey. His approach is to give students confidence, allow them their own sense of identity whilst showing that they really need to take responsibility for their own creative lives. His mantra is "I want to hear you." He takes the time to help each student find an individual pathway and he insists that all have an on-line portfolio advertising their work as well as a journal of their learning experiences. I admired this as an example of artistic self-reflection, which can provide so much personal insight. The one-on-one traditional studio model does not feature in the training unless there are specific technical problems. Instead Casey is interested in placing performers in creative relationships such as a violinist working with a percussionist because there could be all sorts of rhythmic synergies, or a vocalist collaborating with a keyboard player to learn more about harmony and color.

Spain, an Alluring Destination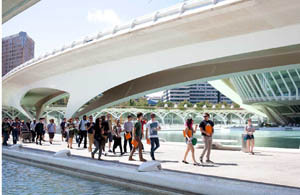 Maria Iturriaga, Associate Executive Director and Dean of Admissions, feels that Valencia is the perfect location for a school like Berklee. "Spain is a top destination for international students. It has a great culture, rich in connections and links with South America, Southern Europe, North Africa and Levant culture. Valencia has such a great tradition in music. Its size is intimate and similar to Boston and it's an affordable city which helps with attracting talent in faculty and students." Academic Affairs Dean Brian Cole is also one of Valencia's greatest advocates. He describes the whole scene as "inspirational, new, innovative, a laboratory for development, intimate, demanding, challenging, responsive, and breathtakingly beautiful."
What Cole and his academic team are developing in Valencia is a new model for teaching music at the higher education level. Many people in the classical world may dismiss their approach as one of being just a trade school. But that would be unfair and inaccurate. Indeed, the school shares many practices of the best conservatoires. The all-important Senior Recital for instance, has become the Culminating Project with all the same focus and concentration that a classical student would heap upon their Chopin or Beethoven. Berklee's experiments in concert presentation and the use of visual effects are common as well with conservatory symphony orchestras and chamber musicians. No matter the musical idiom, these efforts stem from the same motivation, the same need to communicate to an audience differently and to meet new expectations. Teachers in both settings are inspirational and devoted to their students. The quality of the teaching and learning experience are seen as the priorities by all institutions. And best of all, you can see the same energy and sparkle in the eyes from young musicians whether they are playing Techno or Tchaikovsky.
This is already beginning to happen. Berklee Boston and The Boston Conservatory (the oldest music school in the US headed up by the savvy Richard Ortner) recently announced a proposed merger. This liaison seemed to come out of left field and yet it possesses an inexorable logic. A joint exploration of new programs, new curricula, new collaborations, new student experiences, new connections, could only contribute to our world something contemporary and vital. We should all watch this one with a great deal of attention.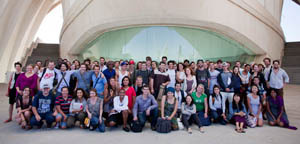 Berklee Valencia's blank piece of paper is now very full of experience, experiments, curricula, partnerships, students, alumni and community. The model is still very flexible and the team is bursting with innovative ideas. By describing its journey to date my purpose has not been to recommend duplicating its programs and curricula, but to use the model to ask some questions. Can Conservatoires redefine and re-imagine their place in the world and the place of the art form in contemporary society? Could they embrace different performance models, new programs, new skills, and have social entrepreneurship as a default setting embracing new goals, connections and partnerships? The power in this could inspire and produce greater legitimacy and relevance within the community from audiences to funders to politicians and become, possibly, a game changer. Maria Iturriaga offered one of the most eloquent descriptions of the School's mission: 'It's kind of like a miracle. I knew that it would happen and I truly believe in it. We can make a change in the lives of the artists and contribute to society."
Many thanks to Berklee Valencia for the use of their photos.
REAL LIFE. REAL NEWS. REAL VOICES.
Help us tell more of the stories that matter from voices that too often remain unheard.