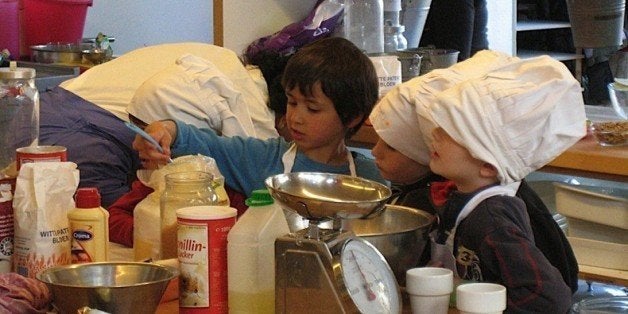 What happens when several groups of 7-year-olds take over a restaurant to plan, prepare, cook, and serve a meal? If you answered a 5 alarm kitchen fire, you're surprisingly wrong. Well, at least in this case.
Kinderkookkafe is a restaurant in Amsterdam that's completely run by children. That's right, kids. Terrifying? Yes. A little gross? Kind of. But before you get your parent panties in a wad, fear not, because Kinderkookkafe is actually a safe, kid-friendly daycare program and cooking school that's entirely supervised by adults who really, REALLY don't want to get sued by you.
According to the official Kinderkookafe website, which I ran through Google Translate, the children will,"…participated delicious and balanced meal boil". I have no idea what that means, but it sounds a little wonderful, and a little terrifying.
The menu includes healthy main-course meals and deserts that are easy to make, and are low cost for the customers. The students use easy-to-follow picture-recipes while preparing sandwiches, milkshakes, cakes, cookies, pies, and pizza that are all eventually served to the waiting customers… no matter how botched or booger-covered. The kiddos also learn how to take orders, make change, and afterwards are even put to work scrubbing dirty pots and pans in the kitchen.
The cost of Kinderkookkafe is €12.50 per child, but before you get all, "why am I paying for child labor?", relax, you're going to get a meal out of this! Will it be good? Who knows? A seven-year-old made it. Will it be adorable? You're darn-tootin' it will.
The idea for Kinderkookkafe (translated as Kids' Kitchen Cafe) was dreamed up in 1981 as a place where kids could cook and serve food to guests all on their own. In 2004, Kinderkookkafe as we know it moved to their new location and has become so successful that foodies have to make reservations way ahead of time just to get a table.
If you are looking for a great daycare/educational event where your kids can learn about responsibility while wearing tiny white chef hats and coats there's no better place than the Kids' Kitchen Cafe! If you just want to watch a bunch of kids slaving in the kitchen to serve you meal, that's okay too, I guess.
If you're looking to pig out at some of the best dinners and cafes in America look no further! Here's your guide to the Best Sandwich in America.