After moving to Hawaii in 1993, I've had chances to eat things many folks don't get an opportunity to on the mainland.
Unfortunately, I have a very weak stomach and I don't take advantage of all the great foods that Hawaii has to offer. Whether a common food, such as raw fish, or a staple such as poi, I just can't seem to stomach them.
The last few years I've been invited to the Big Island of Hawaii's premier food and agriculture event, the Mealani Taste of the Hawaiian Range at the Hilton Waikoloa Village, where I've been able to sample and eat every part of a cow so far, except for, well... it's BALLS, otherwise known as Rocky Mountain Oysters.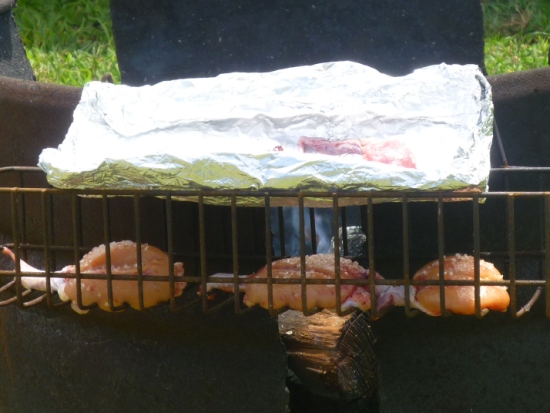 (Balls getting ready to be cooked.)
I don't know why I've been so fearful of eating this part of a steer other then the thought of it pretty much disgusts me and churns my stomach. I'm sure I've probably had a few cow balls mixed in to my regular hamburger meat at times... it's just I wouldn't have known it.
I've always believed that if you have a fear of something, you should tackle that fear head-on. Why continue to live in fear of something when you can get over your fear and move past it?
I asked the following question to my friends on Facebook:
1. Have you ever eaten Rocky Mountain Oysters and what did they taste like to you?
2. If you had the chance to eat them in the past.... and didn't eat them... why didn't you?
Most of my friends said they tasted like chicken, but then I got this one comment from Leilehua Yuen: "I've eaten them prepared very well - tasted a bit like a cross between sweetbreads and brain. And I've eaten them prepared poorly - very salty and overcooked so they were too hard to chew. Both times, they had been breaded and deep-fried. Ono (good) with beer!"

Yes, Leilehua said, "BRAIN"!
As I said before, I have to move past my fears and I figured this year at the Taste of the Hawaiian Range I would volunteer to eat a Rocky Mountain Oyster if folks would pitch in for a non-profit charity. I will videotape my tasting and put it on my website.
I didn't know what type of response I would get but then the offers to watch me choke down a cow ball started coming in. The local automobile magazine, Hawaii Motorhead was the first to pitch in so I offered them the opportunity to pick the non-profit and they have chosen The Food Basket, Inc. (a network that provides food for low income and homeless folks here on the Big Island of Hawaii).
After just a week of posting my offer to swallow down a cow ball and through generous contributions from Hawaii Motorhead, Craig Watanabe, Lucy Denise K. Mossman, Chris Henry, Dustin Acdal, Matt and Kehau Sproat (who don't want to see the video as it's too gross for them), Laura Kinoshita of Kinoshita Communications, Mahealani and Kevin Dayton as well as Mark Hinshaw I have now raised over $300 for the island's food bank.
At the 18th Annual Taste of the Hawaiian Range, between 6-8 p.m. October 4, is where I will be filmed eating this cow ball... and yes, I will have a big glass of water next to me to wash it down. Wouldn't it be funny if I actually ended up liking the "oyster"?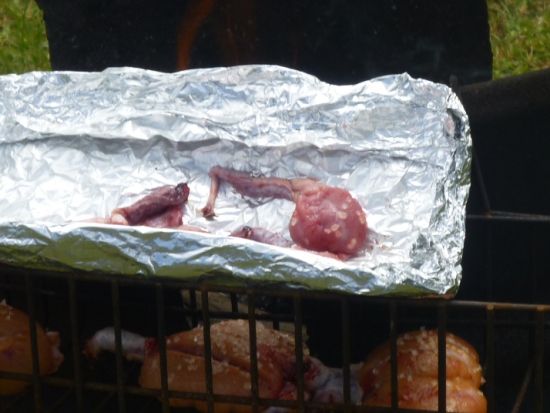 (Fresh off the cow)
Thankfully Rocky Mountain Oysters are not the only thing on the menu as the "Taste" will offer 35 restaurants preparing numerous cuts of grass-fed beef--plus lamb, mutton, goat and feral and domestic pork.
And for all you vegetarians out there who I may have completely disgusted with this post, the Taste of the Hawaiian Range is not all about meat, although to this meat lover it seems like it at times but there will also be over 40 agriculture and educational booths for folks to peruse.
So I ask... how much money would it take for you to eat a Rocky Mountain Oyster?
Calling all HuffPost superfans!
Sign up for membership to become a founding member and help shape HuffPost's next chapter