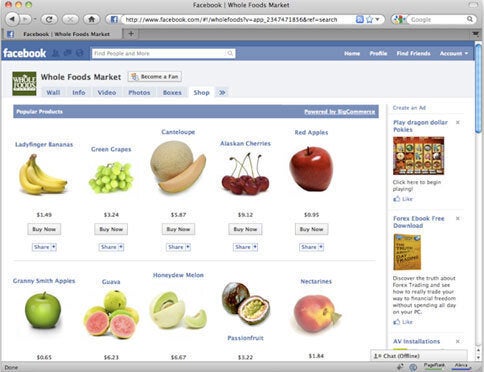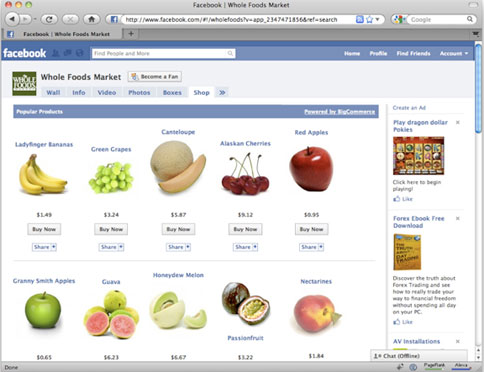 You may soon be able to buy everything from food to tabletop products to kitchenware on your favorite brands' Facebook pages thanks to tech companies that want to turn Facebook into a one-stop shopping mall.
According to a post on the technology blog TechCrunch, two companies have developed platforms that allow vendors--for example, Whole Foods (see above)--to add a storefront to their Faceboook page. Take BigCommerce, a company that builds eCommerce sites and today announced a new Facebook app called SocialShop. Companies can use SocialShop (at a monthly fee) to add a "shop" link to their Facebook fan page, then load in their eCommerce store's URL (the eCommerce store is also powered by BigCommerce). Then Facebook visitors can browse the company's products and share products with friends (viral spread!), but the transaction itself happens on company's eCommerce website.
Watch this video to see how it works:
The interesting part isn't where you'd buy your groceries, entirely. The interesting part is this: Where Facebook was once just a way for companies to raise brand awareness, promote new products/content, and attempt to drive traffic back to their websites, now it could be a way to make money. This is significant because many big brands often have an easier time picking up new Facebook fans than bringing new visitors to their websites, and fans on Facebook are more likely to engage with a company or content on Facebook (because "commenting" or "liking" on Facebook is familiar and easy). Could this be a way to make money through social networking! Eureka!
Here are five food-loving companies online that I'd love to shop on Facebook. What are your favorites?

1. Food52: Cookbooks, artisanal foods, and knick-knacks assembled by the editors of a crowd-sourced cookbook
3. Whole Foods: If you live in Manhattan, you'll do nearly anything not to set foot in a grocery store.
4. Fred Flare: These items are wacky enough that I typically "share" them on Facebook or Twitter any way.
5. Le Sanctuaire: Crazy serving pieces and spice mixes you won't fix anywhere else, and kind of want to boast about buying.

Follow HuffPost Food on Twitter and Facebook!
Related