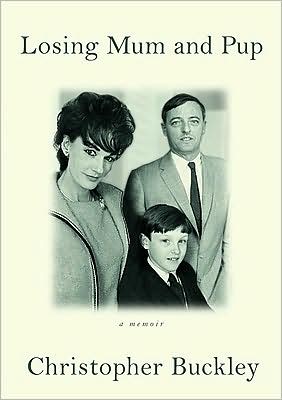 Apart from writing a powerful reminder of just what a wicked and misplaced 'sin' it is to covet or envy others, Christopher Buckley, in a new memoir about his eminent parents, makes one happy not to have been an only child. Rather like its subjects,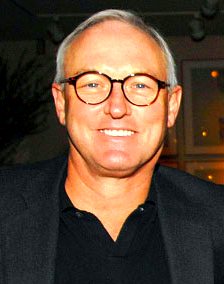 Buckley's tribute is articulate, amusing, conflicted and ever-so-archly irreverent. For daring to utilize some of the same unflinching candor that characterized his mother and father though, some have roundly denounced his book as a breach of trust, even as an act of 'betrayal'! But, I for one, who only knew them slightly and for a brief time at that, can't agree. For what more affectionate act can there be, than to present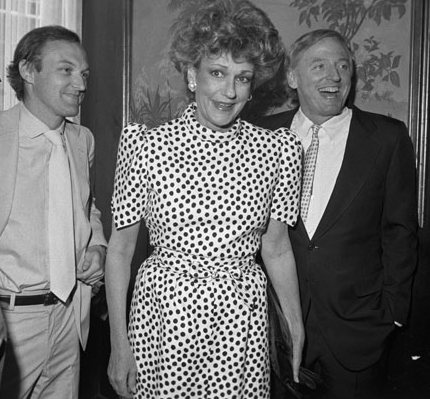 someone whom you love in a way that honestly shows both why they are loved, but that the pledge of esteem is not made lightly?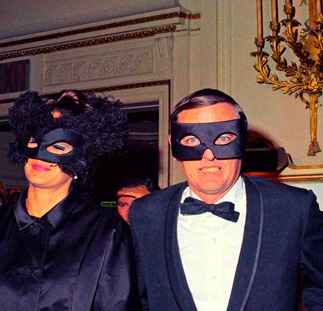 "Serial misbehavior," is how Buckley terms his mother's quality of fun flippancy. It included, he insists, a tenuous relationship with the truth. This was something he first noticed before he was seven, he says, marveling that grownups apparently weren't bound, exactingly, to childish conventions concerning facts! So, when his mother announced in front of guests that King George VI and Queen Elizabeth, "always stayed with", the family on jaunts to her native Vancouver, even suspecting it couldn't be true, her young son had found the claim thrilling all the same. "Prevarications," is how he qualifies such flights of fancy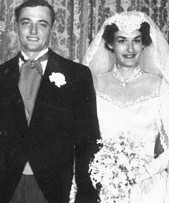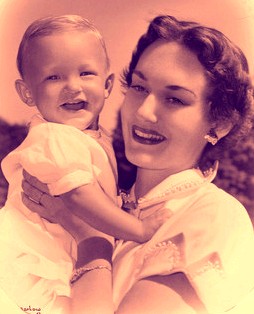 From my experience their danger lay in being just plausible enough to inspire sufficient confidence that the very next sip of wine was all that was required to make one certain of their absolute accuracy. Apprising her that I hoped to write a history of black and white marriage in America, to be called Forbidden Fruit, she said,
"You know my son was married to Lena Horne's daughter, don't you?" More dramatic was her relation of a harrowing scene wherein a Latin drug dealer was supposed to have been shot on Park Avenue, right in front of her maisonette apartment. "I had my little maids from Central America help me to drag him inside, so that that poor man wouldn't die alone in the gutter, so he was able to die in my arms instead."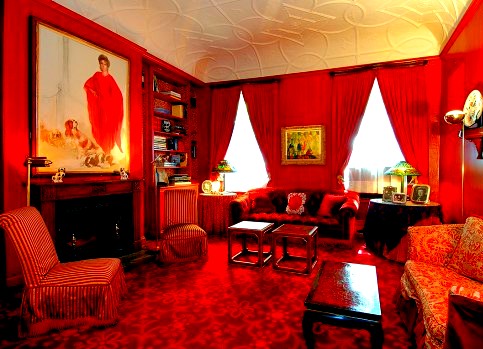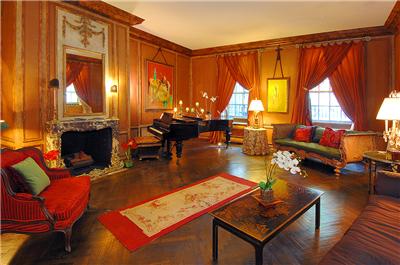 Then, of her neighbor Mrs. Astor, of whom Mrs. Buckley was considered to be an heiress apparent, she claimed,
"Brooke Astor has such a hard time hearing now, poor dear, that at our last cooperative board meeting she whispered to me in a very loud voice that everyone could easily hear, 'There are just two things wrong with this building. Too many people here have too much money and too many of them are Jewish!' "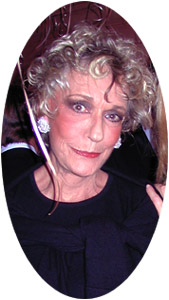 Habitual and like Matilda's fibbing, of some long standing, Mrs. Buckley's little lies were, if nothing else, effectively disarming. Her son surmises they may have stemmed from feelings of inferiority, exacerbated by living in the shadow of a greatly gifted man at the summit of society in the capitals of the polite world. Perhaps too, it had something to do with her husband's family lineage? Now widely revered as some ancient Connecticut dynasty, first arriving in Sharon in the 1920's, the Buckleys had been accorded the curt skepticism some deemed only fitting for a nouveau riche Texas oil-speculator's family of Irish-Catholic origins.
It figures that, subjected so long to both the tortured inconsistencies of the Church and the elegant rationality of high academe, Christopher Buckley would come to reverence Evelyn Waugh's great novel. Watching the latest film rendition of Brideshead Revisited, it suddenly struck me, the 'wrongheadedness' of Charles Ryder's besotted adulation of the glittering Flytes. It's surely easy enough to become infatuated with aristocrats, all of their lovely accoutrements are calculated to seduce. But how can one clever enough to befriend the father, to even charm the odious mother, who tries to use him, just as Marquand's Harcourts used Willis Wade, have so bungled an otherwise adroit social ascent through a well-placed-friend? With utmost prudence Charles is sufficiently determined that he quickly, but not too hastily, transfers his affections from unstable Sebastian, to his more 'appropriate' sister.
By embracing their religion in class-rent England, he, it seems unwittingly, is embracing the Marchmains's public separation as well. Like some homosexuals, the rich Flytes, with their venerable pedigree, attempt to make of their involuntary exile an otherwise-privileged exclusive club, complete with secret signs of recognition. Over time, even they find the effort wearing, though. Alas for lowly-born Ryder, Catholicism, one suspects, would have simply meant oblivion, so I was glad to notice, how in this current version, he doesn't 'drink the kool aid'. Certainly, even the sought-after debutante Jacqueline Bouvier found Roman Catholicism, no less than some beau monde aspirants' dark skin or Judaism, to be limiting at times.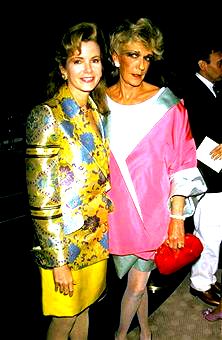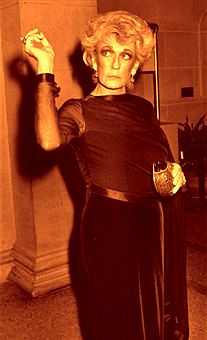 During our first real conversation, Mrs. Buckley had rather casually pointed out that, unlike her husband, she was an Episcopalian. But finally, who's to say what exactly caused her ironically shy reserve on the one hand and an inimitable brand of exhibitionism on the other? In his book The Art of Social Climbing, most charmingly, Jerome Zerbe, better remembered as a photographer, relates how, in an unfair and unequal world, everyone must start somewhere. Most of us would like enhancing our position in life as well he reasons. Born already far more than half the way there, Mrs. Buckley ultimately surmounted Everest. For me, it only helps to make her all the more attractive, suspecting she sometimes questioned the effort and on occasion, even disdained her isolating vantage point.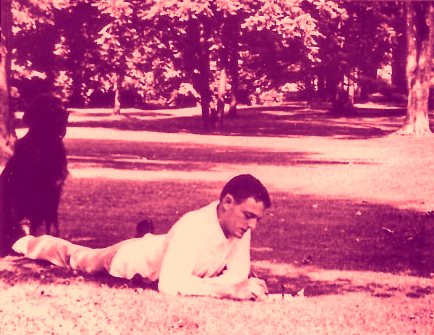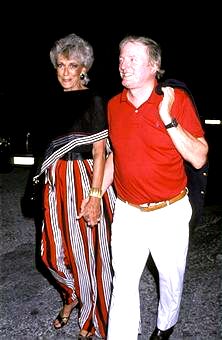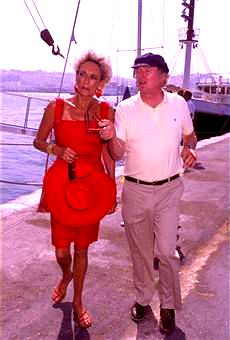 I first became aware of the clan of William and Patricia Buckley via Life. It was near Christmas, and there they were, 40-plus strong, on the cover of the magazine, surrounding the widowed matriarch at their 45-acre 'ancestral' family seat, 'Great Elm.' Forgathering to celebrate Thanksgiving and two Buckley brothers' foray into the political arena, had occasioned this public family reunion.
How unlike my family's holiday dinners, theirs had seemed. The estate, the historic, pre-Revolutionary Sterling farm house, greatly enlarged to include an incongruous but delightful, enclosed, tiled, Hispano-Moresque style patio with a fountain, was elegantly appointed. At the dining table there were lovely flowers and, seemingly, a bottle of champagne each, for all present. Irrespective of age, in Alfred Eisenstaedt's dynamic photographs for Life's December 18, 1970 feature, the Gifted Buckley Family, everyone seemed to be absolutely happy, smiling at each other and the camera, with a look of utter contentment.
I was only introduced to the august William F. Buckley twice. However, to know and see, even only very occasionally, Mrs. William F. Buckley, Jr. guaranteed further meetings with her husband too. As for Mrs. Buckley, we first met in 1993, when I was employed improbably as 'staff writer' for Marilyn Evins Public Relations Inc. The unlikely part was that I was, and remain, a writer who doesn't actually type. Moreover, used to doing their own writing, the firm's associates, all able women, very soon after my employ resumed doing so without the bother of any delaying outside input.
Mrs. Buckley, Mrs. David Brown and Mrs. Evins were due to lunch at Le Cirque. Familiar from Bill Cunningham's many photographs; Mrs. Buckley in pictures had always struck me as a graceful and happy version of Walt Disney's Cruella de Vil. In person, one was struck by the fashionable vanity that causes society ladies to become what Tom Wolfe aptly described as Social x-rays. Exquisitely clad in short-skirted Chanel suits, both Mrs. Buckley and Mrs. Brown had what looked to me to be the most enormous knees and tiny little legs imaginable. Mrs. Evins, who always imbibed a can of strawberry flavored Ensure before going to lunch, briskly disabused me of my naivety stating, "One hardly goes to Le Cirque to eat!"
Following our second meeting, at Bobby Short's 70th birthday party at Mortimer's,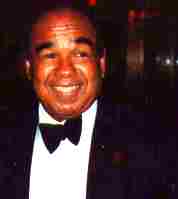 over a period of four years Mrs. Buckley and I lunched twice, met five times more and chatted on the telephone, usually hurriedly, perhaps on two dozen different occasions. As with other early meetings, before you know someone, what a perfect night, filled with champagne, divine music, dancing and laughter, what a beautiful party it was. Beginning to feel bedeviled at being 39, here I was the youngest guest! So it didn't surprise me, as one who subscribes to Lord Middlebottom's motto, "A thing of beauty is a boy forever," when the worldly Mrs. William F. Buckley, Jr., had responded to my invitation to dance, stating, "You are the first man who's asked me to dance all night! What's more, you're the most attractive man here!"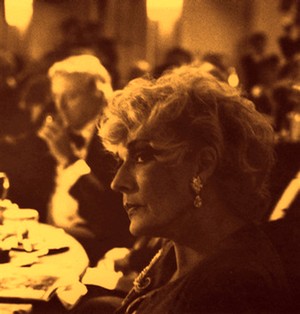 I love Veuve Clicquot champagne. The vintage varieties are too subtlety marvelous for me to admire knowingly, but the brut, but not harsh, yellow label, is exceptionally nice. The great thing about champagne is that the right amount allows one to dance with intuitive feeling even without prior instruction. Today, quite rudely, as so many women sit by, rhythmically swaying in time to the band and longing to get on the floor, some Gay men dance only with each other. But, have you noticed, how at dances, most men, 'straight' men, refuse to ever dance at all with anyone? I have, and hence one of the chief joys of any party for me is dancing as often as I can, since one invariably has one's pick of whoever's in attendance.
It might have all ended well before we'd a chance to dance. My first partner, a dignified lady some 20 years or so older than Mrs. Buckley,quite unwisely said at one point, "Now we will show them, you are going to dip me!" In beloved old musicals on TV growing up in Akron, Ohio, I must have watched Fred Astaire dip Ginger Rodgers hundreds of times. Surely it couldn't be hard to do, it looked so effortless.
Only, not having attended dancing classes, how was I to know that one's partner assists one not in the least? Going limp, she relies entirely on 'the man' to prevent her from falling. Much like a movie, when the inevitable occurred, and I found that this older lady and I too, were definitely falling, it had seemed to be a sequence happening in slow motion. Narrowly averting the disaster of actually collapsing atop my partner, I dreaded the disgrace of this catastrophe that surely meant no one else would risk a spin around the floor with me. Imagine my relief learning, that such was the magic of these festivities, that no one, apparently, had noticed!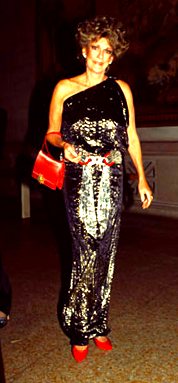 Accompanied by an immaculate and relatively diminutive man, of the species known in the city as 'a walker,' Mrs. Buckley's escort that summery evening in early September was not her famous husband. From youth, his example on Firing Line, presenting clipped and cultivated unapologetic brilliance and erudition had been a model like Clifton Webb's or Bayard Rustin's, of all that a gentleman, particularly a Gay gentleman, ought to be.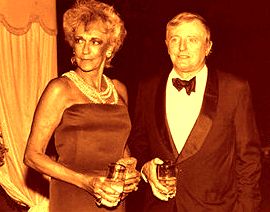 William F. Buckley's example had appealed to me much as drag queens appeal to young ambiguous Gays. We are both lured and repelled by their brave show of flamboyance. Among these special few who dare to be themselves completely, valor is put on the line every day.
That he clearly was not Gay, was revealed by his conspicuous and ungentlemanly verbal assault of Gore Vidal. And it was all too soon sadly underscored by a controversial column in his conservative journal, National Review. Buckley called for some supposedly more humane intervention than a quarantine to protect uninfected Americans from the new threat posed by the AIDS virus.
William Buckley's idea for tackling this problem was to deport all Haitian refugees. Haitians were still, in the early 1980's, believed, mistakenly, to represent a high risk category for AIDS infection and transmission. Under Buckley's scheme drug addicts and homosexuals were to be tattooed by way of warning the unsuspecting; on their fore-arms and asses respectively. Finally, it only remained to identify an appropriate warning-tattoo for Gays, one that it was hoped, might prove more effective than the label on cigarette packages. Drolly, Jeffrey Hart, a senior editor of the magazine, proposed the line Buckley agreed to be ideal. It was the inscription emblazoned over the entrance gate to Dante's Inferno: "Abandon all hope ye who enter here."
Possessed of wit and knowledge extensive enough to make one laugh helplessly at his searing ridicule, and even sometimes, when you were its victim, I'm glad I never knew William F. Buckley any better than I did. As for his spouse, I agree with her son,
"I don't think there was a wittier woman on this earth, or wittier person,"
"She had a delicious grasp of the ridiculous."
And again, this is something for which I can vouch. Yet much, as with Laura Bush, there was a narrow part inside me that was eager to rebuff Mrs. Buckley, feeling that there could be no earthly reason to justify remaining with someone as villainous as I imagined her husband to be. But, instead, thanking her for such a gracious compliment, I only teasingly taunted this legendary lady by saying, with mock solemnity,
"Actually, Mrs. Buckley, in good conscious, I oughtn't to dance with you!"
Predictably, sitting up, tossing back her head and even grasping at her necklace in exactly the same way as I recently saw the Queen do on TV, exclaiming, "What a life one leads!", Mrs. Buckley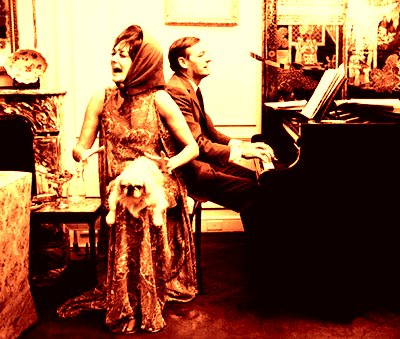 demanded, "and, why not?" That narrow self would have been sure to state loudly, 'why, it's because your husband is a crypto-Nazi, as you know!' Fortunately, though he can't abide champagne, so I only smiled, "it's because you're taller than I am." "Would you like me to take my shoes off?", she ask in her low seductive voice, and off we went gliding across the floor. Just prior to her departure Mrs. Buckley and I danced our fifth and final dance as Bobby, dancing with Jessye Norman beside us, crooned:
Love laughs at a king
Kings don't mean a thing
On the street of dreams ...
Gold, silver and gold
All you can hold
Is up there on a moonbeam
Poor, no one is poor
As long as love is sure
On the street of dreams.
Close friends of Mrs. Buckley are reluctant to call her an alcoholic. One maintains, "But when she drank, she did become more aggressive, more belligerent". Kenneth Jay Lane, the renowned costume jewelry designer, a particular friend and frequent houseguest, disputes that.
"Pat liked her wine, but she could hold her liquor,"
he says. When I invited her to lunch after Bobby Short's dance, we drove to the Kitchen Club on Prince Street in Soho, in her long and ungainly 'stretch-limo.' With true aristocratic nonchalance, its dark interior resembled ,not black broadcloth and leather, but a kind of agora, so littered was every surface with the hairs of her pack of King Charles spaniels.
We each had a salad, an entree and dessert. We shared two bottles of a California Chardonnay. We laughed and I said how kind it was of her to join me for lunch.
"No, no, I'm not a nice person..."
she said suddenly serious. I couldn't possibly allow this mood to spoil our afternoon, so I ventured, "well, perhaps you're partly right because how nice is it for a multi-millionaire's wife to allow me to buy her lunch?" Laughing, she then offered to pay. "No, next time." I said.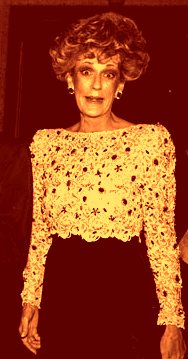 When Community Board Nine in West Harlem was eager to persuade the Landmarks Commission to do more uptown, Mrs. Buckley, all too happily, agreed to accompany the new chair Jennifer Rabb, along with Peg Breen, the new head of New York's Landmark's Conservancy, on a tour of potential landmarks. Our mutual friend Mario Buatta, the celebrated decorator came too, donning six different wigs, over the course of two hours, each more ridiculous than the last, in a typical display of his idiosyncratic excuse for humor. Unlike the dour bureaucrats, Mrs. Buckley was Mario's perfect audience. She smirked straight through the tour and right through a delicious lunch I'd helped to make that we ate in Lana Turner's apartment.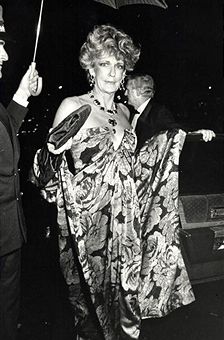 So, as it turns out, she never did buy lunch for me after all. But she did, in several ways, that made all the difference, honor a promise she'd made earlier in the day. Visiting Harlem's magnificent St. Thomas the Apostle Roman Catholic Church, visibly shocked to hear of its likely demolition, Mrs. William F. Buckley, Jr., throwing back her carefully dressed mane in disbelief and defiance, stated to all assembled,



"Tear down something like this? Not on your life! We're going to save us some churches in Harlem!"
And, just like that, used to prevailing in the end, so she did.