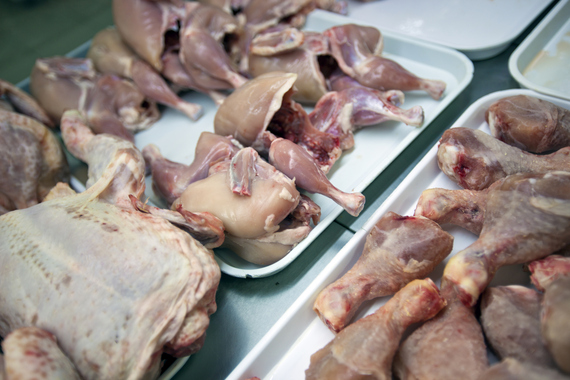 Imagine you go into work tomorrow and learn you have to produce 25 percent more work in the same amount of time, without any additional resources. In fact, 40 percent of your coworkers were just laid off, meaning you will have to do the work of five employees.
Now imagine that your job is to prevent contaminated and diseased meat from entering the nation's food supply.
That's exactly the scenario facing federal employees who inspect the nine billion chickens and turkeys that move through U.S. processing plants each year.
A plan proposed by the U.S. Department of Agriculture would replace 40 percent of USDA inspectors with employees who work for the poultry processing plants, essentially allowing operators of chicken and turkey slaughterhouses to inspect their own operations. As Donald Cohen of In the Public Interest recently put it, the fox is literally guarding the henhouse.
At the same time, companies would be allowed to speed up processing lines by up to 25 percent. This means a single USDA employee would be in charge of physically inspecting 175 birds every minute to ensure they are free of disease and contamination -- a task that would require five federal inspectors at the current rate of 35 birds per minute, per inspector.
Do you think any human can adequately inspect three birds every second to ensure they are free of feathers, feces, lesions, bile and other contaminants? I don't, and neither does the chief scientist for the trade association representing chicken producers and processors, poultry distributors, and industry firms.
Ashley Peterson, the National Chicken Council's vice president of scientific and regulatory affairs, recently acknowledged that speeding up processing times will require an increase in the use of "antimicrobials" -- that's industry speak for antibiotics and potentially dangerous chemicals that are pumped into poultry and feed to promote growth and prevent disease.
Dramatically ramping up inspection speeds also will exacerbate the already high rates of injury and illness among slaughterhouse workers. According to the Occupational Safety and Health Administration, poultry slaughterhouse workers suffered injuries and illnesses at a rate more than five times the national average in 2011 and 2012. These occurrences surely will spike if the line speeds are increased.
USDA has claimed the overhaul would increase food safety by shifting the focus from on-line carcass inspections to scientific studies of potential pathogens. Yet there's no evidence that food safety has improved at the plants where USDA has been testing its plan, and government inspectors say more research is needed to determine whether the pilot project will reduce illness rates or actually make them worse.
Make no mistake: The chief goal of this proposal is to save money, not to increase safety for consumers or workers. The plan would save USDA about $90 million over three years, while poultry plants would reap more than $250 million a year in profits from increasing line speeds.
This is a plan the public clearly doesn't want. Last month, more than 100 advocacy groups and businesses representing farms, consumers and the environment denounced the plan in a letter to President Obama that was accompanied by a petition carrying the signatures of nearly 220,000 concerned American consumers.
Even in the face of a stridently partisan Congress, a bipartisan group of nearly 70 lawmakers has called on Agriculture Secretary Tom Vilsack to withdraw the proposal until all of these concerns can be addressed.
Let's be clear: This is a filthy rule that will lead to filthy chicken on your dinner plate. It's time to put it in the trash where it belongs.
J. David Cox Sr. is national president of the American Federation of Government Employees, which represents more than 670,000 federal and D.C. government employees nationwide.