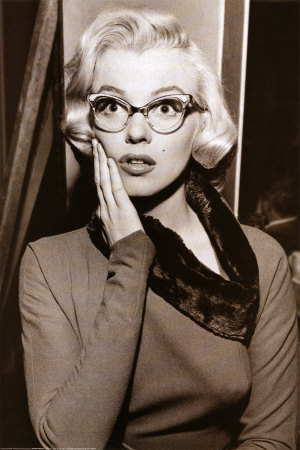 "The highest compliment a woman can receive is, 'My God, she looks smart!' not that she's sexy,'" Lanvin fashion designer, Alber Elbaz
I've looked smart my whole life, and with all due respect, Alber, I'll take sexy. Shopping for my first pair of glasses, as I approached middle age, I chose carefully, realizing that the wrong frames turned me into smart-squared, aka egghead or librarian (not that there's anything wrong with them). It's one thing if you're Scarlet Johansson with a killer body and an acre of blond hair, and you slip into oversized frames to tackle a serious issue or the part of a physicist in an asteroid movie, but looking too smart for us everyday women could mean another Saturday night home, alone.
Why are we considered less sensual with eyeglasses? When a leading lady wears a pair in the movies, we know the romantic hero will take them off (and pull the hair pins out) before sweeping her into his arms. In the 1953 comedy How To Marry a Millionaire, Marilyn Monroe plays a near-sighted gal desperate for a husband, who hides her glasses in her purse, then stumbles into everything.
About 10 years ago, my best friend introduced me to Josh, a former dental patient whom he thought I'd like. Josh is a successful screenwriter and occasional playwright, a few years older, and my friend knew we would have literature in common. We could be well-read together--which meant the world to me--but as we sat across from each other at a meet-and-greet breakfast in the Four Seasons Hotel, I sensed Josh was scanning past me, as if I were a mass of inconvenient matter blocking his gaze from the sexier, less smart looking woman a few tables back.
Dr. Christine Whelan of the University of Iowa, who wrote the book, Why Smart Men Marry Smart Women, might disagree. "Some women are terrified of spinsterhood," she says, "even though statistically speaking, there's no reason for it." Times have changed, and Whelan supplies the data to prove it, but the culture hasn't caught up. Career-minded women (and our mothers) still buy into the myth that intelligent, successful men don't want us. On Dr. Whelan's website, you can take a quiz to discover your odds of finding a mate (really good if you're a Ph.D. and under 40, which is no solace for me) and determine whether you're among the SWANS, an acronym for Smart Women Achievers No Spouse. (When SWANS find a mate, do they transform into SWAMP, Smart Women Achievers, Married Persons?)
Sometimes SWANS get it backwards, and mistakenly play down their accomplishments and act dumb in the hopes of snaring a mate. Was there ever a time, I wondered, when I pretended to be ditsy to attract a man? Certainly not. Then I glanced at what I had written a few paragraphs back, and remembered I'd substituted "well-read" for "erudite" for fearing of sounding too, uh, smart.
To back up my spinster paranoia, I cherry picked data from a study by four British Universities where researchers concluded that high IQ women saw their marriage prospects decline as their IQ rose, while men's prospects only went up. To be precise, for every 16-point rise in a woman's IQ, her marriage odds diminished by 40%. Now I'm not particularly clever at math (there I go again), but that doesn't sound too good.
Could history offer me some comfort? I headed off to the Beverly Hills library to uncover the origin of the spinster. Was it a Freudian slip that I neglected to bring my eyeglasses? The print in the Oxford Dictionary looked small and fuzzy, I could barely read a thing. I spotted a window with sunlight poring in and sat on the ledge holding the bulky dictionary pressed up against the pane, an arms length from my eyes, which I have to tell you, was not an easy maneuver, so that I could read the definition of spinster. But did I really need a definition? There I was living it, huddled in a corner, squinting.
Not long ago, during an otherwise boring week, I decided to make another play for Josh, the screenwriter with whom I'd lost touch. As an excuse, I emailed him a link to a recent post of mine. He responded promptly, in a strictly-friends kind of way, "It's smart, Wendy....just like you." My point. Exactly.