In May of 2014, Gallup conducted a poll suggesting that 53 percent of Americans and 70 percent of Republicans would be less likely to vote for an atheist for public office. Now consider that Arizona is a Republican state and the openly atheist candidate for he Arizona's 5th Congressional district is an unabashed progressive. Oh, and he's blind too.
James Woods isn't letting those poll numbers scare him. Unlike many other politicians, he has embraced his atheism and is running a brilliant campaign. I had the fortune of interviewing Woods recently and found his honesty and vocal progressivism to be extremely refreshing.
One campaign strategy he used was in response to receiving a request to take part in a "sanctity of life" pledge by the National Prolife Alliance. Here is an excerpt from my interview with him about this:
"We mailed back branded campaign condoms with the words 'Prevent Abortion' printed on the wrapper. I also included a letter explaining to my constituents that I do support programs that prevent abortion including sex education, access to contraception, and government programs that reduce poverty."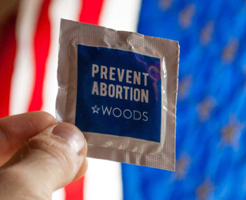 A political campaign strategy this bold is like something out of a Hollywood movie. I honestly don't remember every hearing of a real politician making such a strong progressive statement like this one. But the Woods Campaign didn't stop there. They just released a new commercial that is devastatingly critical of America's gun laws:
Conventional wisdom says that James Woods doesn't have a prayer. In one sense that is certainly true. As an atheist, Woods relies on his message, values, supporters, and voters and not on prayers. While it is also true that the demographics are against him, his message is getting out there and that is an awesome win for atheists and for progressives.
Election Day is less than a week away and for James Woods; this very well could be a Hollywood ending in which the underdog wins the election against all odds. Learn more about James Woods at JamesWoodsForCongress.com.
Popular in the Community