For this night out, we are locked in.
It is me, seven friends and 60 minutes in a locked room. All technology and cell phones stay behind. The door locks behind us, and the clock starts.
The task: Can we figure out how to get out of the room before time is up?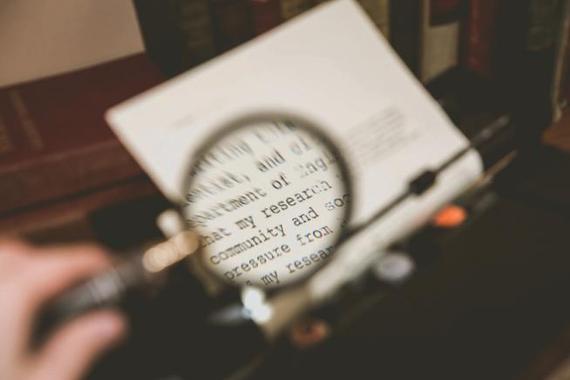 It's part detective, part puzzle-solver and total live-action, real-life video game, complete with a detailed back story and carefully crafted scenery, all within four confined walls. The story is about a missing professor, set in the early '50s. We were vaguely instructed to search the room for hidden clues and figure out how to unlock the door. Clues are everywhere, the staff told us.
But as soon as the door locks behind us, I realize this is not going to be easy. Anything might be a clue. I feel like Sherlock Holmes meets "Big Brother," because I know they're watching us through the hidden cameras. I can't help but self-consciously wonder if they think my suddenly acquired crime-solving strategies are impressively creative or pathetically pointless.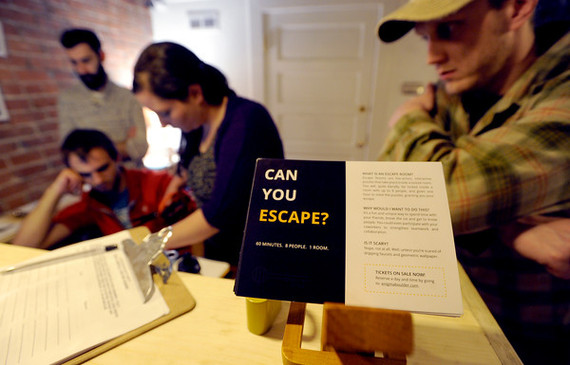 The Enigma staff watches video monitors of my group inside the escape room. Photo by Cliff Grassmick / Camera Staff Photographer
Escape rooms like this are a growing trend in bigger cities on the coasts, and they've recently picked up around Colorado, too.
We're at Boulder's first escape room, Enigma, which opened this fall on Pearl Street. Simply finding the room seemed to be our first puzzle. We followed signs through dim hallways in what looked like an old hotel/office park. Down, down, down stairs. When we arrived, we signed a waiver and were ushered through a side door into a small windowless room.
"What happens if we don't get out of here?" my friend Devon asks me.
"I guess they eat our faces," I say.
I'm wrong. I quickly realize (with partial dismay) that this escape room is not scary. Not like the movie "Saw." If you don't solve the puzzle, there's no punishment. But if you can break the record (currently 32 minutes), you at the very least get bragging rights on Enigma's Facebook page.
I watch the large digital clock at the top of the room spin down, and it becomes quickly clear that we are not breaking any records today. But even more amusing than finding the right patterns and codes to unlock more puzzles (it's like we're trapped inside a life-sized nesting doll) is watching the group dynamics. I'm surprised by who leads the group by seeing the bigger picture (Devon), who gets hyper-focused on small details (my husband) and who is relatively useless and should probably have her face eaten off (me).
But bit by bit, we stumble upon epiphanies and surprises. Maybe the staff has to slip a clue underneath the door to help us, I don't know. Maybe.
That's the best part about escape rooms: the mystery.
Although I can tell you this much: I am writing this from my office. And I still have my full face.
Calling all HuffPost superfans!
Sign up for membership to become a founding member and help shape HuffPost's next chapter